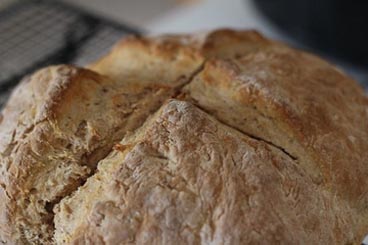 Soda bread, a staple of the Irish diet since the early 1800s, has a long and interesting history. It's a simple bread made of flour, salt, bread soda (baking soda), and buttermilk. Every county has its own adaptation of the "national bread" based on available resources, which can literally amount to a pinch of this and a dash of that.
For this article, I interviewed my Irish family, members of the Irish Association of Toronto and their Irish contacts, and Fidelma Dermody, a graduate of Home Economics at St. Catherine's College of Education and Trinity College Dublin. Fidelma helped me see the practical aspect of soda bread and how it relates to the economic conditions of each family. "The women of older generations were very inventive with their recipes, great talents!" she says.
History
Yeast was not commonly used in breads in Ireland at any time and it is likely that until the discovery of bicarbonate of soda, the chemical responsible for soda bread, starch in the Irish diet would have come in the form of potato cakes: mashed potatoes, salt, butter, and flour. Upon the discovery of bicarbonate of soda at the turn of the 19th century, the earliest mention of using soda in bread appeared in the Irish newspaper, Newry Telegraph, from county Down in 1837. Bread soda was in common use by the 1840s and over the next 100 years became an Irish staple food.
Baking Soda
Bread soda is an alkali that reacts to acids – buttermilk in the case of soda bread, which produces carbon dioxide gas that gives rising action to quick breads. Were it not for this chemical reaction, soda bread could not be. Fidelma explained that the heat from our hands speeds up the chemical process of the soda and buttermilk, which causes the carbon dioxide bubbles to release more quickly, so the dough must be handled gently and lightly kneaded: 5 – 10 turns, and the fewer the better or it easily toughens.
Flour
One of the differentiations we have to make with soda breads is if it's made with white flour, wheat (brown) flour, or a combination of both. From my Dublin-influenced perspective, there is a white soda bread made with only white flour, and a heartier brown bread made with a combination of white and whole wheat flours.
To me, the two breads are distinct, but not to everyone, as I learned when brought a slightly sweet white soda bread to an Irish event. Many people thanked me for the "brown bread" which confused me because I didn't use whole wheat flour. Later I realized that not only do soda bread recipes differ around Ireland, but there is no consensus on what to call it.
Butter (optional)
The action of the soda and buttermilk combination gives rise to the soda bread. Heavy with flour and thick milk, the bread bulks to its finished size within the first 10 minutes of baking. Butter is one of the extra soda bread ingredients added to the basic recipe but its inclusion differs from place to place. It is called for in my Grandmother's moist and lofty white and brown breads, and I understand that butter is added to recipes in Galway and County Clare.
Raisins (optional)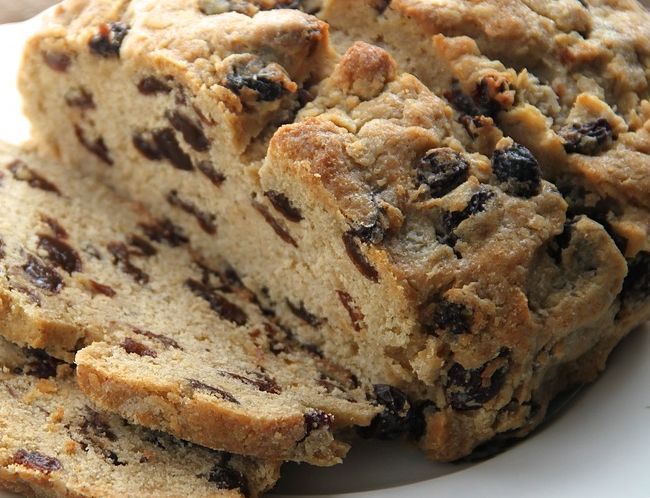 The addition of raisins to soda bread is not traditional, but as Fidelma says, bakers added whatever they had on hand, so if there were raisins around, they would be tossed into the bread dough. This practice of adding raisins eventually became a recipe of its own in some counties but not others; I've seen it in a recipe from County Clare and I've also learned that raisins are popular in the brown soda breads of Roscommon, though not in Galway. Soda bread with raisins is sometimes known as Railway Cake or Spotted Dog.
Crossing the Bread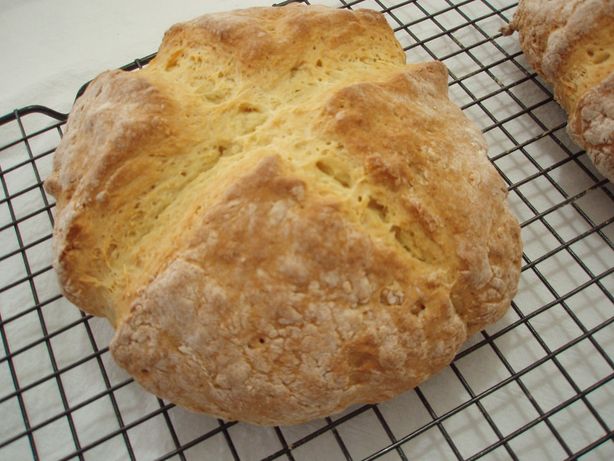 We know that soda bread must be lightly handled, then made into a round, flattened with the hands, and then crossed – two cross cuts are made in the dough before it goes into the oven.
All kneaded soda breads from southern Ireland are cut into with a sharp knife, and the Northern Irish soda farls begin as a rolled out circle, and then separated into quarters with cross cuts before cooking. Soda breads are cut for different reasons; some say that cross-cutting lets the fairies or the devil out so they won't ruin your soda bread; others say that it brings the blessings of the Holy Trinity. A Kildare recipe that was forwarded to me called to "put a cross in it (this blesses the bread) then poke a hole in the middle of all 4 quarters (helps with rising)."
Irish chef, Rory O'Connell says that the cross in the soda bread serves several purposes:
It's scientific, primarily, because it allows the heat to penetrate into the thickest part of the bread, so it assists cooking. And obviously, the cross is a cruciform shape, so in a Catholic country that had a resonance – it had the symbolic note of crossing the breads and giving thanks… So you've got the blessing of the bread… and then you've got the symbolic breaking of the bread.
Method of Baking
Before people had ovens, food was sometimes cooked in a hole in the ground full of hot embers with a cast iron pot placed on top. Chef O'Connell explains that "they cooked the bread in a bastible – a big cast-iron pot with a lid that would have been put right onto the coals or the turf fire."
Depending on where you're from, you might cook your soda bread in a bastible or other cast iron pan, in the oven on a baking sheet, or if you're from Northern Ireland, you would cook your bread on a stove top griddle.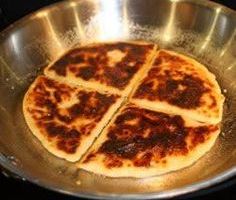 The Northern Irish eat "soda farls" made of the same basic recipe as the soda bread but rolled into a ¾" circle and cut into four triangles. Farls have more moisture than soda breads and are spilt in half, toasted or grilled before eating, then slathered with butter, and devoured. My Belfast friends say that the best food and drink to start your day with is an "Ulster Fry": bacon, eggs, and sausages alongside potato bread, soda farls, and a big mug of tea. "Soda farls complete the fry!" they say.
Any way you slice it, soda bread has kept the Irish fed for generations. Rising out of a basic recipe, this delicious but humble bread differs from county to county, town to town, and even house to house. One might say that each soda bread recipe is specific to individual Irish families and tells the story of each family's history.
*Originally published in the Canadian Celtic Arts Quarterly