If you're planning to get out there and enjoy our great Canadian weather this winter, why not hit the slopes? Whether you're a seasoned skier or a first-timer, Hockley Valley Resort is the place to be! Located just 45 minutes north of Toronto, the resort boasts 15 ski and snowboard runs ranging from beginner to double black diamond, 2 terrain parks, 2 quad chair lifts, a riglet park, magic carpet and night skiing from Tuesday to Saturday.
Just learning to ski or board? No problem! Beginner runs like Teddy Bear and Easy Rider make learning fun, offering a gentle slope and wide terrain. Taking a lesson with a fully certified instructor can also help to provide you with the basics, boost your confidence and get you started on the right track, no matter your age. It can also be a great refresher when getting back out there for a new season.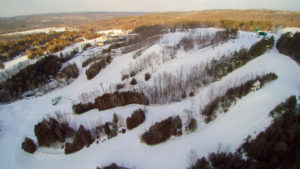 More of an adventurer? Ride either quad chair to take on one of their 5 black diamond/double black diamond runs like JP or Nosedive. Skill set somewhere in the middle? Choose from Hockley's wide range of blue (intermediate) runs and just enjoy an easy pace and the scenic views.
Getting your little ones hittin' the slopes is such a great adventure!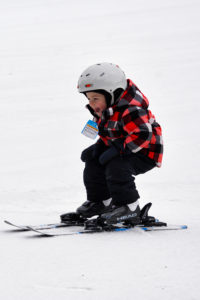 Children are fearless and teaching them to ski provides them with a skill for life. Perseverance, confidence and bragging rights are just some of the benefits kids receive, not to mention the fact that combining any physical activity with fresh air is a win/win! The family that plays together, stays together – and you will be able to ski or board together as a family for years to come…
Fresh air is not only for the weekends; the weeks are long and daylight is short these days, but Hockley's got a solution for that because Friday nights are family nights on the hill! Bring your immediate family for a night of fully-lit fun and fresh air – all for only $99. If weeknights are more your jam, they've got a $25 ski or board special on Tuesday nights… Night skiing is a great choice for all levels – try something new this winter! There are tons of packages available on their website including accommodations, on-hill events and much more! For full details on packages, limitations and a complete list of the resort's amenities, please visit their website at hockley.com.
Canada is known for its long winters and short summers, but it's not all bad! Braving the cold – properly dressed, of course – is part of the joy of being Canadian. We can't hibernate all winter, so let's get out on the hill! Drive less, ski more at Hockley Valley Resort.
Visit Hockley Valley Resort and give it a go!!