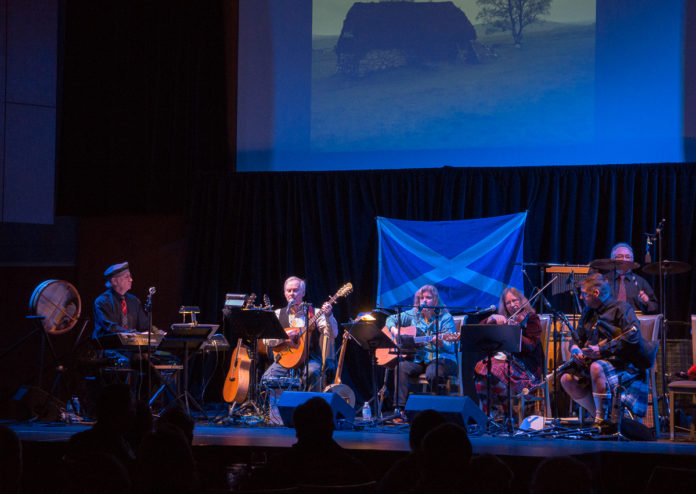 "The Reel Celts" band will delivering their fantastic Robbie Burns Day concert to celtic music lovers in three regions: Thurs Jan 25 at Fergus Grand Theatre (Fergus is the home of the Highland Games), Sat Jan 27 at the John Elliott Theatre in Georgetown, and, Sun Jan 28 at the Midland Cultural Centre. Their definitive Robbie Burns show titled: "The Reel Rabbie Burns" offers fans of all things Scottish to celebrate and experience Burns' songs in the spirit in which he wrote them ON his actual birthday!
Through song, stories, narration & dance and performed against a backdrop of over 300 stunning photographs of Scotland, The Real Rabbie Burns featuring The Celts is a concert exploring the life and times of Scotland's most famous son, poet, song-writer, and raconteur Robert Burns. Now in its third season of touring Ontario concert halls, the show has been a huge hit and the story itself amazing. Burns was much more than the character celebrated annually on Burn's Day; colourful, complex, humorous and of course, romantic. From lovesongs to rebel songs, blazing instrumentals to singalongs, The Real Rabbie Burns is sure to entertain. Much of the story is told in Burn's own words, from letters he wrote, and it highlights many little-known or perhaps suppressed elements of the man known as Scotland's Bard. Appropriate for all ages.
The Celts are a topnotch ensemble featuring Midland-Penetanguishene's own Nonie Thompson on guitar, harmonica and vocals, and, Eugene Rea – banjo, mandolin, bouzouki, guitar, whistles, vocals; along with longtime music colleagues Anne Lederman on fiddle and vocals; Tom Leighton on accordion, keyboards, bodhran; and, Paul Gribbon on Uillean Pipes and whistles. In 2015, the band were invited to play at the Canadian National Highland Dance Championships in London, and were heard by an estimated 10,000 people. In 2018 they have been invited to play at the US Nationals in Pennsylvania!
The Real Rabbie Burns Tour:
1) Thurs Jan 25 at 8pm at Fergus Grand Theatre
Tickets $25.
purchase at the door at 244 St Andrew St West, Fergus N1M 1N7.
For more info, phone the Box Office at (519) 846-9691 x201.
2) Sat Jan 27 at 8pm at the John Elliott Theatre in Georgetown
Ticket prices: Adult $30.00, Senior 65+ $25.00, Student 13-17, 15.00, child 12 and under, $15.00.
purchase at the door at 9 Church St., Georgetown, ON, L7G 2A3 Map
For more info, phone the Box Office at (905) 877-3700
3) Sun Jan 28 at 8pm At Midland Cultural Centre (in the Rotary Hall)
Tickets: General Admission $25.00 (* plus taxes & fees)
purchase at the door at 333 King Street Midland ON L4R 3M7
For more info, phone the Box Office at (705) 527-4420