Scotland's Malt Whisky Trail is the only trail of its kind in the world. Set in the heart of stunning Speyside, this trail takes in seven world-famous working distilleries, one historic distillery and the fascinating Speyside Cooperage.
Speyside is famous for its wonderful whisky and is often called 'Malt Whisky Country'. It's home to more than half of Scotland's malt whisky distilleries, making it the ideal place to discover more about this ancient art. The area is one of Scotland's five whisky regions.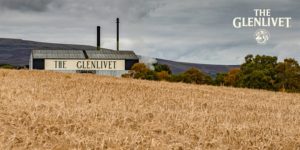 The Glenlivet Distillery sits in a wild and remote glen, its history laced with drama and intrigue. So in every bottle of whisky we make, we capture as much of the spirit of the glen as we can. We invite you to the heart of Scotland's whisky-making country to explore the turbulent history of the whisky smugglers, delve into the intriguing mysteries of distilling and sample the golden magic that is The Glenlivet.
The following tours are available at this award-winning visitor centre:
The Glenlivet Classic Tour – This classic tour offers you a sensory introduction to the whole, finely-crafted process of whisky-making in our modern distillery. You'll see the racked casks of slowly maturing malts in a traditional bonded warehouse and then an invitation to toast George Smith, with a dram of The Glenlivet, on the very land he once farmed nearly two hundred years ago.
Cost: £10 per person
Daily tours from 10am and every half hour, and last tour at 4.30pm
Duration: 1 1/4 hours (pre-booking advised)
Maximum group size: 16
Open to visitors age 18 and over
Audio guides available in French, German, Italian and Spanish subject to availability
The Glenlivet Inspiration Tour – Enjoy a detailed tour of our distillery and visit our exclusive Warehouse No.1 where you can sample a special dram drawn straight from the cask. Our tour finishes in the Malt Loft with a tutored tasting of new and limited release expressions of The Glenlivet.
Cost: £35 per person
Duration: 2 hours (pre-booking essential)
Maximum group size: 16
Timings: Monday, Wednesday, Saturday and Sunday at 14:00 (subject to availability)
The Legacy Tasting Experience – Join us for an exclusive tutored tasting of extremely rare and aged single malt whiskies from The Glenlivet. The experience culminates with a dram drawn straight from one of the aged casks housed in our traditionally styled warehouse. A presentation of an exclusive gift is included to commemorate your experience.
Cost: £60 per person
Duration: 90 minutes (pre-booking essential)
Maximum group size: 12
Timings: Tuesday at 11:00, Thursday and Friday at 14:00 (subject to availability)
We also have an exhibition which gives you a fascinating insight into the history of The Glenlivet , a gift shop selling a wide range of whiskies and whisky-themed gifts, and a coffee shop which serves snacks and light refreshments including home-baking, homemade soup, filled rolls and baked potatoes.
We hope to welcome you in the near future. Slàinte!
Source: Visit Scotland