St Patrick's Day in Ireland isn't just a celebration of the patron saint, it's also a demonstration of the pride of being Irish and a source of joy that helps to kick off the spring season.
Around the world it might be all green beer, dressing up like leprechauns and donning 'kiss me I'm Irish' hats – but it's not quite like that if you live in Ireland.

Genuine Irish traditions are still observed, and while from the outside looking in it can seem the Irish do what everyone else does, there's always more going on than meets the eye.

The wearing of the green
Nothing to do with making you invisible to leprechauns, wearing the colour green is very symbolic when it comes to the Irish. Historically, flaunting the emerald colour or wearing shamrock was once banned, and even considered treasonous. Nowadays it's a source of national pride, and it is traditional to wear something green on St Patrick's Day.

To mark their Irish identity and heritage, people will also pin bunches of shamrock to their lapels in honour of the little plant that helped St Patrick explain the concept of the Holy Trinity. This is known as the 'wearing of the green'.

Attending church
Special St Patrick's Day religious services are held whatever day the saint's feast day falls on. These church services, including rousing hymns, give thanks for the life and remarkable influence of St Patrick and remind the faithful what he achieved during his lifetime, such as converting the Irish to Christianity.

St Patrick's Day is still considered a Holy Day of Obligation by the Catholic Church and many practicing Catholics will attend Mass, while the two cathedrals in Armagh, the ecclesiastical capital of Ireland founded by St Patrick, will be packed.

Many Irish people may also take a walk up the holy mountains associated with St Patrick, including Croagh Patrick in County Mayo and Slemish Mountain in County Antrim, or take on St Patrick's Way, a 27km pilgrim walk in County Down.

St Patrick's Day parades
Then its usually off to watch a St Patrick's Day parade and take part in a festival, whether it's the grand multinational ones in Dublin or the other big cities, or a really local affair in a town or village.

You don't have to go far to find green-festooned festivities to enjoy, and this year they will be extra special as they return after a two-year hiatus on a double bank holiday. The island's St Patrick's Day festivals are jam-packed with traditional music, dancing, arts, street theatre, funfairs, fireworks and plenty of fun as the Irish people really let their hair down.
A traditional St. Patrick's Day breakfast
A pint of the 'black stuff'
Once the parade has passed there'll be a visit to a local pub for a pint of Guinness, an Irish coffee or a drop of Irish whiskey. Traditional music will be playing in pubs across the country from the afternoon into the wee small hours.

Where there is room, and sometimes where there isn't, people will be doing a bit of ceilí dancing, enjoying well known sets such as the Waves of Tory, Walls of Limerick and the Fairy Reel. This often spills out on to the streets where passers-by might find themselves happily caught up in the dance. As glasses are raised, the toast is sláinte (health) or Beannachtam na Feile Padraig! (Happy St Patrick's Day!).

Traditional Irish fare on St Patrick's Day
Irish people have all sorts of different ways of starting the big day. As it's going to be a long one, most will start the national holiday with a good breakfast. Traditionally it's a hearty fry of sausages, bacon, eggs, black pudding and the island's famous potato bread and soda bread.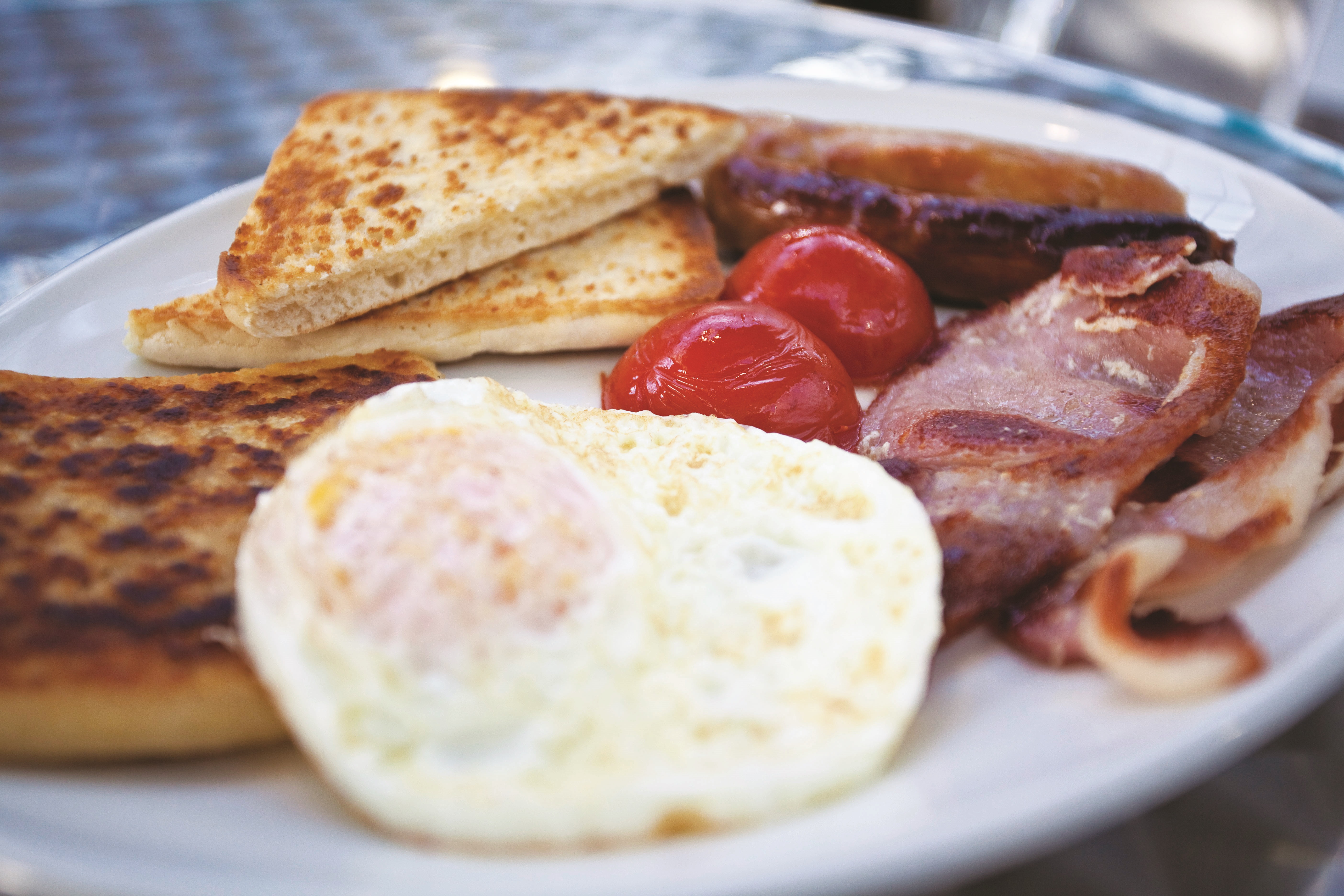 The Irish love their breads, slices of barmbrack, fresh wheaten bread buttery scones are popular afternoon snacks and part of the island's rich culinary heritage. For dinner, a filling Irish stew, customarily made with lamb, carrots, onions and potatoes, or roast beef with champ (mashed potato mixed with spring onions) or colcannon (mashed potato mixed with cabbage) will line the stomach for the evening's revelries, which may involve a drink or two.

Rural Irish tradition
The big cities like Dublin, Belfast and Cork stage the large festivities that get national and worldwide attention very well, but the rural people of Ireland do their own thing for St Patrick's Day.

Especially with the people who still live in the Gaeltacht (Irish-speaking) areas, there will be a bit of horse racing, GAA sports matches to attend, and gatherings with extended family and neighbours. These will be full of the singing of traditional St Patrick's Day songs and the traditional dances that go along with them.

Modern Irish celebrations
The Irish love to keep an eye on what is going on around the world on St Patrick's Day, after all, the diaspora has influenced many a new and modern St Patrick's Day traditions, most famously, perhaps, the Hudson River in Chicago being dyed green.

The parades, celebrations and shenanigans in countries around the world are observed with much interest, and the greening of famous landmarks around the globe, from the likes of the Sydney Opera House to the leaning tower of Pisa, is also now watched with much national pride.

www.ireland.com