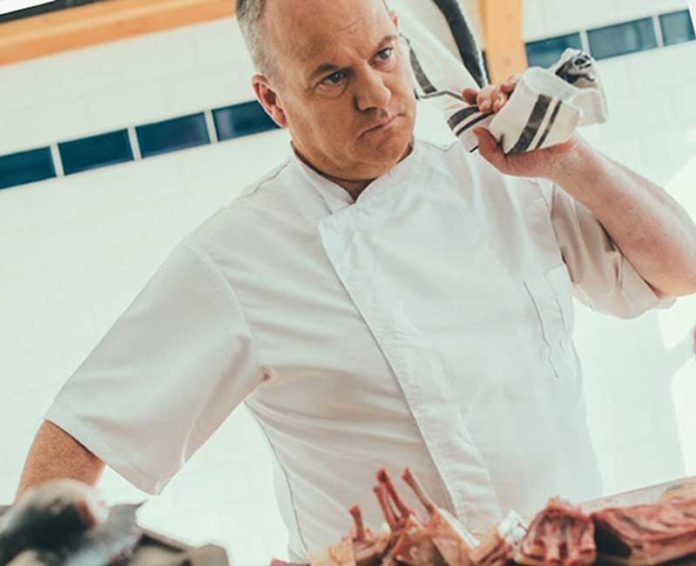 Stephen Jeffers started his career off by beginning his studies at the Catering College in the North Coast of Ireland, Portrush.
He spent 2 years there studying and as soon as he finished college, he landed the prestigious job of head chef at the world famous Parliament Buildings at Stormont in Belfast, where he cooked in the Members Dining room for all the top MPs of Northern Ireland.
After a few years, he decided to spread his wings and became the personal chef of one of the Guinness family, the Marchioness of Dufferin & Ava.
Whilst working and living there, he had the honour of cooking for so many famous people from Albert Roux to Van Morrison.
His time spent with the Marchioness, grounded him and taught him so much as she was an avid foodie and loved planning menus with Stephen for her entertaining.
Working there for 5 years it was time to move on and Stephen bought over Ireland's oldest pub, Grace Neills in Donaghadee, Co.Down.
He dramatically changed this old pub into one of the country's most well-known food pubs, where he won numerous awards for his talents, was listed in some of the world's best food guides ie., The Michelin Guide and world famous celebrities flocked there to taste the food of Stephen Jeffers such as Van Morrison & George Best who became regular customers of Grace Neills.
From then he has owned a few other restaurants in Co. Down, Jeffers & The Boathouse in Bangor, where again his talents were also recognised in these restaurants too, from winning awards, tv and radio appearances, judging events.
For the past couple of years Stephen has been principal of a cookery school situated in Belfast, but now has decided to launch his own cookery school, Forestside Cookery school is in a beautiful shopping mall on the outskirts of Belfast.
Stephen Jeffers is a very well-known culinary figure in Ireland, being professional and a very informative chef, approachable and hard working.  Loves working with local charities such as The Princes Trust, TinyLife, & Now Project.
Stephen thrives on teaching and sharing with everyone his knowledge and talents. He loves the interaction with the public whether its students in the cookery school or kids from under privileged backgrounds, his personality is infectious and everyone gets a warm welcome wherever he goes.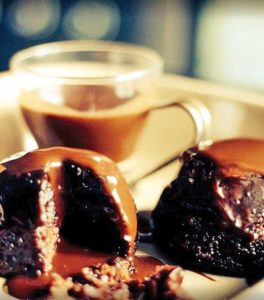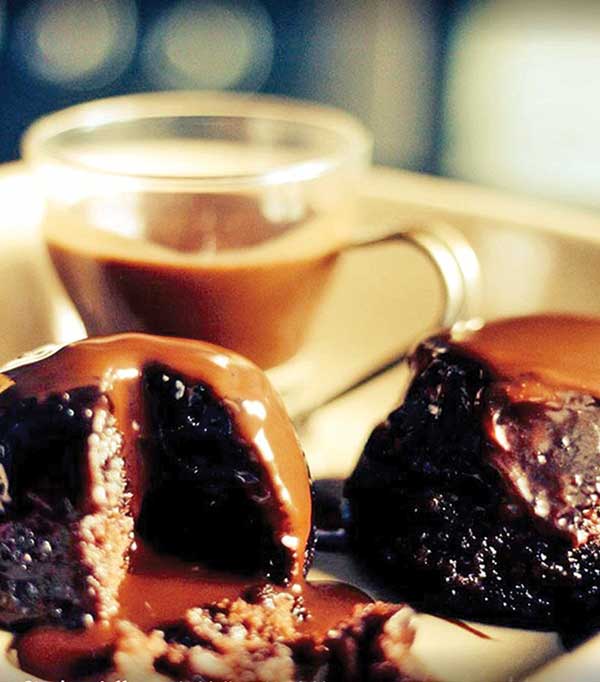 Christmas sticky toffee pudding
Ingredients – Serves 12
500g Christmas pudding (crumbled)
600ml warm breakfast tea
375g Brown sugar
100g butter
5 Eggs
500g Self raising flour
5tsp Bicarbonate of soda
2 tbsp Treacle
2 tbsp Golden syrup
2 tsp vanilla essence
Method
• Soak Christmas pudding into tea and soak for 10 minutes.
• In a mixer cream butter & sugar until white and fluffy.
• Now add treacle, golden syrup & fold in flour into the butter mix.
• Add eggs slowly 1 at a time.
• Now add Christmas pudding mix and beat well.
• Add syrup & bicarb last – fill into prepared individual pudding mounds .
• Bake  180˚C for 25 minutes .
• Serve with salted toffee sauce & vanilla seed ice cream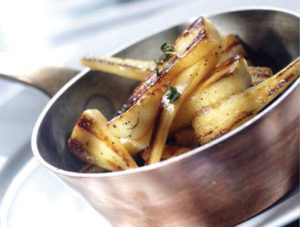 Parsnip, Carrot & Pear gratin/crumble
Ingredients – Serves 12
6 Parsnips (peeled & diced)
6 Carrots peeled & diced)
2 Pears (peeled &diced)
1 onion (sliced thinly)
Milk to cover
4 Cardamom pods
(seeds only)
1 cinnamon stick
100g butter (diced)
For the Crumble topping
200g whole meal flour
200g Porridge oats
200g Butter (diced)
100g dried Parmesan cheese
Pinch of ginger powder
Method
• Place all ingredients into large pot and cover with milk.
• Bring to a boil and simmer with grease proof paper on top of mix.
• Cook for around 25-30 minutes until just soft ,drain of the milk and dry coveted on stove.
• Now retrieve cinnamon stick, add butter crush carrot, pear and parsnip mix, season well.
• Place into serving dishes .
Method for Crumble
• Place butter, flour & oats into mixer and slowly work into a very crumbly breadcrumb.
• Add cheese, ginger and season well.
• Bake on a roasting tray 180˚C for 25 minute mixing every ten minutes until crispy.
• To serve reheat parsnip mix until very hot and top with crumble now serve .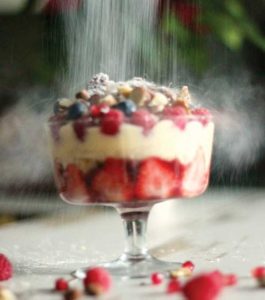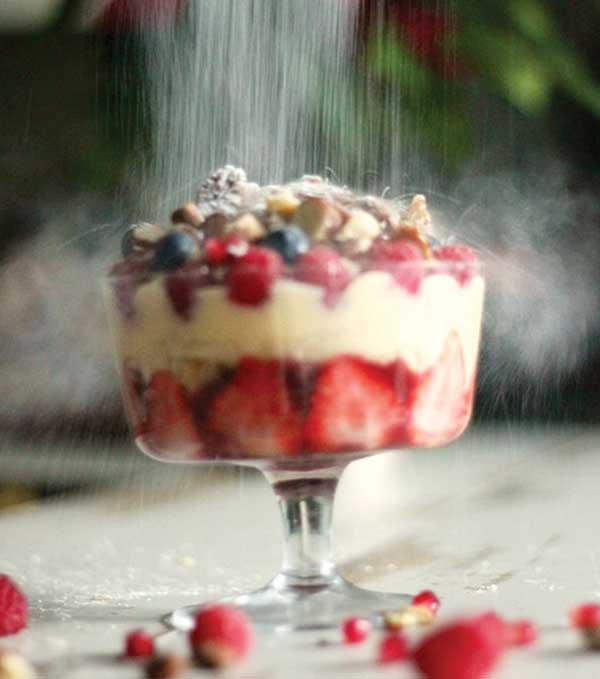 The perfect… trifle
So my favourite part of Christmas Day is my perfect boozy trifle.  The jelly must be set but still a little wobble & marinated fruits in the jelly always work for me soaked in cassis of course.
Ingredients – Serves 12
Jelly
100ml Fruit purée 
(raspberry is best)
100ml water
100g caster sugar
40g mixed fruit
2 1/2 Leaf gelatine 
(soaked cold water)
30 ml cassis
Sponge
85g self raising flour
85g Caster sugar
85g butter (soft)
1 egg
Custard
200ml Whole Milk
200ml Cream
4 Egg yolk
80g Caster sugar
1 Vanilla pod (deseeded)
1 tbsp of Custard powder
25g Butter
Candied Nuts
50g Mixed Nuts
250ml Water
100g Sugar
Creme Chantilly
50ml Double cream
50ml Whipping cream
1 tbsp Icing sugar
1/2 Vanilla pod (deseeded)
Jelly and Sponge Method
• Place sugar & butter into a mixing bowl and whisk until creamed.
• Add egg and mix well, now gently sift in flour, fold in until a 
smooth batter.
• Put into a non-stick baking cake tin.
• Bake @180˚C in oven 15-20 minutes, cool before cutting into squares
Custard Method
• Place milk,cream & vanilla into a pot and bring to a gentle boil.
• In a separate mixing bowl place yolks, sugar & custard powder and mix well.
• Now add half the boiling milk/cream mix to the sugary paste 
in bowl.
• Return pot to a low heat and with a spatula stir until thick custard consistency and finish with butter.(the butter gives the custard a real yummy gloss)
• Cool custard before using.
Candied Nuts Method
• Place water & sugar into a pot and bring to boil, now add nuts and reduce until water solution is nearly gone. (now drain well).
• Set a deep fat fryer @170˚C, now deep fry nuts for 1 minute 30 seconds until crisp and then allow to cool on a non-stick baking paper.
Creme Chantilly Method
• Simply whisk the ingredients until stiff and chill in fridge.
Building the Trifle
I start with my yummy sponge jelly on the base, surrounded with a layer of fresh fruit  then add Home-made custard & Lightly whipped Chantilly cream on top.  Finished with loads of fresh berries and pomegranate seeds on top & my secret ingredient (candied nuts). All you need now are friends, family and a big spoon and mouthful of sublime trifle followed by a sleep in front of the fire.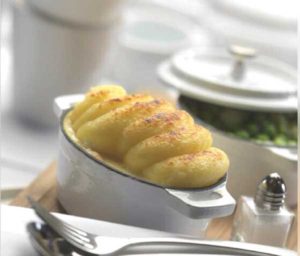 Perfect Mash
Ingredients – Serves 6
6 Yukon gold potatoes (peeled & diced)
60 ml Milk
60g Cheddar/Parmesan
Pinch of Nutmeg
60g Butter
1 egg yolk
Method
• Boil potatoes in cold salted water, once cooked, mash finely & season.
• In a pot add, milk, cheese, nutmeg & mash mix until smooth.
• When coolish add egg yolk & place in pipping bag.
• Pipe potato into casserole dish & sprinkle over bread crumbs.
• Bake for 15 minutes until golden
Sprout & Chestnut Crumble
Ingredients
40g fresh or frozen sprouts
1 shallot (finely diced)
1 garlic clove
10g chestnuts (chopped)
Nutmeg (grated)
5g butter
5g flour
50ml milk
10g cheddar cheese
1 tbsp. Panko crumbs
Method:
• In small pot melt butter, add shallots, garlic & soften.
• Now add flour and cook out for a minute & now add sprouts & chestnuts.
• Slowly add milk cooking until thick, add grated nutmeg.
• Season well place into little oven dishes, now top with cheese & breadcrumbs.
• Bake @ 190˚C for 15-20 minutes until brown.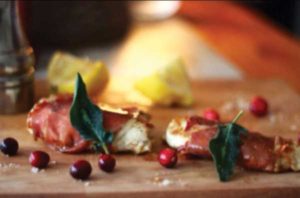 Turkey Saltimbocca
Ingredients – Individual Portions
Saltimbocca:
130g turkey fillet (marinated)
2 slices of Prosciutto ham
2 large sage leaves
20g butter
Salt & pepper
Sauce:
30ml wine
100ml Brown chicken/turkey stock
10 fresh or dried Cranberries
1tbsp Brown sugar
Saltimbocca Method:
• Simply place turkey fillet on bench, now add sage on top, wrap with ham tightly.
• In a non-stick pan add butter and cook turkey of each side for 2 minutes.
• Place into oven @180˚C6-8 minutes until cooked.
Sauce Method:
• In a small pot, add wine and bring to high heat.
• Now add brown sugar & cranberries reduce until sticky.
• Now add stock and reduce by half.
• Serve with fondant potatoes, roast roots & gratin of sprouts
Christmas tips
Ham & Ginger ale
When cooking your ham soak it in cold water in the fridge for 24 hours and rinse really well for a least 20 minutes ,now cover ham with ginger beer ,star anise & red onion. bring to a boil and simmer slowly until tender .
Brine for Tender Turkey
• 5kg turkey    • 12 litres water
• 800g salt    • Rosemary
• Thyme        • Orange peel
• 2 star anise
Method
• Place water into a large pot or basin add salt in slowly now add herbs & splices .
• Submerge turkey in brine, cover and place in cold fridge for 12 hours.
• Now remove and place turkey into fresh cold water for 1 hour before cooking.
Easy brandy butter tip
Place soft butter, icing sugar, brandy, cream cheese & ground almonds into a blender and leave until smooth ,just roll in cling fill leave in fridge to set before slicing to order.
Brandy sauce tip
If your making your sauce ahead of time cover with dampened greaseproof paper.
You can add spices or even chocolate buttons to change the flavouring of sauce.
A knob of butter at the end of sauce make it really silky.
Tips for simple party food
Fried bread crostini With cream cheese topped with smoked salmon trimmings ,brush inside pastrami with mustard ,add rocket and pickle roll up and place skewer through.
Fill mini tartlet cases with ham trimming mixed with a little Mayo, mustard & honey topped with pea shoots .