The 2016 GAA Congress took place in Tullow, Carlow from February 25th-28th and delegates were Paula Macfarlane, Sean Harte, Peter Byrne and Noel McGinnity. While at Congress the CGAA Delegation had a number of formal and informal meetings with various units, including: An Ard-Stiúrthóir;
Ulster Council;
New York GAA;
USGAA;
Croke Park Player Welfare Office;
Croke Park Insurance Officer;
LGFA;
Camogie Association;
GPA;
GAAGo.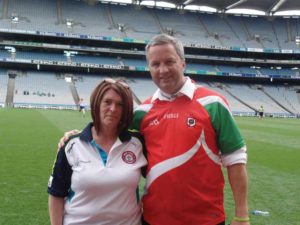 A number of DFA/GAA Global Games Development projects took place in 2016:
Calgary Fianna – The sustainable development of Gaelic Games in Western Canada  €2,500
Éire Óg Ottawa – Development of Hurling and Youth Camogie €2,500
Toronto Camogie Club €1,000
Toronto Divisional Board – Use of Centennial Park €2,500
Western Canada Divisional Board – Games Programme €4,000
Fraser Valley Gaels – Gaelic Football Adult Summer Recreation Programme €1,000
JP Ryan's – Hurling Academy 2016 €5,000
Montreal Shamrocks – Weekly Gaelic Football League €2,500
Ottawa Gaels – Youth to the Max: Sustainable Youth Development Initiatives   €2,500
Prince Edward Island Celts – A Piece of History  €6,000
Clann na nGael Hurling – Development of a new Hurling Team €2,500
Toronto Gaels – Off-season Indoor Gaelic Football Development Sessions €2,000
Na Piarsaigh CLG – A Continuation of Hurling Development in Toronto €4,000
Eastern Division Championships were held in Quebec City with the CGAA President Sean Harte in attendance. Ottawa Gaels won their second men's Gaelic Football Championship, whilst the Ottawa Gaels Ladies won their Football Championship two years running.  The Halifax Gaels Hurlers took home the James Ring Sr. Memorial Cup for the third year in a row.  Next year the Championships will be held in Ottawa.
Western Division Champions were held for the first time in Regina, Saskatchewan with CGAA Secretary John O'Flynn in attendance. The Calgary Chieftain Ladies and the Fraser Valley Gaels men's teams were the winners in Senior Football. Vancouver ISSC's  J.P. Ryan's won the Western Canada Hurling Cup. Regina Gaels were the Junior Mens Football Champions and the Edmonton Wolfe Tones were the Junior Hurling Champions. Next year the Championships will be held in Alberta.
Toronto Division League winners in Football were St. Vincent's (Mens) and Durham (Ladies). In Championship play it was a double for St. Michaels (Ladies) and St. Michael's (Men). The Junior Mens Football Champions were the Toronto Gaels, the Hurling Champions  were Na Piarsaigh CLG and a Ladies Football Shield to the Eastern Division's Ottawa Gaels.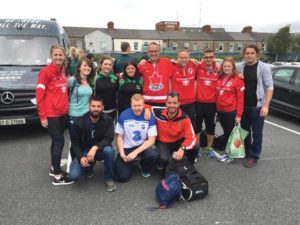 WORLD GAMES
Many of the Canadian players who have never been to Ireland and to Croke Park on game-day, very much understood the significance of the venue when they finally got there. What an honour and what an opportunity it was for all from Canada  to be at the Etihad Airways GAA World Games.
Held in Dublin from August 8th-12th, which included International units from across the globe – from Argentina to Middle East and from Australia to North America. Two men's football teams (Western Irish and Eastern Native), two ladies's football teams  (Eastern Native and Western Irish), and one Camogie team (Toronto) were competing for the chance to play their respective finals in Croke Park.
During an Opening Ceremony, which took place at halftime in the Waterford v Kilkenny All-Ireland Semi-final, and included team representatives parading around Croke Park, a global GAA audience via telecast, and those in attendance at the stadium, were  made familiar with the growth and strength of Gaelic Games among our International Units.
After Monday warm-ups, on Tuesday morning at UCD the competition opened with the CGAA football teams each playing four games. The Canadian Toronto Camogie team reached the plate final against the Middle East.
Eastern Canada's ladies football team ended up advancing to the 'Native Born' final vs New York. On the day of the finals, the teams warmed up in the locker rooms and ran through the tunnel just like an All-Ireland Day. As the teams took the field they  knew it was a moment that they will never forget. Each player played with their heart and did not give up until the final whistle.
All CGAA teams should take immense pride in their efforts during the week, and can be assured that they showcased the progress CGAA has made in developing Gaelic Football amongst Canadian born players.
The World Games finished with a closing banquet on Friday night. This was the one night all teams came together to celebrate GAA around the world. There was music and dancing from around the world but the most exciting moment was when they announced CGAA  player, Vanessa Mclean, as an All Star.
USGAA FINALS
Teams from the Western Division (Fraser Valley Gaels, Calgary Chieftains, Vancouver ISSC) and Toronto's Na Piarsaigh CLG and Camogie participated. For the first time in USGAA history, it took place in the Pacific Northwest in Seattle's  Magnusson Park on Labour Day Weekend.
CYC
It would be remiss not to highlight the work done by the CYC Steering Committee in ensuring a successful completion of this year's event in the midst of a "storm of the century" in Gaelic Park, Chicago. It was a pleasure to work with Paula Macfarlane  in the registration tent and to meet Canadian participants from the Ottawa Gaels and Ottawa Eire Og Hurling Club.
The importance of Youth games should not be underestimated, and the CYC is the embodiment of the old Gaelic Proverb:  Mol an óige, agus tIocfaidh sí    Praise the young, and they will prosper.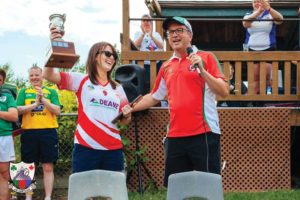 Bereavements
Our sympathies are extended to the families and friends of those that passed away during the year – the GAA in this country lost a number of good people in 2016.
Also this year, two past presidents of the GAA, and very strong advocates of Gaelic Games overseas passed away – both Jack Boothman and Joe McDonagh (particularly during his term overseeing the International Committee) were instrumental in sowing the  seeds for the growth we have seen in Canada over the last 10-15 years.
Our three Divisional boards worked very hard to deliver the playing of our Gaelic games in 2016. A special thank you to Presidents Sean Egan, Ronan Corbett and Jimmy Doyle and to the Divisional Secretaries Tracy Lyng, Orla McKiernan and Peter McGloin.
I want to thank Sean Harte for raising the bar further in the running of the CGAA, to Paula for her commitment to youth games and their protection, to Yvonne for her work with on line registration and to a very tri-lingual (Irish, French and English)   Ronan Corbett for their service.
I have had the opportunity to work with good men and women during my time at the County level, Diarmuid O'Connor,  Eddie Mangan, Lorraine Morley, Jarlath Connaughton and in particular Brian Farmer. Thank you Brian for taking a 'flyer' on me and providing  an opportunity  for to serve back in 2004. It has been a truly amazing journey, one of many good and productive memories.
Let us continue to move forward, giving freely of our time and talent in promoting our Gaelic Games for Canadians and with Canadians, and may we be always willing to welcome those who arrive from Ireland for a new beginning and a new adventure in our  Country and with our Clubs.
Sean O'Floinn
Secretary of the Canadian County Board
www.canada.gaa.ie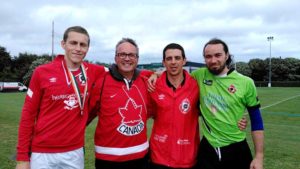 The Canadian Gaelic Athletic Association (CGAA) is the Incorporated and officially recognized governing body for the Country of Canada, for the three Gaelic games and Cultural Organizations namely the Gaelic Athletic Association (GAA), the Ladies Gaelic  Football Association (LGFA) and the Camogie Association (CA) whose headquarters are all based in Dublin, Ireland. The CGAA is the Final Authority on all matters within its Jurisdiction.
In eight provinces (five time zones and 9,306 km of extreme width distance) of the Maple Leaf County are 14 communities of affiliated GAA clubs with over 1000 playing participants.
The Western Divisional Board (2004) consisting of British Columbia's Vancouver Irish Sporting and Social Club and Fraser Valley Gaels; Alberta's Calgary Chieftains, Red Deer Eire Ogs (Mens), Edmonton Wolfe Tones; and Saskatchewan's Regina Gaels (Mens).
The Toronto Divisional Board (1947) consisting of Ontario's Toronto Na Piarsaigh CLG, Clann na nGael Hurling, St. Mikes, St. Pats, St. Vincents (Mens), Gaels (Mens), Camogie Club, Roger Casements (Ladies); Durham Robert Emmets.
The Eastern Divisional Board (2014) consisting of Ontario's Ottawa Gaels; Quebec's Montreal Shamrocks and University of Concordia Warriors; Quebec City Les Patriotes and Hurling Quebec; Nova Scotia's Halifax Gaels, Prince Edward Island Celts and Newfoundland  and Labrador's St. John's Avalon Harps.
The founding of the CGAA took place in Toronto, Ontario on Sunday, November 15th 1987. Ireland's GAA President Dr. Mick Loftus of Crossmolina, County Mayo, chaired the meeting. Among those in attendance were Toronto's Cormac O'Muiri, Ottawa's Pat Kelly,  Montreal's Paul Moran and Paddy Dunne (R.I.P.). The first elections of officers were Toronto's Paul Kennedy as Chairman, Vancouver's John O'Flynn as Secretary and Ottawa's Michael Connolly as Treasurer.
Others who have served on the County Board since its foundation include Diarmuid O'Connor, Noelle Russell, Sean Harte, Matthew Healy, Fionnuala McGovern, Pat Donnelly, Billy Millar, Lorraine Morley, Jarlath Connaughton, Eddie Mangan, Yvonne Morley, John  O'Flynn and Ronan Corbett.
Youth organizations within the CGAA include Vancouver ISSC, Calgary Na Fianna, Toronto Chieftains, Ottawa Gaels and Ottawa Eire Og Hurling.