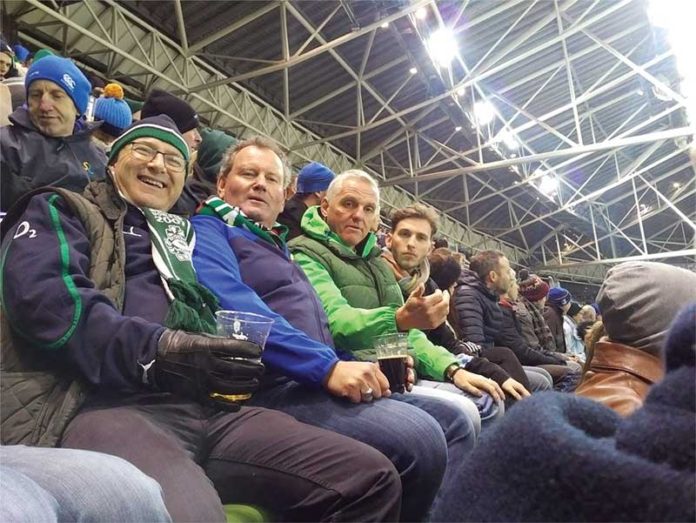 It was in the air, from the moment of landing at O'Hare. The throngs of people in the morning hours, coming and going. Many had the hats, shirts and souvenirs of The Cubies momentous come from behind win against Cleveland to clinch the World Series.
Thankfully, with carry on luggage, it was a speedy process to the cab, which got us to Michigan Ave, near our hotel in record time. However, there was no access as the street was closedown for the parade. Five million people no less, to see their team end a 108-year drought for their fans. It was a sight to see, with a wonderful atmosphere and I was fortunate enough to be there for all of it. Once completed the cleanup crews came by as quickly as the buses in the warm sunshine of the Windy City and we were cleared through. As the masses headed to the park for the continued celebrations, it was check in to the hotel, leave the gear and join the already ensconced Irish contingent in the various bars.

It was off to The Kerryman Pub, which was already packed. I had arranged to meet some 20+ of our nearest and dearest. Within an hour, we had all gathered and obviously, it was overflowing. Plan B ensued and off to Fado, another establishment nearby. A group, led by Shane O'Neill, who magnificently arranged tickets and hotels for many from Ontario had descended the night before. However, a lineup was already in place, so we could see that this was going to be interesting keeping all the groups together. However, it all fared beautifully. Many pictures to be seen on Celtic Canada's Facebook page tagged, Chicago and Dublin!
The following morning was an early breakfast and gathering all of us together was impossible. The streets were lined with Green Jersey's and fair to say, quite a few Kiwis in their famous black, were plentiful, if well outnumbered. A glorious day, as the temperature kept rising, like the sense of anticipation of this occasion on US soil.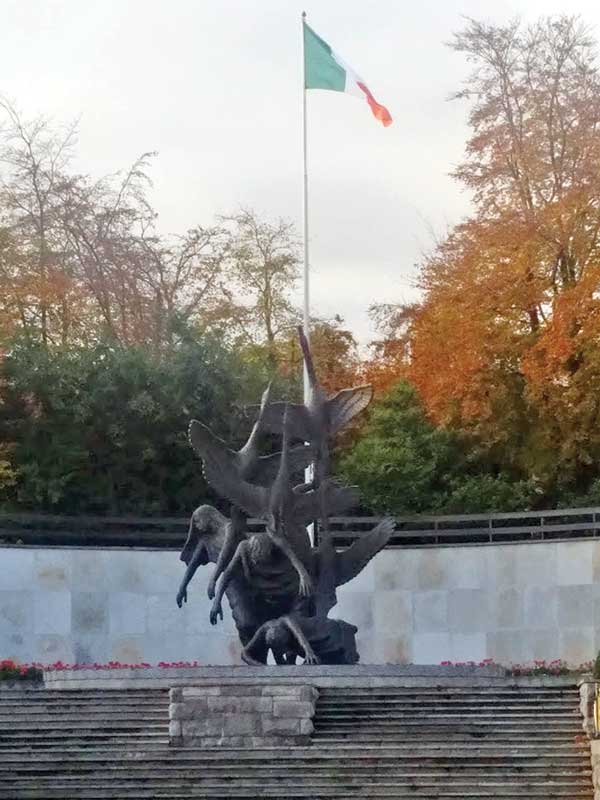 Cabs, Ubers and buses made their way hours in advance towards Soldier Field. It was apparent that, within a mile and a half of the stadium, it was "walkies", because the traffic was going nowhere. Singing galore on the way, transforming the city into festival mode. Arriving in plenty of time, you could see that unlike the tailgates that occur, the officials didn't expect so many to show up needing to purchase refreshments. Guinness, possibly should have had many more trucks and bar stops outside, as the lineups were 100 deep. So, into the stadium we went and it was a little less congested as Soldier Field is beautifully laid out for spectators and access was simple.
As kickoff approached, the stadium filled and on came the teams to a deafening roar. That would give anyone goosebumps, (could only imagine how the players felt). Now it was all to begin, The New Zealanders anthem, "God Defend New Zealand", with a fine rendition by a young tenor, along with the team and fans. It was then to turn of Ireland's Call, now this was confusing and missed by most.  A violinist began to play, so for the 1st verse, everyone was thinking a lead vocal was to commence post. Not the case, by the time yer man was done, everyone, including the team all looked at each other wondering what was that? Anyone, onward and upward I say. It was Haka time. Microphones placed in front, the All Blacks ready to go. And oh my, what a sight from the Irish team. They stood in a figure 8, Anthony "Axel" Foley's jersey and that brought a tear or two for many of us. It was a powerful rendition for sure, but we knew we were in for something special this day.
For those of you that never saw the game, check out this highlight reel,  https://www.youtube.com/watch?v=U1a6gtYsw38. After the All Blacks scored in the early minutes, the fears kicked in, but oh, what a game. Ireland went deep for whole eighty minutes. It was a phenomenal performance, by both sides. The build up in the stadium, coming to a crescendo right at the end. It was the most intense, beautiful thing to have witnessed as an Irish Rugby player and supporter, who had been to three previous encounters with the All Blacks, always coming up short. Ireland finished off 40-29 winners, a score that Anthony Foley had lost to NZ in his last test. Incredible stuff and this Irish team made history. 111 years and 29 attempts to beat the All Blacks and we witnessed this unbelievable game.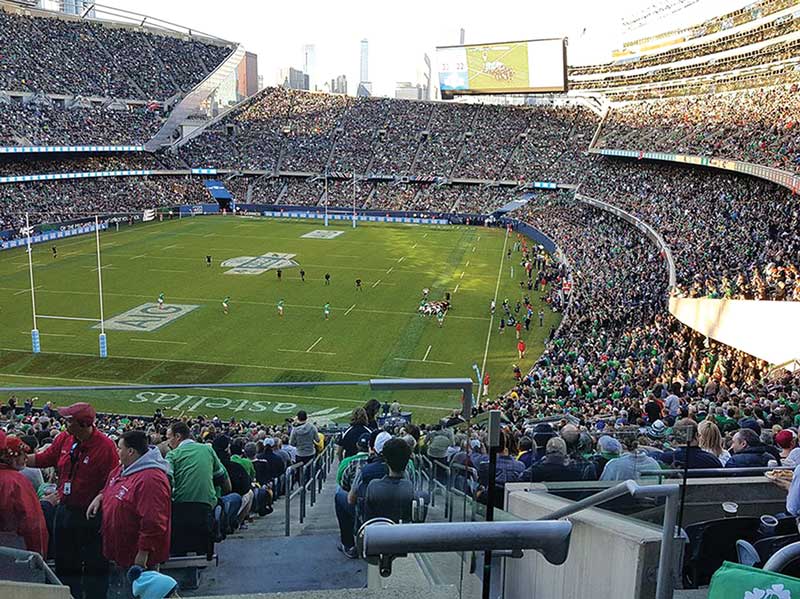 The celebrations on the field lasted for a long time, as the players stayed on the pitch, with fans not leaving in any hurry, to bask and absorb this whole experience. It is one for the ages, with another to play for two weeks later in Dublin.
Speaking of which, a few us managed to get away from Chicago on the Monday and descended upon Dublin for the next installment. It was Canada this time visiting in a repeat of the World Cup 1st round match in Cardiff from a year ago. It was treble to played for, from an Irish perspective. The early start had Ireland playing Austria in Vienna in the FIFA qualifier, where for the first time in 53 years a victory was had, putting the men in green top of their standings with a goal by James McClean. It was then off to Lansdowne Road and Aviva stadium (again). We had been there the night before to watch Lansdowne defeat UCD in the Ulster Bank League.
It had been a beautiful sunny day, but match kick off was not till 7.15pm. With that, as many of you know, 5 Celsius in Dublin can be worse than a January in Winnipeg, with the dampness kicking in something fierce. However, it was a great occasion in a sold-out Aviva Stadium to see my adopted country playing against my home and native land. Wonderful performance by Canada, without too much expectation, they played a brave match having kept it close for almost an hour. Canada scored 3 tries early, but with Ireland mixing up the team with players brought in from the squad and new caps, it was apparent that the all-round play was beyond the visitor's grasp. By the time it was all said and done, Ireland ran out 52-21 winners. 8 tries for Ireland with Paddy Jackson making 6 of the conversions. It was a great spectacle and a great experience for Canada, who have further tests in November against, Romania and Samoa. Ireland have the All Blacks to contend with, followed by the final test against the men from Van Diemen's Land, Australia Wallabies.
With that, it was into the warmth of Lansdowne Clubhouse and joining the many old playing pals from years gone by. There were some great accolades from the members at the club regarding Canada's performance. I must say it is a side that is on the cusp of becoming a stronger team on the world stage.
Post all the celebrations, several the young lads intended on staying up for Conor McGregor's UFC title bout, which was 4am, Irish time. Enough of that, I was in me "leaba", but saw the highlights while having a full Irish in the hotel, next morning. McGegor did it in style too, winning decisively for the former Plumber from Dublin.  He now holds 2 belts in different weight classes, making "Mystic Mac" the first in UFC history to hold the same.
So, that was the end of the tour on Sunday, back on Aer Lingus to Hartford, then Toronto. It was a most memorable sports trip, with memories that shall remain for those who had made all or even part of the 
events.