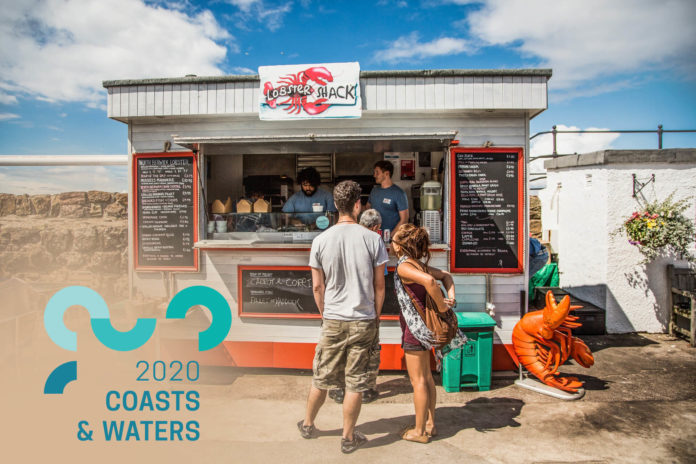 It's no secret that Scotland's larder is made up of some of the best produce in the world! We have the Atlantic on our doorstep, which means our seafood selection arrives fresh and tasty to our restaurants, cafés, bars and markets every day. From Arbroath Smokies and juicy fish and chips, to creel-caught langoustines and crispy lobster, there is a whole range of tasty seafood delicacies you can try across Scotland.
A great place to find these delectable morsels is at a local seafood shack. You can find these all over the country, from Ullapool in the north west, and the Isle of Seil in Argyll, to the fishing port of Crail in Fife, you won't be lost for variety no matter where you go. And, as the majority of these seafood shacks are by the coast or harbour, you can enjoy gorgeous seaside views as you tuck into your food! Remember to plan a trip to one of our seafood shacks in 2020, as we celebrate Scotland's Year of Coasts and Waters.
1. THE SEAFOOD SHACK, ULLAPOOL
Situated on West Argylle Street in Ullapool, opposite the museum, The Seafood Shack is a real gem in the town. Set up by two local lassies, the shack has won many awards for its beautifully cooked seafood including langoustines cooked in a hot garlic and thyme butter, traditional Cullen Skink, fresh local oysters, and scallops served with caramelised red onion wild rice, to name a few. Everything is caught fresh and with the waters off the west coast being home to some of the best prawn, crab, and lobster, they'll no doubt get your taste buds tingling.
2. NANNY'S, SHIELDAIG
Providing a delicious platter of seafood since 2008, Nanny's in Shieldaig on the north west coast boasts a mouth-watering variety of dishes, light bites, specials and more that you can dig your teeth into. Aside from seafood, Nanny's also offers a delightful range of breakfast options as well as a lovely selection of home baking and cakes too.
3. THE OYSTER SHED FARM SHOP, SKYE
Located in the village of Carbost on the Isle of Skye, where you'll also find Talisker Distillery, The Oyster Shed Farm Shop provides the highest quality of Pacific oysters grown in the crystal-clear waters of Loch Harport. If oysters don't take your fancy, why not try smoked salmon, mussels, crab, scallops, smoked Scottish game and a variety of cheese and chutney too – as all are set to impress! Admire the stunning views after a day of exploring, whilst you delve into a delicious dish of local goodness.
4. FISHERMAN'S PIER FISH & CHIP VAN, ISLE OF MULL
Elsewhere on the west coast, Tobermory on the Isle of Mull is a colourful waterfront village that is home to the popular Fisherman's Pier Fish & Chip Van. But this isn't any old fish and chip shop! Every fish, scallop and delicacy is caught fresh from the sea every day and is cooked to perfection before being served up with fluffy chips. Tuck into your favourite dish as you gaze out across the harbour as the sun sets.
5. OBAN SEAFOOD HUT
Also known as 'The Green Shack', the Oban Seafood Hut is a favourite amongst locals and visitors and boasts a delicious array of lobster, scallops, crab and more to savour. Located on the south side of the town by the railway pier, you can buy your favourites to eat on the spot or to take home with you to enjoy later.
6. SKIPNESS SEAFOOD CABIN, TARBERT
This piece of tasty history has been around since 1988 and has been serving up a range of specialities, treats, platters and more for many years, so you can guarantee the food will be incredible! Head over to the Skipness Seafood Cabin near Tarbert in Argyll where you can choose from crab, smoked salmon, and gravadlax to name a few, or tuck into one of their hearty salads.
7. REILLY SHELLFISH, CRAIL
Head to the harbour of the pretty seaside village of Crail in Fife where you can dine at Reilly Shellfish, also known as The Lobster Hut. Established in 1974, this quaint little shack overlooks the picturesque Crail harbour and serves up the freshest North Sea crab and lobster dishes.
8. LOBSTER SHACK, NORTH BERWICK
North Berwick in East Lothian is a popular spot for a stroll along the beach, a picnic on the sand, or dipping your toes in the crisp sea water, but there is also an incredible seafood setting here to explore. Head down to the harbour to the Lobster Shack where you can indulge in range of seafood dishes, including lobster and crab bisque, seafood chowder and breaded squid. Afterwards, enjoy an atmospheric stroll along the beach or watch the sun set across the horizon towards Fife.
9. THE CREEL SEAFOOD BAR, ISLE OF MULL
Head across the water from Oban to the Isle of Mull off the west coast for some of the freshest seafood you'll find in Scotland. The Creel Seafood Bar in Fionnphort boasts an array of mouth-watering seafood which is all caught locally in the waters surrounding Mull and Iona. Delve into a platter of scallops and mussels, crispy langoustines, creamy Cullen Skink, prawns, crab and more.
10. LUSS SEAFOOD BAR, LOCH LOMOND
Across the bonnie banks of Loch Lomond, head to Luss Seafood Bar where you can taste the finest selection of Scottish seafood and seasonal produce, all whilst admiring stunning views out across the loch. The menu was created by award-winning chef, David Hethington, and is overflowing with vibrant dishes, including beech smoked salmon and mussels, as well as offering a variety of delicious hand-picked gins.
11. THE OYSTER BAR, ELLENABEICH
In Argyll, the small village of Ellenabeich on the Isle of Seil is home to The Oyster Bar, which is a favourite among visitors and locals alike. This family run bar is situated only 16 miles south of Oban and sits among a beautiful setting that is perfect to admire as you tuck into your dinner. Choose from a range of lite bites, lunch and dinner which includes scampi, fritters, locally sourced langoustines and mussels, as well as lovely home baking and cakes to enjoy too.
12. CHEESE TOASTY SHACK, FIFE
Are you ready for award-winning gourmet grilled cheese toasties with a variety of toppings that will leave you licking your lips for days? We know this isn't a seafood shack as such, but as it's wonderfully located by the sea, overlooking Kingsbarns Beach and St Andrews Pier, we felt it should be included. The Cheese Toasty Shack is definitely one to visit when you're in the area, especially after a long walk along the coast. Keep an eye out for special Cheese Toasty Shack events happening across the region too!
Like we said, Scotland is full of impeccable produce, and this is just the seafood! Explore more restaurants, bars and markets across the country where you can taste a whole variety of seafood and more.