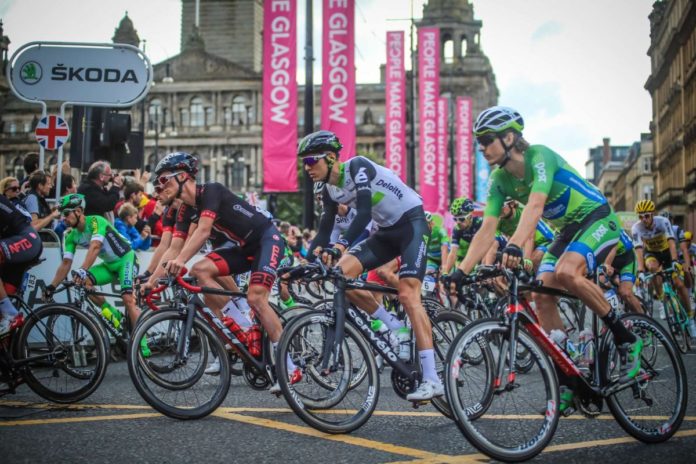 Invented in 1839, by Dumfries-shire raised Kirkpatrick Macmillan, Scotland is the spiritual home of the bicycle which makes perfect sense given pedal-powered two wheels is undeniably the best way to explore this lovely country!
Don't just take our word for it though. A round of the Mountain Bike World Cup has been coming to Fort William since 2002. And in 2023, Scotland will be the first ever nation to host all 13 Cycling World Championships at the same time – they usually happen at different times of the year and in different places. So clearly, there's something special about cycling in Scotland.
There are wonderful routes to explore any day of the year and also a great selection of fantastic cycling events to join or for spectators. Here are just a few, you won't want to miss.
1. EDINBURGH FESTIVAL OF CYCLING
6 – 16 June
Cycling through Inverleith Park, Edinburgh
Edinburgh is rightly renowned as a city of festivals, so it seems fitting that the capital should also have a Festival of Cycling. Celebrating all things bicycle and now in its seventh year, this is one of the UKs best two-wheel events. Over the course of 11 days, the programme includes a great selection of participation and competitive rides, themed talks, have-a-go sessions, workshops and family events and rides – plus some events are free. What better way to explore Scotland's capital than by bike during this friendly summer festival?
2. LET'S RIDE – GLASGOW
4 August
Let's Ride are brilliant and free cycling festivals for everyone and take place in cities across the UK. This year, these safe, closed-road events, will be taking place in Glasgow and Edinburgh. There's loads of fun activities and challenges for all, entertainment and local street food plus a few surprises planned. You don't even have to be an experienced cyclist to take part. Register now for all the updates, a free Let's Ride bib (to keep) and a free Shimano bike service from Madison on the day.
3. WOMEN'S TOUR OF SCOTLAND
9 – 11 August
The Women's Tour of Scotland takes place for the first time in 2019 and will see top riders and teams from around the world compete alongside our home-grown talent. Following a three-stage 350 km route through five of Scotland's seven cities, the professional racing will start in Dundee and end at Holyrood Park in Edinburgh. The tour looks set to inspire the nation to get on their bikes, quite literally, as a mass participation ride for up to 5,000 participants will also be part of the programme.
4. BEALACH MOR
31 August
The twisty Bealach na Bà pass from Lochcarron to Applecross, Highlands
Although the Bealach Mor includes arguably the toughest hill climb in the UK, there is amazing scenery to distract, delight and energise riders all along the route. Running for 144 km from Kinlochewe by stunning Loch Maree, this challenging event also includes 2,100 metres of climbing. It takes riders through glens Docherty and Carron and on to a mighty 626 m ascent of the legendary Bealach na Bà (Pass of the Cattle), before descending, with jaw-dropping views of the Isle of Skye, into Applecross. The route then takes riders through the Applecross peninsula and breath-taking Glen Torridon, before returning to Kinlochewe.
5. DUKES WEEKENDER
7 – 8 September
Competing in the Dukes Weekender, Trossachs © Stu Thomson
Here's an event that's just a wee bit different. The Dukes Weekender centres on the Dukes Pass near Aberfoyle in the lovely Trossachs. It includes three biking events and the friendly Dukes Gathering hosted at Aberfoyle's Forth Inn. The first event, taking place on Saturday evening, is a closed-road hill climb up the Dukes Pass running 1.9 km and rising 150 m – bring your cowbells to cheer on the competitors! Then on Sunday, there's a 70km gravel and trail enduro through Loch Lomond & The Trossachs National Park that's perfect for gravel bikers and cross-country mountain bikers. Choose your event or opt for the 'Full Dukes' and do both! There's even a mini-enduro for the kids!
6. TOUR OF BRITAIN
7 – 12 September
The Tour of Britain sweeps through Glasgow's George Square © Tour of Britain/SweepSpot Group
Scotland is set to host the opening two stages of the OVO Energy Tour of Britain for the first time in the modern version of the race in what is set to be, when combined with Pedal for Scotland (see below), an amazing weekend of cycling. Starting in Glasgow's George Square, the route heads south into Dumfries & Galloway, passing through stunning countryside and taking in testing hill climbs along the way, eventually finishing in the lovely town of Kirkcudbright. Stage two will follow a challenging loop route starting and finishing in the Scottish Borders town of Kelso. This is the 15th anniversary of the tour in its modern version and it always attracts some of the best riders in the world.
7. PEDAL FOR SCOTLAND
8 September
Enjoying the Classic Challenge on Pedal for Scotland
Celebrating its 20th anniversary, Pedal for Scotland, Scotland's largest mass participation cycling event, returns to the streets, quiet minor roads and trails of Glasgow, Edinburgh and central Scotland. The aim of this event has always been to get more people cycling, more often, and that's reflected in the ride options available. For the youngsters, there's Wee Jaunt Edinburgh – a safe, closed roads route of 10 miles running between historic Linlithgow and Edinburgh. For those looking for a lovely day out in the saddle, try the 45 mile Classic Challenge. And for fitter riders, there's the 100-mile Big Belter, which also starts in Glasgow and goes south through Lanarkshire, before heading north-east to Edinburgh. Whichever option you choose, you'll definitely have a memorable and rewarding day out.
8. LET'S RIDE EDINBURGH
22 September
Let's Ride Edinburgh in 2018 © Scottish Cycling
Let's Ride returns to Scotland in September, to the east of the country this time and the nation's capital. The Edinburgh event promises the same great atmosphere as its Glasgow sibling and again on closed roads, so it's safe, friendly and fun for all the family. You don't need to be an experienced cyclist to take part either. Do as much, or as little of the route as you want and stop as often as you like!
Get along to one of these great events and enjoy a summer of cycling in Scotland. And why not take a look at the new Sustrans National Cycling Network map and visit our cycling section, if these events have sparked your desire to explore more of Scotland on two wheels?