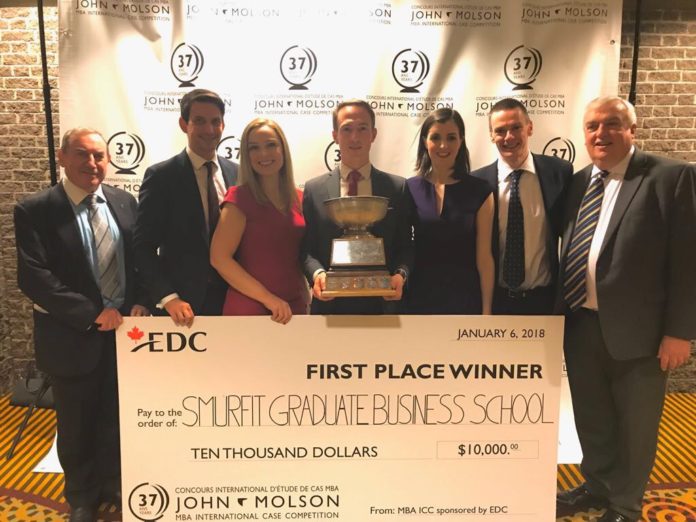 The team was in Montreal to represent UCD in the 37th edition of the John Molson International MBA Case Competition, a bilingual competition for outstanding MBA students, which this year had 36 teams from 19 countries representing all five continents. The competition was held from January 1st to 6th at the Bonaventure Hotel. The competition was created in 1981 and is currently the oldest and most international MBA case competition in the world. The competition's slogan is: Innovate Connect Compete. The competition is a round-robin format where the teams are given three hours to solve a unpublished business case. Each team is required to carry out an analysis, develop a strategy and an implementation plan. The team then delivers a PowerPoint presentation to a panel of five judges (one of whom is a lead judge) for 25 minutes. Following the presentation there is a 15 minute period of probing questions by the judges. The winning team receives the coveted Concordia Cup and a cash prize of $10,000. There are also two awards: the Dr. J. Pierre Brunet Coach Award and the Richard Outcault Team Spirit Award. This year's event involved a Board of Directors of 13, a committee of nine, 400 student volunteers, 300 judges who are local business executives (including myself as a lead judge), 144 participants, 50 coaches and over 20 sponsors and donors. One of the sponsors was the Irish Embassy Pub and Grill. In all there were over 1,000 attendees.
The Team
Maria Barry
Maria Barry is a Senior Medical Information Manager in Novartis Global Services Centre Dublin. She completed a Bachelor of Science in Pharmacy in Trinity College Dublin and completed a Masters in Clinical Pharmacy in Robert Gordon University Aberdeen, Scotland. Maria spent 5 years working as a Clinical Pharmacist in Our Lady's Children's Hospital Crumlin, the largest pediatric hospital in Ireland, before she joined Novartis in 2014 as a Medical Information Manager. She was a member of the UCD Michael Smurfit Ladies MBA Touch Rugby World Cup team in 2017 and recipient of the UCD Michael Smurfit MBA IMAGE scholarship 2016.
Gearóid O'Briain
Gearóid has spent ten years in the military as a pilot and is currently a flight instructor and the head of training for the Irish Air Corps. He has flown several military aircraft including Ireland's presidential transport aircraft, serving for two Irish presidents. He is currently one of a small group who are qualified for ceremonial and display flying, as well as live weapons firing from aircraft. Outside of the military, Gearóid runs Ireland's largest unmanned aviation school and is the head of sales and marketing for a software company developing unmanned search & rescue solutions. Gearóid enjoys public speaking, reading, and working on innovative team projects.
Ruth Lalor
Ruth has spent ten years working in clinical research, currently as Director of Business Process Improvement at ICON Plc, a top tier multi-national clinical research organisation. Having completed a PhD in molecular pharmaceutics, Ruth spent a number of years in the project management of global clinical trials before becoming a certified lean six sigma black belt and moving into operational excellence. Ruth is the recipient of the UCD Michael Smurfit MBA Achiever scholarship 2016 and outside of work and studying, she enjoys entertaining for friends and family, reading and travel.
Paul Donnelly
Paul is a business operations lead with Shire Pharmaceuticals based in Dublin, Ireland. He previously worked for five years in the company's global outsourced manufacturing group concentrating on supply chain and technology transfers. Earlier in his career, Paul was a senior consultant and project manager with DPS Engineering, an international consultancy specialising in process design and project delivery for large scale clients in the pharmaceutical and micro-electronics industries. Paul holds a degree in chemical engineering and masters in operations management. He is also a keen triathlete and has a passion for travel.
Andrew Gebelin
Andrew Gebelin is Senior Director of Research for EMEA and Latin America at Glass Lewis, a global corporate governance advisory firm. A few key accomplishments in his 11 years there include developing a new analytical framework for executive compensation, managing international team expan-sions, and planning strategic acquisitions and external partnerships. Andrew has lived on three continents and speaks four languages. In his free time, he can often be found practicing yoga or hiking over mountains. He has a B.A. in International Relations and Spanish from Whitworth University
The Competition
In Case 1 UCD defeated Technische Universitat Kaiserslautern, Germany and in Case 2 they defeated the University of Rochester, Simon Graduate School of Business, USA. In case 3 UCD defeated HEC Montreal. In Case 4 UCD were victorious again in defeating Memorial University of Newfoundland, Canada and in Case 5 they defeated Narsee Monjee Institute of Management Studies, India thereby becoming divisional winners and wining $1,000.
In the semi-final UCD faced Brock University (Goodman School of Business) and Universite Laval. There are three teams in each semi-final. There are also three teams in the finals.
By winning UCD received $10,000 and the Concordia Cup. The second place prize of $7,000 went to the University of Manitoba (I.H. Asper School of Business). FIA Profuturo Business School, Brazil won the third prize and received a cheque for $5,000.
The competition this year, included such prestigious universities as: Ben-Gurion University of the Negev, Israel; FIA Business School, Brazil; Nanyang Technological University, Singapore; Porto Business School, Portugal; Xiamen University, China; and University of Capetown, South Africa. Local universities included Concordia (the hosts), HEC Montréal and Université Laval. McGill University was conspicuous by its absence.
The following is my interview with team member Ruth Lalor:
What does it feel like to be the winners of such a prestigious competition? It's really a great feeling to win such a prestigious competition. The competition was really strong throughout, which makes it all the more worthwhile, and a better learning experience. This is the first time an Irish team has won, it's been fantastic to bring the John Molson cup back to Ireland, and the UCD Michael Smurfit Business School.
When did you decide to enter the competition? Smurfit have entered a team from the executive MBA class for the last number of years, and the individual team members decided in October '17 that they'd like to participate.
How did you form your team? The college held a mock case competition at an individual level, for which all of the interested participants prepared the case that was used in last years' final in the JMICC. We each presented the case a committee of staff and last year's team; this committee selected the team members based on this.
How did the team prepare for the competition? We practiced 6 or 7 cases as a team in the evenings and weekends, and also had some sessions with a presentations coach.
How was the trip financed? The school financed the trip.
How did the team find Montreal? Cold!!!!! But lovely – we spent a day wandering around the old city, to see the sights (with lots of stops for coffee to warm up).
What were your main learnings from your participation in the competition? All of the different ideas that different teams came up with, the value of diversity, and what you can do in 3 hours as a team if you put your mind to it!
How will these help you in your studies? I think it helped us in our strategy classes, to analyse situations rapidly and to think outside the box.
How will they help the team in their careers? It will certainly give us the confidence to stand up in front of any group of people and present an idea, no matter how strange it may seem! It also taught us the power of speaking with conviction and believing in yourself, which will be valuable to all of us in our careers.
To what do you attribute your performance? Working together as a team, practice, and great coaching.
How would you describe your personal experience? It's been tough in terms of managing the practice sessions when coming up to exams and assignment time last semester, as we all also have full time jobs, but it's been really rewarding. The team are split across two executive MBA classes so it was great to get to know people from the other class better. It was also great to interact with MBA students from around the globe.
How did you find the other teams? Lovely!
What advice would you give to next year's team? Practice working as a team – this really is key!
The Montreal Chapter of the UCD Alumni Association hosted a Meet and Greet Reception for the visiting team on Monday, January 3rd 2017 at The Irish Embassy Pub and Grill on Bishop Street. The team was accompanied by their coach Dr. Pat Gibbons who is the Jefferson Smurfit Professor of Strategic Management. In addition to UCD alumni residing in Montreal, other members of the Irish Community braved the snow and the cold to attend the Meet and Greet reception for the team. Some of the missing UCD alumni expressed their regrets from Florida and Mexico! Dr Gibbons preseted two beautiful framed St. Brigid's crosses to Paul Loftus and Paul Quinn (in absentia).
The Montreal Chapter of the UCD Alumni Association thanks Paul Quinn, owner, Irish Embassy Pub and Grill, for providing our visitors with their refreshments and the entire attendance with their food for the evening.
By: Paul Loftus, a B.Comm graduate of UCD, President of the Montreal Chapter of the UCD Alumni Association.