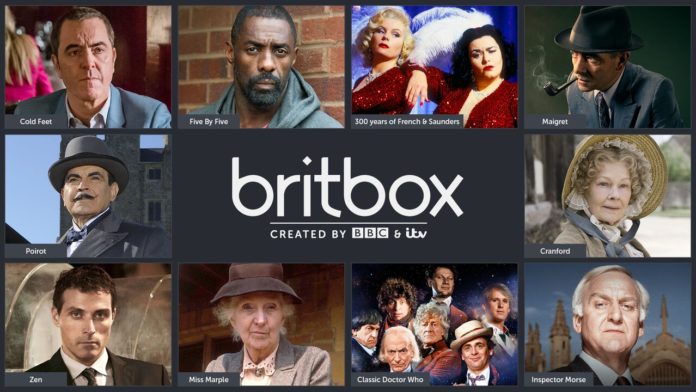 BritBox, the subscription streaming service from BBC Worldwide and ITV, is set to celebrate the spring this April with an array of top UK titles. Starting the month with the annual Easter From Kings event, the roster will also include a political stunt featuring one of the UK's most popular political programs (Question Time) and a pair of political parodies (Spitting Image & Newzoids) as well as new episodes of famed detective series (Unforgotten). BritBox brings Canadians the very finest and largest collection of British TV available in the market.
Screeners are available upon request for select programming and assets can be found here.
• April 1: Easter From Kings (Canada Exclusive Premiere) – Bringing this BritBox annual tradition to Canada, the service will once again offer the traditional Easter Sunday service – "Easter From Kings' – in presentation from Cambridge University's historic Chapel of Kings College. The service features a selection of gospel readings and music accompanied by the beautiful voices of the all boy choir. (*"Now" Title)
• April 4: Poirot, season 13 (BritBox Exclusive Premiere) – For over 25 years, David Suchet has portrayed the inspired Belgian investigator, Hercule Poirot, creating a unique catalogue of timeless crime fiction. Join David Suchet for an emotional farewell as Agatha Christie's number one detective takes on his final cases.
• April 10: Political Circus – BritBox presents some of the UK's most popular political programs and a pair of political parodies including:
• Spitting Image (BritBox Premiere) – A milestone in television comedy, Spitting Image lifts satire to a whole new level. Entertaining and informing a whole generation in the 80's and 90's, the award-winning series and its grotesque latex caricatures, lampoon and ridicule everyone from pop stars to politicians to even the British Royal family. No one is safe from the writers' razor-sharp wit and up-to-the-minute political satire. (April 10)
• Newzoids (Canada Exclusive Premiere) – Featuring a groundbreaking blend of high-energy traditional puppeteering and state-of-the-art animation, alongside snappy writing and pinpoint accurate voices from impressionists, the series uses a cast of outrageous, off-the wall characters to put a satirical and surreal spin on the world's headline stories. From "Forrest Trump" to "Despicable May," everything is fair game. (April 11)
• Question Time (Canada Exclusive Premiere) – As a companion piece to BritBox's popular PMQ aka Prime Ministers Questions, Question Time offers topical debate in which guests from the world of politics and media answer questions posed by members of the public. Filmed in front of a live audience the series is moderated by David Dimbleby. (*"Now" Title) (April 12)
• April 14: Unforgotten (BritBox Exclusive Premiere) – This crime drama focuses on a cold case reopened after 39 years. When the body of a young man is discovered in a derelict building, DCI Cassie Stuart – one of the Metropolitan Police's smartest detectives – is called in to investigate.
• April 18: QI, season 12 & 13 (BritBox Exclusive Premiere)– With Stephen Fry, the original host, at the helm of QI, BritBox is reaching back into the vaults to add Fry's final two seasons to the service. Featuring permanent panelist Alan Davies and current host Sandi Toksvig along with a who's who of top UK guests, the panel series proves sometimes being interesting is more important than being right.
• April 21: Our Friends in the North (BritBox Exclusive Premiere) – Spanning a time of local authority and police corruption in the 60s, the radical far-left militancy of the early 70s, Thatcher's election, the 1984 miner's strike and the subsequent 'murder' of Northern communities, this epic saga follows the lives of four young people in North-East England stretching from 1964 to 1995. The series also features early appearances of top Hollywood talent such as Daniel Craig, Christopher Eccleston, Gina McKee, Mark Strong, Malcolm McDowell.
• April 24: BritBox's "Marvel-ous" Celebration – Before they showcased their skills in Marvel signature blockbusters, several members of the Avengers universe (including Benedict Cumberbatch, Tom Hiddleston and Idris Elba) showed off their "super" talents on the small screen in numerous British favorites. BritBox presents a playlist of "Actors to Marvel At" timed to Marvel's Avengers: Infinity War hitting theaters this month.
• April 28: The Coroner, Season 2 (Canada Exclusive Premiere) – Set against a stunning Cornish countryside and seaside backdrop, crime investigations are at the heart of this drama series following a high-flying solicitor who returns to live and work in the small town she escaped as a teenager. With a new and intriguing case to investigate in each episode, coroner Jane Kennedy finds herself having to work with old flame Davey Higgins, who is now the local detective sergeant.
BritBox is now available to Canadians for $8.99 per month, after a 7-day introductory free trial period, through web, iPhone, iPad, android phone & tablets, Apple TV, Chromecast, and Roku®.
*"Now" Feature Brings British Shows to Canada Within Hours of Their UK Premiere