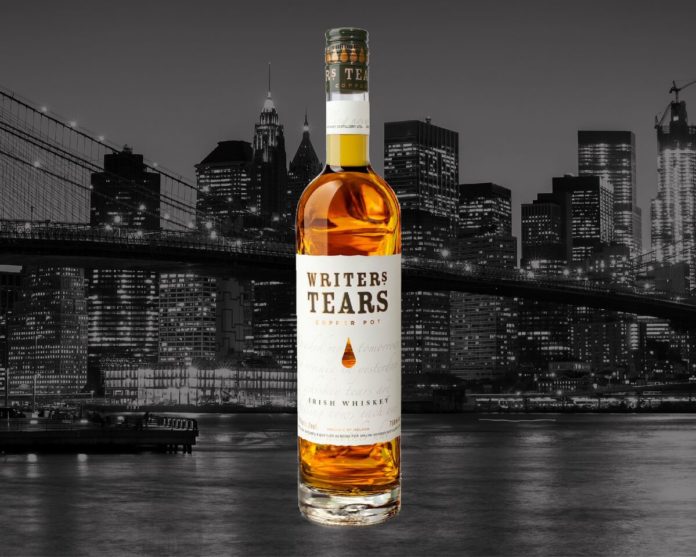 DISTRIBUTION OF AWARD WINNING IRISH WHISKEY TO REACH OVER 40 STATES IN 2018 
Royal Oak, Ireland – 14 March 2018: Walsh Whiskey Distillery has announced a major expansion of its highly successful Writers' Tears – Copper Pot premium Irish whiskey to over 40 of the United States of America in 2018. Known as 'The Champagne of Irish Whiskey', Writers' Tears was first distributed in the United States late in 2015 and is already in high demand in 17 states – particularly in California, Florida, Minnesota, New Jersey, New York, Oregon and Pennsylvania.  Distribution of Writers' Tears – Copper Pot will now more than double under the direction of Disaronno International, Walsh Whiskey Distillery's US distribution partner.
Writers' Tears – Copper Pot is one of the highest rated Irish Whiskeys in Jim Murray's iconic "Whiskey Bible" and is also included in Ian Buxton's publication "101 World Whiskeys To Try Before You Die".
Writers' Tears – Copper Pot is a unique vatting of Single Malt whiskey and Single Pot Still whiskey.  This combination was first fashioned in Ireland in the 1800s when Irish whiskey was the world's number one selling whiskey, before war, prohibition, temperance and political independence took a heavy toll on the Irish whiskey sector in the 20th century.
Single Pot Still whiskey is a style of whiskey that is unique to Ireland and made from a mash of malted and unmalted barley. It is noted for being spicier and more viscous in texture due to the unmalted barley.
Writers' Tears – Copper Pot is triple distilled from 60% Single Pot Still and 40% Single Malt whiskey (there is no grain whiskey). It is non-peated, matured and aged in American Oak bourbon casks. On the nose it offers lashes of apple with hints of vanilla and honey over a distinctively pot still base. It's palate is gently spiced with a burst of ginger and butterscotch, with background notes of toasted oak. The finish is long, elegant, with subtle notes of milk chocolate and almonds.
The expanded distribution of Writers' Tears is being overseen by Walsh Whiskey Distillery's US distribution partner Disaronno International led by EVP/General Manager, Ray Stoughton. Disaronno International also distribute Walsh Whiskey Distillery's portfolio of The Irishman premium Irish whiskeys.
Making the announcement, Walsh Whiskey Distillery Commercial Director, John Kelly, said: "Writers' Tears has developed a strong following since we first launched it in the United States in late 2015. We are delighted to be able to significantly increase the supply available to the US market and in particular to introduce Writers' Tears to States where the company's other range of whiskeys under The Irishman brand, are already very popular such as Pennsylvania, Connecticut, Georgia and Virginia. We will also be distributing to some States for the first time, such as Texas and Washington. Writers' Tears will be available in over 40 states by the end of 2018 and we will continue to grow distribution significantly across the United States in the next few years."
Disaronno International EVP/General Manger, Ray Stoughton, said: "We are excited andproud to be expanding Writers' Tears presence and availablity in the United States.  Writers' Tears is a world-class whiskey that has achieved a dedicated following that will only continue to gain momentum as we expand into new markets in the US.  Irish whiskey will continue to be one of the hottest categories in all spirits in 2018. Writers' Tears postioining in the super-premium segment of the category will continue to push the Irish whiskey category to even greater heights."