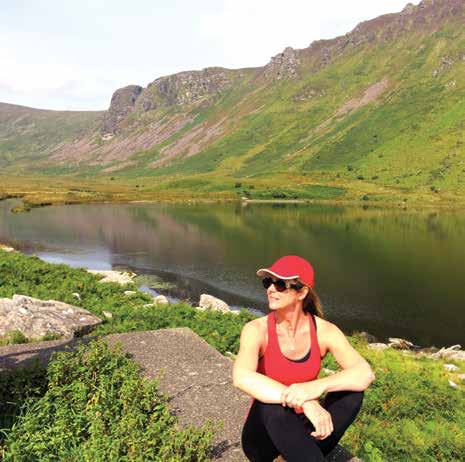 If I were to describe myself, I would have to include the things that are most important to me –
Family, health, friends,
Travel, art, adventure!
So – family, of course, is a priority – my husband and two sons fill my heart and my life with love, as do my extended family of siblings, my aunt, cousins local and far away!
Health – the old saying "if you have your health you have everything" has become quite significant especially in recent years – I have "beaten" cancer twice in the past few years, and I have been able to resume doing all of the things I love with a bittersweet respect for how I lived before my diagnoses, and how I live now. Living through cancer has given me a sharper focus and determination to experience life to the fullest – now!
Friends – some people are in your life for a short time, and some for a long time – and I am fortunate to enjoy some extremely valuable relationships.
Travel – I have always loved travelling, for the adventure, the excitement of discovery, and the opportunity for knowledge and understanding.
Art – I love art in most every form – and enjoy the ability to express myself in drawing, painting, photography and languages! I'm currently studying the Irish (Gaelic) language as well!
Adventure – life IS an adventure!
My heritage is both French (Canadian) and Irish – my maternal grandfather was from the West coast of Ireland. On a recent trip there, I was fortunate to finally meet a few relatives, who have become a wonderful addition to our extended family. I also fell in love with Ireland! I have had several opportunities to visit there since, and each time I can't wait to return!
When I considered what I wanted to do in my life, now with my sons grown and independent, it was just a matter of putting the pieces together.
My love of art, together with my love of Ireland, made the next step obvious. I would share these two passions by facilitating tours of the arts and culture of Ireland!
I have personally researched and curated a 10 day tour that includes everything from ancient historic sites, iconic architecture, a wide selection of galleries, and several charming local working artist living in Ireland… and don't forget, the food, scenery and the weather…!!
I am excited to introduce Ealaiontours – (ealaíontor is the Irish word for artist) – It's a small group (8 people) custom tour, and we stay at small boutique hotels and B&B's, with travel provided by my friend and local expert driver, Bill McSweeney. We will visit many wonderful places in Dublin, Cork and Kinsale. It is my wish that my clients will have an unforgettable experience!
Won't you join me?
Sláinte!