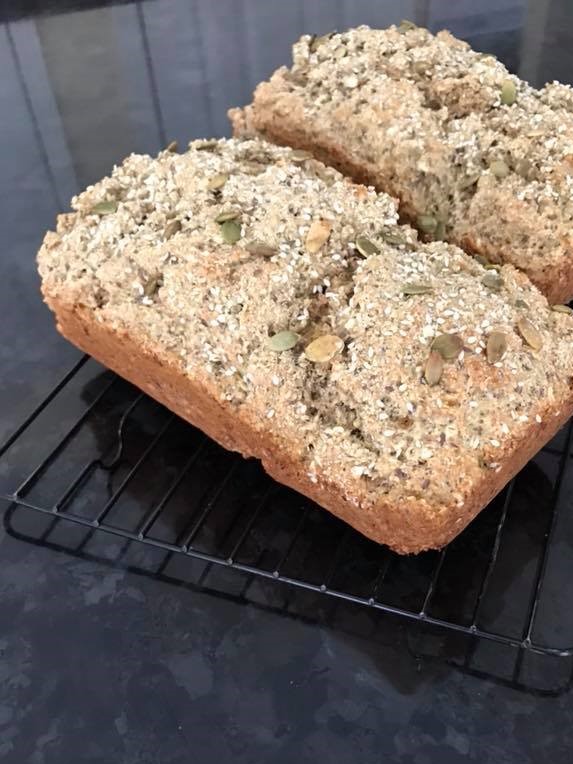 Brown Bread ~ This is our family recipe for Brown Bread…. the aroma in the kitchen is amazing… it is filled with goodness, give it a try and share your comments ~ Enjoy….
Healthy Brown Bread
Ingredients:
WholeWheat Flour – 4 cups
Wheat Germ – 1/2 cup
Oat Bran or Wheat Bran – 1 cup
Flaxseed – 1/2 cup
Oatmeal – 1 & a 1/2 cups
Baking Soda – 2 & a 1/2 teaspoons
Buttermilk – 4 & 1/2 cups
I usually top off each loaf with a sprinkling of sesame seeds, wheat germ and some pumpkin seeds.
Method
Heat your oven to 450 F. Lightly grease 2 5×9 inch loaf pans and sprinkle with some wheat germ.
Pour all dry ingredients and mix together then add the buttermilk till you have a moist dough.
Fill your loaf pans dividing the mixture evenly… pad down to ensure no air pockets… sprinkle with the seeds and wheat germ..
Bake for 10 minutes and then lower the temperature to 275 F and bake for an hour or so…
Place onto a wire rack and cool completely.
I usually freeze one for later..or share with friends…. and the other I enjoy, hope you do too!!