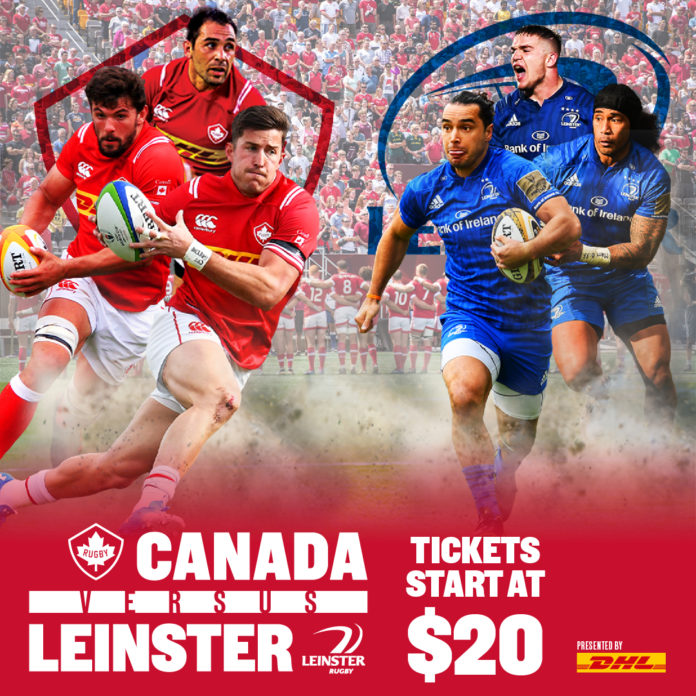 International rugby will return to Ontario this Summer as Canada's Men's Rugby Team will host Pro 14 Champions Leinster on August 24 at Tim Hortons Field in Hamilton.
Leinster are a powerhouse Irish professional team loaded with Ireland capped international players. This will be one of the final pre-Rugby World Cup games for Canada and the full 2019 RWC team will be on display. This is a unique opportunity to watch a professional team from Ireland face an international side. Following this game Canada will take on USA in Vancouver for the final pre-RWC match.
"This fixture is crucially important for our preparation for the 2019 Rugby World Cup. Leinster are one of the top clubs in all of Europe – they will bring a wealth of experience and provide high-quality opposition for us as we build towards facing Italy on September 26. The rugby community has continued to support our journey to the World Cup, and I look forward to a large home crowd for this match" said Kingsley Jones, Head Coach of Canada.
"As a club, this will be the first time we have travelled to Canada for our pre-season preparations," said Leinster Rugby Head Coach Leo Cullen. "We are looking forward to the visit and the challenge of taking on a full international side which we haven't done in quite some time. It will be an excellent opportunity for a number of our players to get some great experience ahead of the 2019/20 season."
Members of the Ontario and Canadian Rugby community will also have the opportunity to mix and-mingle with the team, and support Canada's journey to Japan, at a fundraising "Suits and Scrums" event in Toronto on August 25th at Steamwhistle Brewery in downtown Toronto.
"Rugby Canada is excited to bring international rugby back to Hamilton on the Road to the Rugby World Cup, giving fans an exciting opportunity to cheer on Canada's Men's Team inaction and support at our send-off event," said Allen Vansen, Rugby Canada Chief Executive Officer.
"The Rugby World Cup is the pinnacle of our sport and it's vitally important for us to properly send off our men's team so that they know the entire Canadian Rugby and sporting community has their backs," he added.
At the Rugby World Cup, Canada has been drawn into Pool B and will face Italy, New Zealand, South Africa and Namibia between September 26 to October 13 in various locations around Japan.
Canada Men's Rugby Team upcoming schedule:
Pacific Nations Cup
Canada vs. USA July 27 Infinity Park – Glendale, Colorado Kick-off: TBC Broadcast: TBC
Canada vs. Fiji August 3 ANZ Stadium – Suva, Fiji Kick-off: TBC Broadcast: TBC
Canada vs. Tonga August 9 Churchill Park – Lautoka, Fiji Kick-off: TBC Broadcast: TBC
Pre-Rugby World Cup:
Canada vs. Leinster – August 24 Tim Hortons Field – Hamilton, ON Kick-off: 3pm ET
Canada vs USA September 7 BC Place Stadium – Vancouver. BC Kick-off 7pm PT Broadcast: TBC
Rugby World Cup
Canada vs. Italy September 26 Fukuoka Hakatanomori Stadium Fukuoka, Japan
Kick-off: 16:45pm local time (2:45am ET/*11:45pm PT on Sep. 25) Broadcast: TBC
Canada vs. New Zealand October 2 Oita Stadium Oita, Japan Kick-off: 19:15pm local time (5:15am ET/2:15am PT) Broadcast: TBC
Canada vs. South Africa October 8 Kobe Misaki Kobe, Japan Kick-off: 19:15pm local time (5:15am ET/2:15am PT) Broadcast: TBC
Canada vs. Namibia October 13 Kamaishi Recovery Memorial Stadium Kamaishi, Japan Kick-off: 16:45pm local time (2:45am ET/*11:45pm PT on Oct. 12) Broadcast: TBC