Migrate To The Home Of Hockey
By Will Fitzgerald, Vice President, Flying Ducks Ice Hockey Club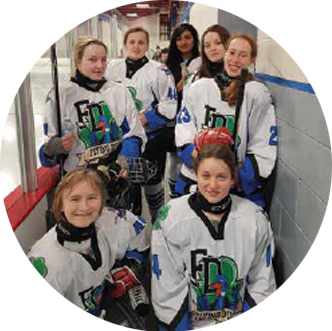 The Flying Ducks, a hockey team from the Republic of Ireland, recently travelled to the Home of Hockey for a 10-day adventure. Having no ice rinks or facilities in Ireland didn't stop this group of hockey nuts from making their way from the Emerald Isle to the Home of Hockey on the other side of The Pond (The Atlantic Ocean). So how did this adventure come into being? Well, the great people at the
United Irish Societies of Montreal were in contact with the management of the Flying Ducks in 2016 about the possibility of them participating in the 2017 St Patrick's Day Parade in Montreal. It didn't take the Flying Ducks very long to accept the superb offer, and so the planning for the trip of a lifetime got under way. The team were also in contact with Somang Hockey who would provide outstanding assistance to the team from their base in Terrebonne. Somang Hockey would also provide the Flying Ducks players with the opportunity to not only live the hockey
life but also live the Canadian life. Players would be hosted by local Canadian families for the entire 10-day trip.
The Flying Ducks and their dedicated players, parents, coaches and supporters saved hard and the team conducted several fundraising events, such as bag packing, cake sales and fancy dress nights in the lead up to the trip. Without the dedication of the fundraising committee, and the support of the members, friends and families of the club members, the trip would never have happened. A year of planning and raising funds finally came to an end in March and the Flying Ducks made their way to Canada via Paris, France. Due to the size of the travelling group (45 people) the team had to travel to Paris on 2 flights. Once the 2 groups met up in France it was full steam ahead for the flight to Canada. Having arrived safely in Montreal the Flying Ducks proceeded to get their equipment sorted in preparation for the loading of the now famous convoy of several SUV vehicles and the long wheel base bag carrying truck. The best invention in the World added a little gloss to our illustrious convoy; Irish Flags for each vehicle courtesy of one of the travelling parents; Debbie Murphy. The flags were a Godsend and made sure that the vehicles were always visible in the Montreal metropolis. Unfortunately, one of the bags never made it to Montreal and we believe it was last seen in Asia, or South America; possibly. Its owner simply carried on and her teammates made sure she had everything she needed while the search went on for her bag. This was an example of things to come; not from a negative point of view, but from the exact opposite. The team worked together and bonded even more so. This was going to be a superb trip and we were not left disappointed.
Canada welcomed us immediately; 45 Irish people descending on the town of Terrebonne which we was our base for the tour. The team stayed in the Imperia hôtel et Suites Terrebonne, a wonderful location where our every need was catered for and then some. The team were met by a large group of people; our host families. To say that they were amazing does not do them any justice. To provide Irish kids with a chance to stay in their homes and live the Canadian life for the duration of the trip was simply beyond belief. Our hockey coordinator Michael Bujold and Young Ki had everything under control and within a short space of time our very tired Ducks headed off to meet their new Canadian families and to catch up on some well needed sleep.
At the first hockey practice the Flying Ducks got to meet two of the nicest and experienced coaches; Francois and Robert. The team and the coaches hit it off immediately. The benefit were not only going to be felt by the players but also our coaches Will Fitzgerald, Nathan Daly, Aisling Daly and Giorgio Pavesio who would watch and learn from the masters of hockey. Our players were challenged and put through a number of skill developing drills by the coaches and immediately the Ducks began to improve. Focus, determination; just having ice, were all contributing factors. In Ireland there is no permanent ice rink; in fact there are no temporary rinks with the exception of the very welcomed pop-up seasonal rinks which open for the 8 weeks over the winter and are about the size of a defensive zone only. To be on a full sized permanent rink was a rarity. In order to avail of highly sought ice on the island of Ireland the Flying Ducks have to travel north to Belfast in the United Kingdom; about 2-3 hours away for most players.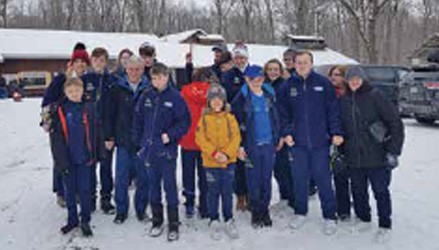 The team then headed to lunch with our great host families where we were treated to a feast. It goes without saying that the hungry Ducks cleaned out the restaurant. It was a wonderful time to be able to reflect on having arrived in Canada and to be actually playing hockey on a full sized rink and to now be relaxing with our delighted group. A simple but magical moment.
Our first game was held on March 18th in Point -Claire against the Peewee C Kings. The Ducks were delighted to be playing against the team and to top it all off they took the win; an amazing achievement for players from a nation with no facilities. Some of our wonderful kids even made Canadian TV and papers. They represented the club so well and spoke brilliantly after the win about their love of hockey and the experiences they had, and were looking forward to over the coming days.
Our host team made a really big deal of our team travelling to play them and we had a huge banquet following the game. Not only did we play a game and have a feast but the hosts also had held an equipment drive on our behalf. Our sincere gratitude goes out to Mitchell Cee and the entire crew in the Kings who went above and beyond the call to help us out.
Our dear friends form the United Irish Societies of Montreal made a special journey to meet us in Pointe-Claire and it was great to finally put the names to faces. The planning was done all that was left was to travel to central Montreal on Sunday The big day came and the Flying Ducks party headed into downtown Montreal. The excitement was off the scales and everyone was looking forward to a great day. We made sure that our Ducks were well wrapped up for the day's activities and dressed accordingly. The parade was amazing; and our United Irish Societies of Montreal friends had a special treat for us. We, the Flying Ducks, were to be positioned first in the entire parade and right behind the VIPS.
The prospect of walking in front of half a million people did not really hit us until the time when Canadian Prime Minister, Justin Trudeau and a large group of VIPs and guests walked past our group. This included our wonderful Ambassador to Canada, Jim Kelly, his Department of Foreign Affairs colleagues who greatly helped us in advance of the trip, and the newest hockey convert, Minister Eoghan Murphy T.D.
The reception from the Canadian people was something we were not prepared for. An amazing welcome from every side of the street. Our appearance on TV the previous day had obviously been seen far and wide because shouts of "give these guys and girls a rink" and "give Ireland an ice rink" could be heard for the entire parade. We were simply overwhelmed by the welcome we received from Montreal. The trip was well on its way to becoming a life changing experience for all of us in the Flying Ducks.
The United Irish Societies of Montreal had even more surprises up their collective Irish sleeves. The Flying Ducks were to depart the parade after passing the reviewing stand and move into the VIP area. This was a huge honour and the players, coaches and parents got to meet so many politicians and honoured guests. Then it happened; Prime Minister Justin Trudeau came over to talk to us and discuss our lack of facilities in Ireland. Amazed at the fact that we have no ice rink in Ireland he said he would support us in any way that he could. He positioned himself amongst our players and happily posed for pictures and what seemed an age. The charismatic PM made a lot of people's day and demonstrated the level of absolute support that Canada, Montreal in particular, were showing us. We felt so at home and among friends. Montreal Mayor Denis Coderre even made it a point to come over to us and also promise his support in any way he could to Ireland and its cause to get an ice rink opened.
Our Ambassador to Canada, Jim Kelly, and Minister Eoghan Murphy came over to the group and chatted to use for ages about hockey, Ireland, hockey, Canada, hockey and more hockey. By the end of our time with Minister Murphy he was converted. Ireland does not have a single ice rink and the fact that 45 Irish people travelled so far to play the sport they love so much hit home with him. He saw that we were fighting for the survival of our beloved sport, and he greatly respected that. Before Minister Murphy departed he exchanged his personal contact information with Club President Aisling Daly and promised to keep in touch. Minister Murphy has kept his promise and not only supports our club and sport but is also partaking in an inline training session at the end of May.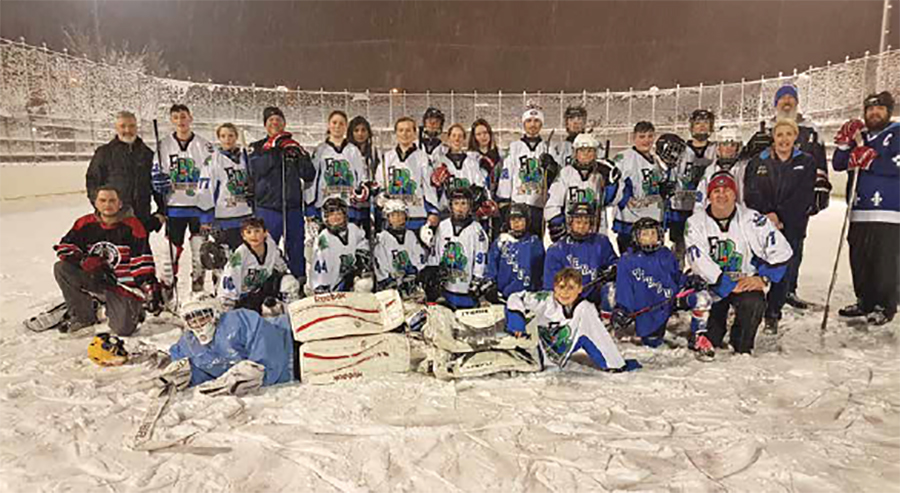 The innocence and love for life of our players and party was clearly visible all day and this was demonstrated even more so to an enthralled audience who watched them build snowmen and a have a huge snowball fight. The city Police and the VIP protection teams knew they had nothing to worry about with our Ducks. The kids were far too busy finding as much snow as possible and living life to the fullest. After a feed and the journey back to Terrebonne our tired Ducks headed home with their adopted parents for a sound night's sleep.
Monday came; new week, loads to do. A number of our players were training at 6.30am with our hockey hosts, Somang Hockey, and the remainder were training at 9am. Following the training the team headed off to meet great friends of the Flying Ducks; our great pals Norn Flynn and Kevin Hodgson from HEROS Hockey. HEROS are a superb organisation who have worked with thousands of children from a variety of backgrounds through the medium of hockey. The Flying Ducks have work in the past on the Irish HEROS programme, based in Belfast, Northern Ireland.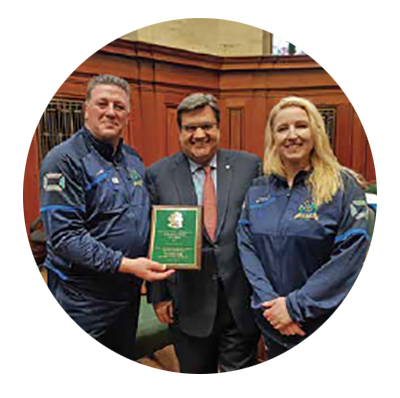 On this very special occasion the Flying Ducks got to travel to the school where the HEROS were conducting one of their many programmes; on this occasion with a number of young Syrian refugee children who had resettled in Canada. Following a great game of floor hockey it was off to their canteen for some welcome pizza.
Our hungry group were treated to an all you can eat buffet a short distance from the school and then it was full steam ahead to a location that they could only visualise. It was the Hockey Superstore. After being greeted by the management and staff of Rousseau Sports our players dispersed into every nook and cranny without a second thought. This was heaven on Earth for them and they cleaned out the place without delay.
Shortly after this 4 of our players who were participating in the 6.30am sessions took part in a hockey match with Somang Hockey. This was a great experience for the players and gave them a great understanding of the standards needed to play at a high level.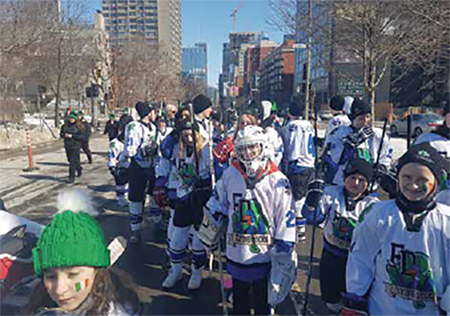 Before we even knew it Wednesday hit. It was mid-week; this trip was going so quick. The 6.30am players had their normal morning training session and then it was off to take part in some on ice training with the HEROS kids and coaches. This was a fantastic chance to see the kids get together and play some hockey. Before we knew it time had flown by and it was time to finish. Before we left the ice there were some presentations from Kevin and Norm to some of the players who showed great commitment and skill. Included in the presentations was a very special award to our female played whose hockey bag never made it to Canada. Kevin and Norm felt that she had shown great maturity, teamwork and resilience in her completely positive approach to the trip despite having had almost all of her belongings lost on the journey over. She was awarded a very special award to our female player whose hockey bag never made it to Canada. Kevin and Norm felt that she had shown great maturity, teamwork and resilience in her completely positive approach to the trip despite having had almost all of her belongings lost on the journey over. She was awarded a very special signed hockey stick which she will cherish for decades to come.
It was Thursday and this was going to be another big day. We were first heading
to see a hockey training session where several Stanley Cup winning NHL players, and soon to be married coach Francois Landreville, were taking part. Our players not only got to see elite hockey but also met 2 times Stanley Cup winner with Pittsburgh Penguins, Pascal Dupuis, Stanley Cup winner with Tampa Bay Lightning, André Roy and Montreal Canadiens & Nashville Predators, Sébastien Bordeleau. The players gave up so much time for our kids to get pictures taken and to chat about their love of everything related to hockey. The guys were wonderful and so patient with each and every one of the players and parents. A huge thank you goes out to Coach Landreville for making it possible.
Our second meeting of the day was simply beyond belief. It was Hockey Night in Canada. The Flying Ducks were heading to see the Montreal Canadiens versus the Carolina Hurricane in the Bell Center. The head of junior hockey with the Canadiens, Mr. Stéphane Verret greatly assisted the Flying Ducks in booking 45 people into the arena for the game. Surely things could not get any better than that. Well actually they could; a lot better. The United Irish Societies of Montreal made a call and arranged for the team to get a special behind the scenes tour with the best possible tour guide; 5 time Stanley Cup winner Mr. Rejean Houle. Mr. Houle showed us almost everything in the Bell Center and even gave us a superb personalised press briefing. Could it get any better; yes it could. While on the tour with Mr. Houle showed us to the Canadiens Alumni room; it was amazing. What even more amazing was that we got to meet 10 times Stanley Cup winner Mr. Yvan Cournoyer. We were already stunned after meeting Rejean Houle; now Yvan Cournoyer, the Roadrunner himself. What a privilege. Everyone knew that we had just met some of the finest men ever to play hockey and there they were chatting to our young players and happily posing for pictures and signing everything signable.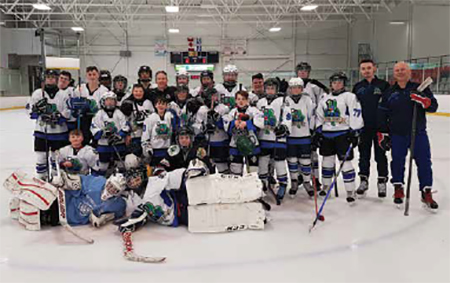 Game time came quickly and the Flying Ducks took their place among the loyal Habs fans. We were ready for this and the group were cheering for the team for the duration of the game. A great friend of the club, Frank Ierfino, had contacted his good buddy, Lance, who happened to control the Bell Center Jumbotron. What happened next just stunned us. The intermission was on and the atmosphere in the building was electric. Then; the screen changed and the Flying Ducks were televised to the entire audience who cheered loudly for us. Our group just lost it. We screamed, jumped, hugged, high fived, waved and completely lost it as we were welcomed to the home of hockey in Montreal. An amazing day came to a close. Our very tired group headed back by train to our cars and the onwards journey back to Terrebonne. Rest was definitely required.
riday was here and we were getting close to coming home time but we had a lot to do before we stepped onto the plane back to Ireland. Following a well needed rest our team headed to morning hockey practice and then we were off to a very special
place; Cabanne a Sucre. We arrived at the wonderful venue and the kids immediately started to play in the snow. You would know that we do not get much snow in Ireland. A wonderful horse and carriage ride was followed by some local food which went down a treat. To anyone who has yet to go to Cabanne a Sucre, we highly recommend it.
We headed off to downtown Montreal for a very important appointment. Mayor Denis Coderre was going to host the Flying Ducks for a civic reception. Our great flying Ducks wore their new navy blazers with the team crest and looked absolutely amazing. A huge thank you goes again to Wonder Woman Debbie Murphy for sourcing the blazers. When the time came for the meeting Mayor Coderre could not have been more welcoming. He spoke to each and every one of the kids and gladly posed for pictures with the group. We also made sure that the Mayor got something from the team; his very own Flying Ducks jersey. The trip to Montreal's primary residence hosted another amazing event; the Flying Ducks had won the Best Out of Town Unit award for the Saint Patrick's Day Parade. Our great friends from the United Irish Societies of Montreal were present alongside Mayor Coderre to award us the J.McMullen Memorial Trophy. This was a huge honour and the Flying Ducks want to thank each and every one of those who voted for us. The sense of pride we had was unmeasurable.
Following the visit to the Mayor the team headed off for some food prior to another amazing event. Poutine had to be sampled. So much had been spoken about the Canadian staple that it would have been a sin if we did not at least try it once. It went down a treat with the majority of the group although a small number's palettes could not adjust.
The folks in United Irish Societies of Montreal must know everyone in the city because they arranged an amazing event for us with the help of the people of Verdun; including local activist, skateboard king, beard champion and politician Sterling Downey. We were playing a game of hockey outdoors! What can only be described as Christmas morning multiplied several times. Skating on ice is one thing; but skating on ice outdoors, in Canada, at night, while it was snowing is a completely different thing. We had an absolute blast. The word went out to Montreal and lots of people simply showed up for hockey with the Flying Ducks. Our players were overjoyed and the sub-zero temperatures were soon forgotten as they skated and skated and skated.
We cannot thank the people of Verdun and everyone who made it possible. It
was truly an amazing experience for all of us; particularly club Vice President Will Fitzgerald, who was posting regular updates on Facebook, Twitter and YouTube about our amazing journey. The video of the outdoor session has had thousands of views. Will's videos were being recorded to let everyone at home and around the World know how cool our trip was. It was also to demonstrate to the Irish Government that ice hockey has a place in Ireland. With no rinks and no support hockey would have long disappeared only for the dedication of a number of lovers of the game.
Saturday brought a game versus the Somang Hockey teams and our players had a great time playing the sport that they love. Having had so much hockey over the previous week showed in each and every player. We could not have been happier. The afternoon was family time for the players and their host families. They undertook lots of various activities and enjoyed their last few days in Canada with their new siblings and parents. The return to Ireland was going to be an emotional one.
Our final full day in Canada started off well with a late Sunday morning sleep in and our final game against our great Somang Hockey hosts. Coach Landreville even made an appearance for the Flying Ducks and made sure the scoreboard recorded the Flying Ducks score. Our players were loving life and the experiences of the previous days were concreted in their minds forever.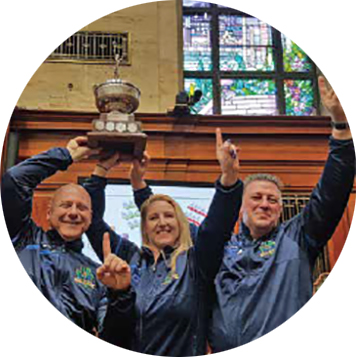 A wonderful gesture was made by the now adopted son of the Flying Ducks, Frank Ierfino, who met us at the game. Frank brought along his good buddy and former UK Elite League player, George Swan, to make a very special presentation. George and a few of his buddies had decided that the Flying Ducks could not leave Montreal empty handed. He presented each and every player with an NHL jersey from a variety of teams. The kids went ballistic and were overjoyed at the generous offer from a very nice guy. That was it; the Flying Ducks were completely sold. Canada was officially our adopted home. We had been shown every possible courtesy by the Canadian people and we loved them for it. Our team did not want to leave, but unfortunately, time had caught up with us.
We packed up the cars and the van. Surely we had lees kit on arrival, but thanks to the generosity of Mitchell and Frank we were now bringing back several hockey bags of donated gear for the club to use to promote hockey in Ireland.
Our convoy, which resembled an official VIP convoy with tri-colours blowing in the Montreal wind made their way to the airport. After dropping off the players and parents at the terminal our dedicated team of drivers/coaches/parents brought the cars back to the car hire company completely intact; although a little bit dirty after a 10 day whistle-stop tour.
As we were leaving the car hire company we all looked back at our trusty convoy which had looked after us so much during the trip with their Irish flags fading into the distance and only then did we feel that the end of the trip was here. Saddened, we arrived at the terminal.
We headed back via Charles de Gaulle airport and then on to Dublin. Unfortunately, our baggage nightmare did not end on our flight out to Canada. When we landed in Dublin some 13 hockey bags failed to meet up with their owners. All bar two have been reunited with their owners and the airline are in the process of completing the associated administration for lost baggage. However, our Flying Ducks would not let this get in the way of a wonderful trip to the Home of Hockey; although we would like to feel that Ireland really invented the sport. We can discuss this further n future trips.
Some time has passed and normality has returned, but we would love the people of Canada, particularly the people of Montreal, that you made a life-long difference in our lives. We will never forget the support, generosity, friendship and complete welcome that many had never, and will ever, experience again.
Now all we need is a rink. Just 1. With 1 rink Ireland can again compete in the IIHF World Championships, which we are barred from entering due to not meeting the minimum qualifying standards. 1 rink in 1 country, this is all we need to begin the process of growing and developing the Irish hockey player of the future. Without this, Ireland will never be in a position to compete or participate. Participation, we feel, is fundamental to so many things, including the nurturing of our youth and the prevention of them entering into a World which will take away their innocence before they even have a chance to develop it. The Flying Ducks are ready and waiting to support our children in any way we possibly can. We completely support the Irish Ice Hockey Association (IIHA) in their continued great work on behalf of the Irish hockey community. If anyone in business or sport is willing to help Ireland to develop hockey then your first stop is the IIHA.