By Elizabeth MacDonald
For many, "Nova Scotia" evokes images of bagpipes and tartan. So it comes as a surprise to many that Irish blood also runs thick and deep here, particularly in Halifax, the capital city.
Unlike other Irish communities in early Canada, the bulk of Irish settlers to Halifax and Nova Scotia were pre-Famine, arriving in two waves. The first arrived in the mid-1700s. Many of these were Ulster Scots, who gravitated to farming communities around the province.
By contrast, the second wave of emigrants, arriving between 1815 and 1845, were southern Irish, primarily from counties like Tipperary, Cork, Kerry and Wexford. While some went rural, many opted to stay in the port town where they'd disembarked. By the 1860s, close to half the population of Halifax and neighbouring Dartmouth was Irish.
In a sense, you could say the Irish built Halifax. From the labourers and tradesmen to leaders in politics, education and business, Irish immigrants and their descendants have shaped the face and character of this city.
So the next time you're in Halifax, take a walk through the downtown. Within a matter of streets, you'll trace the history of a people, etched in stone and glass. Here are just five must-see stops to get you started.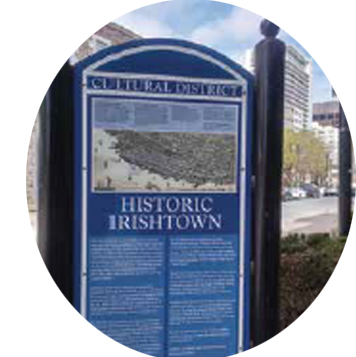 Historic Irishtown – Home to the Irish who settled in Halifax from the mid- to late-19th century, Irishtown in its day spanned about 20 city blocks running along the waterfront from Lower Water Street up to Barrington Street. Until the early 20th century, you could still find residents who spoke Irish as their first language. Over time, the tight-knit community dissipated, as subsequent generations moved from Irishtown to other neighbourhoods.
In 2012, an initiative led by An Cumann, The Irish Association of Nova Scotia, resulted in Irishtown being designated a "cultural district" of Halifax. Look for the interpretation panel on Lower Water Street at Bishop's Landing.
Holy Cross Cemetery and Our Lady of Sorrows Chapel – Opened in 1843, Holy Cross Cemetery on the corner South and South Park Streets is the final resting place for more than 25,000 persons, mostly Irish immigrants and descendants. Among the Celtic crosses and white marble headstones, you'll find the grave of Sir John S. D. Thompson, Canada's fourth (and first Roman Catholic) Prime Minister.
On August 31, 1843, 2,000 volunteers from the Irish community built the tiny Our Lady of Sorrows Chapel – in one day.Though a simple wooden structure, inside and out, the chapel features Gothic Revival influences and French stained glass windows that date back to the 16th and 17th centuries. And today –174 years later – you can see (or even help) a new generation of volunteers who meet every Saturday morning to right and repair the historic Holy Cross gravestones and care for the property.
St. Mary's Cathedral Basilica – You'll know it by its free-standing granite spire –the highest of its kind in North America. "The Basilica," as everyone calls it, stands on corner of Spring Garden Road and Barrington Street, and was the first stone church in Halifax. Consecrated in 1829, St. Mary's was the home parish for many of the Halifax Irish merchants and professionals. Its impressive Gothic Revival façade –considered one of the finest in Nova Scotia — took another 45 years to complete.The cathedral church of the Archdiocese of Halifax-Yarmouth, St. Mary's was designated a National Historic Site in 1984. That same year, Pope John Paul II said Mass here.
The Celtic Cross: Irish Settlers Memorial – At the foot of George Street on St. Patrick's Green, within sight of the waterfront, stands a 12-foot high Celtic cross of polished granite. Erected in 2000 by the Charitable Irish Society of Halifax (itself established in 1786), the cross commemorates the arrival of the earliest Irish settlers to Halifax and "the contributions of the Irish community to Halifax, to Nova Scotia and to Canada.
"Last year, the Society commissioned a special mosaic to mark the 100th anniversary of the 1916 Easter Uprising. You'll find the new commemorative plaque — featuring the Easter Lily, the symbol of insurrection and remembrance – at the base of the cross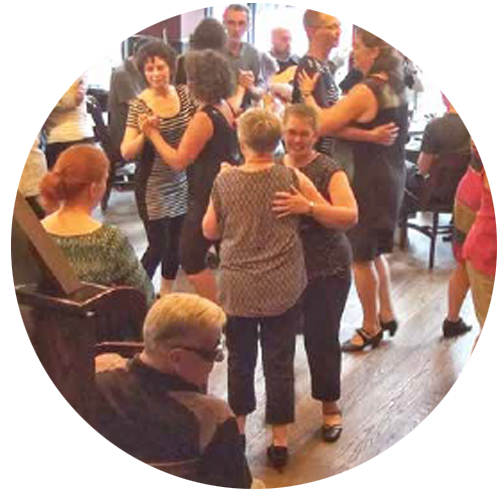 .
The Old Triangle Irish Alehouse – What better way to end your walk than with a pint in a pub? Just a stone's throw away from the Celtic Cross, the popular Old Triangle occupies several heritage buildings, each with Irish links.
One was occupied by W.E. Heffernan's furniture manufacturing and sales business. A second housed the Novascotian, a newspaper published Joseph Howe, renwned 19th century firebrand journalist, political reformer, former premier. Howe, a former president of the Charitable Irish Society, helped win responsible government for Nova Scotia in 1848. After leading a campaign against Confederation, Howe later served in Sir John A. Macdonald's cabinet and was instrumental in convincing Manitoba to join Canada.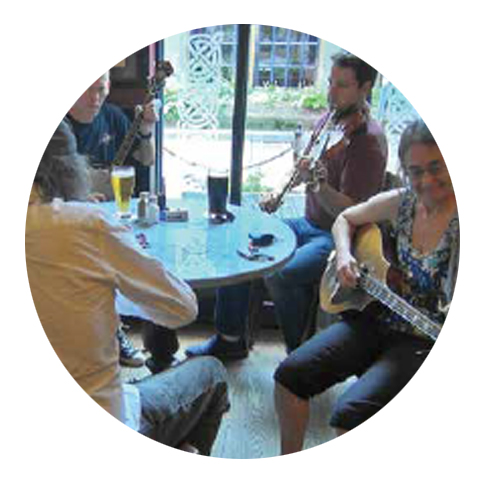 Today the Old Triangle is a trad music magnet for Celtic and East Coast musicians. And if you're a fan, you can "Fill yer boots," as we say in Nova Scotia, with live music and traditional seisúns every day of the week…and twice on Sunday!
Next time: Five more essential stops on your Irish Halifax tour, including the historic St. Patrick's Church.