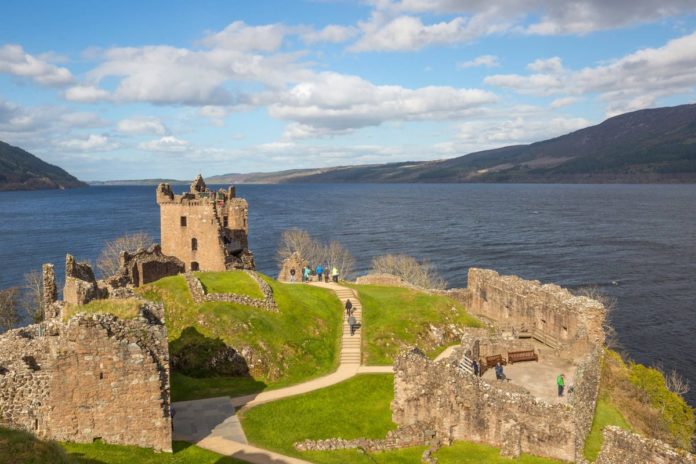 Loch Ness in the Highlands is the stunning backdrop for ITV drama, The Loch.
The appeal of mysterious Loch Ness and the spectacular surrounding countryside play an important role in this murder mystery thriller as detectives Annie Redford, played by Laura Fraser, and Lauren Quigley, played by Siobhan Finneran try to catch a serial killer in the small fictional community of Lochnefoy on the banks of Loch Ness.
As the mystery is solved and the case comes to an end, we hear from the cast and crew about their experiences filming in Scotland.
Executive producer of The Loch Tim Haines commented "Serial killers are monsters that lie beneath the surface of normal happy communities. Where better to hunt for one than in a place that has thrived off its own monster myth of centuries – Loch Ness."
"Central to the atmosphere and tone of The Loch is the place itself. Set around the shores of Loch Ness the series contrasts the dark deeds of humans with the beauty of the setting. From a production point of view, we were determined to set as much as possible in the Highlands".
A STARRING ROLE
The six part drama was filmed at different locations across the Highlands, Loch Lomond and Glasgow with the main action taking place in and around Loch Ness.
At the southern tip of Loch Ness is the village of Fort Augustus. This popular touring destination plays the starring role as the village of Lochnefoy. Visit Fort Augustus and take a walk along the side of the historic Caledonian Canal that runs through the centre of the village.
The stunning glens of Glen Coe and Glen Etive with their dramatic mountain ranges also feature in the show as well as Inverness and Fort William.
With such a spectacular stage, here's what the actors thought about filming The Loch in Scotland.
DRAMATIC STORYTELLING, STUNNING LOCATIONS
Laura Fraser said "The Great Glen was impressive. And I really loved Glen Coe. It was where they shot Skyfall. It's the most beautiful place I've ever been to in my life."
Downton Abbey star Siobhan Finneran recalled her delight at Scotland's biggest city, Glasgow "I spent a lot of time based in Glasgow having never been up there for any length of time. It's been one of my favourite places to ever work. I absolutely loved it."
"I found Glasgow a really fabulous, friendly city to be in. The architecture is gorgeous. I would just set off and walk about. I just loved the architecture of nearly all of the buildings in Glasgow. I will go and visit Glasgow a lot more."
"I had never been to Loch Ness before" said John Sessions who plays Frank Smilie. "So I'm not a Nessie expert at all. I think today it's more of an entertaining myth."
Whether there is a Loch Ness Monster or not the story continues to draw visitors to a beautiful part of the Highlands. The case maybe still open on Nessie but that is just one of many Scottish myths and legends. Look at the evidence for yourself, check out our Ghosts, Myths & Legends eBook to discover more.
Don Gilet, who plays Blake Abrighton, may not have seen the Loch Ness Monster but he did discover another of Scotland's little 'beasties' – midges! "I've never done anything before where I had to make the swatting of midges in character. How would Blake Abrighton swat away a midge?"
He also recalled "We were filming in Fort William and Loch Lomond. There wasn't an awful lot of time to sightsee, apart from what was naturally around you. It's a beautiful vista."
THE EVIDENCE IS BREATHTAKINGLY BEAUTIFUL
Glasgow born Gray O'Brien plays boat tour operator Alan Redford "When I was younger I used to climb a lot of Munros. A Munro is anything over 3000 feet. I think I climbed about 58 when I was younger. So I knew the surroundings area quite well but had never actually been to Loch Ness. We shot a lot in Glen Coe, which I know well. Including Glen Etive where I camped almost every other weekend from the age of 15 or 16."
"Loch Ness was quite an eye-opener for me. I've never been a sailor or been in water a great deal. We spent several days filming on the loch. The amazing thing with that is the boat changes, it moves all of the time with the swell. So it changes direction even when it's not going forward. And the light and cloud comes in. So each of those hills changes constantly."
"It was almost like seeing time lapse photography happen in real time. The clouds moving over and the colours changing. It was quite incredible. You're in the centre of the loch and it's quite a view. Just beautiful."
MYSTERY SOLVED?
Investigate the beautiful and mysterious lure of Loch Ness and the Highlands for yourself and if you need further clues during your trip, visit our iCentres including Inverness, Drumnadrochit and Fort Augustus for more inspirational ideas and information.
Enjoy your visit. Case closed