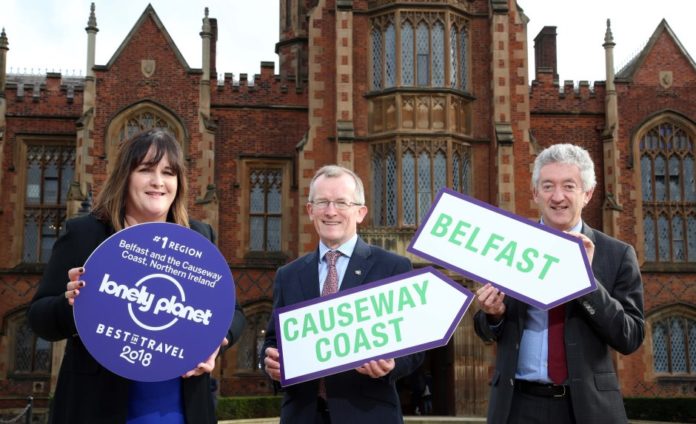 Tourism Ireland rolls out promotional campaign around the world to maximise Lonely Planet accolade
Belfast and the Causeway Coast have been named the Number One Region in the world to visit in 2018 by Lonely Planet – coming in ahead of places like Alaska, the Languedoc-Roussillon region in France and the Aeolian islands in Italy. The leading travel media company unveiled the accolade today (Tuesday, 24 October) in the prestigious Lonely Planet's Best in Travel 2018 – its collection of the world's hottest trends, destinations and experiences for the coming year.
Tourism Ireland plans to take every opportunity to maximise this accolade for Northern Ireland over the coming weeks and months. Its promotional campaign will roll out in 14 different markets – including Britain, the United States, Canada, Germany, France, Spain, Italy, the Netherlands, Belgium, the Nordic region, Australia, New Zealand, India and the GCC.
Welcoming the news, Niall Gibbons, CEO of Tourism Ireland, said: "The inclusion of Belfast and the Causeway Coast as the Number One Region in the world in Lonely Planet's Best in Travel 2018 is wonderful news and will surely help to inspire travellers everywhere to put Northern Ireland on their holiday wish-list for next year. It is another well-deserved accolade, which provides Tourism Ireland with a great hook to continue to promote Belfast, the Causeway Coast and Northern Ireland around the world as a 'must visit' destination."
Belfast is described in Lonely Planet's Best in Travel 2018 as "full of hip neighbourhoods that burst with bars, restaurants and venues to suit all tastes. The rusting old docklands are now the vibrant Titanic Quarter, home to fancy apartments and a sensational museum". Belfast shares the accolade with the Causeway Coast, "whose timeless beauty and high-grade distractions – golf, whiskey and some of the world's most famous rocks – are more popular now than ever".
Tourism Ireland's campaign to leverage the accolade will roll out over the coming weeks. Activity to spread the good news will include:
a specially created page on Tourism Ireland's international website, Ireland.com, which attracted almost 19.4 million visitors last year, including a brand new video, created by Lonely Planet, highlighting Belfast and the Causeway Coast;
a live Twitter Q&A session, with five leading travel bloggers chatting about their recent visit to Belfast and the Causeway Coast;
other extensive social media activity, including posts on Facebook (Tourism Ireland has 4+ million fans worldwide), Instagram (243,000 followers) and Twitter (about 440,500 followers);
a major PR and publicity push to Tourism Ireland's 20,000 international media contacts (including an article on the organisation's online press room); and
highlighting the accolade at major travel fairs like the upcoming World Travel Market in London, the largest B2B event in the global travel and tourism calendar.
Nóirín Hegarty, Lonely Planet's Operations Director Ireland; Niall Gibbons, CEO of Tourism Ireland; and John McGrillen, CEO of Tourism NI, welcome the announcement that Belfast and the Causeway Coast have been named the Number One Region in the world to visit in 2018 by Lonely Planet.
Notes To Editors
Top ten regions in Lonely Planet's Best in Travel 2018 are:
Belfast and the Causeway Coast, Northern Ireland
Alaska, USA
Julian Alps, Slovenia
Languedoc-Roussillon, France
Kii Peninsula, Japan
Aeolian Islands, Italy
The Deep South, USA
Lahaul and Spiti, India
Bahia, Brazil
Los Haitises National Park, Dominican Republic