Despite Whistler's reputation as a world-renowned winter wonderland, it has quickly become a go-to destination during the hot sunny months of summer too. But what about those months between sun and snow?
Arguably the jewel in the Whistler calendar, fall brings vibrant red and orange colors, crunchy autumn leaves, and a laid-back pace ahead of the peak winter season. While every season is special, the months of September, October and November seem to offer the ability to enjoy the best of both worlds.
Here's our guide to visiting Whistler in autumn.
Great Weather
There's no doubt that Whistler looks stunning in the snow, yet even the Whistler natives enjoy a little respite from the freezing temperatures each year. In fall, you can expect temperatures ranging from 8 degrees Celsius (high 30s) to about 20 degrees Celsius (the mid-50s), so you'll enjoy crisper, cooler weather without having to trundle through thick snow.
In terms of what to pack, layers are a great idea during fall, particularly if you plan to enjoy the many outdoor activities still on offer at this time. No frostbite, no heat stroke, it really is perfect!
Sparkling fall sunshine means you'll be able to take in the fantastic foliage set against the dramatic backdrop of the Whistler Blackcomb Mountains; a crunchy mix of vibrant greens, russets, golds and purples. To get closer to nature, head out on the many nature trails through Whistler village, backcountry trails, and Rainbow Park near Alta Lake.
Whistler Activities
There are a number of great activities just waiting to be enjoyed in Whistler, even before you dust off those skis and snowboards. Here's our pick of things-to-do during the months of September, October and November.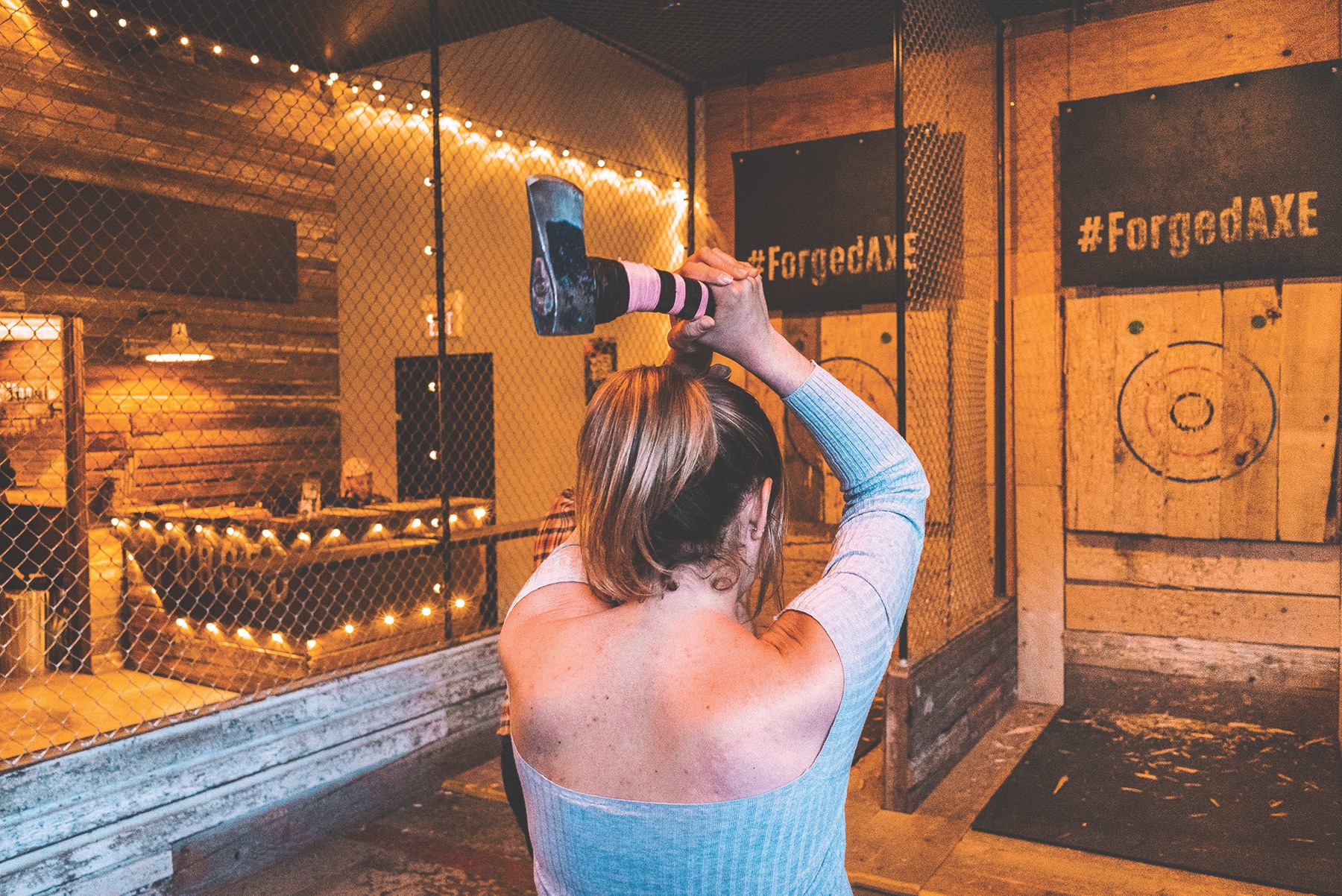 GO AXE THROWING: Yes, axe throwing really is a thing. A very popular thing. Formerly reserved for Canadian lumberjacks keen to liven up a day in the forests, Forged Axe Throwing has brought this enticing pastime to Whistler and made it even more fun! Put simply, you and your guests will hurl axes down an alley with the goal of hitting a bullseye. The indoor venue is great for chilly fall days, and you and your tribe can even compete in your own axe throwing tournament to rustle up that competitive spirit. It's popular with groups – particularly bachelor and bachelorette parties, and there's absolutely no experience necessary. The Forged team will provide a safety briefing and even help you with those trick shots!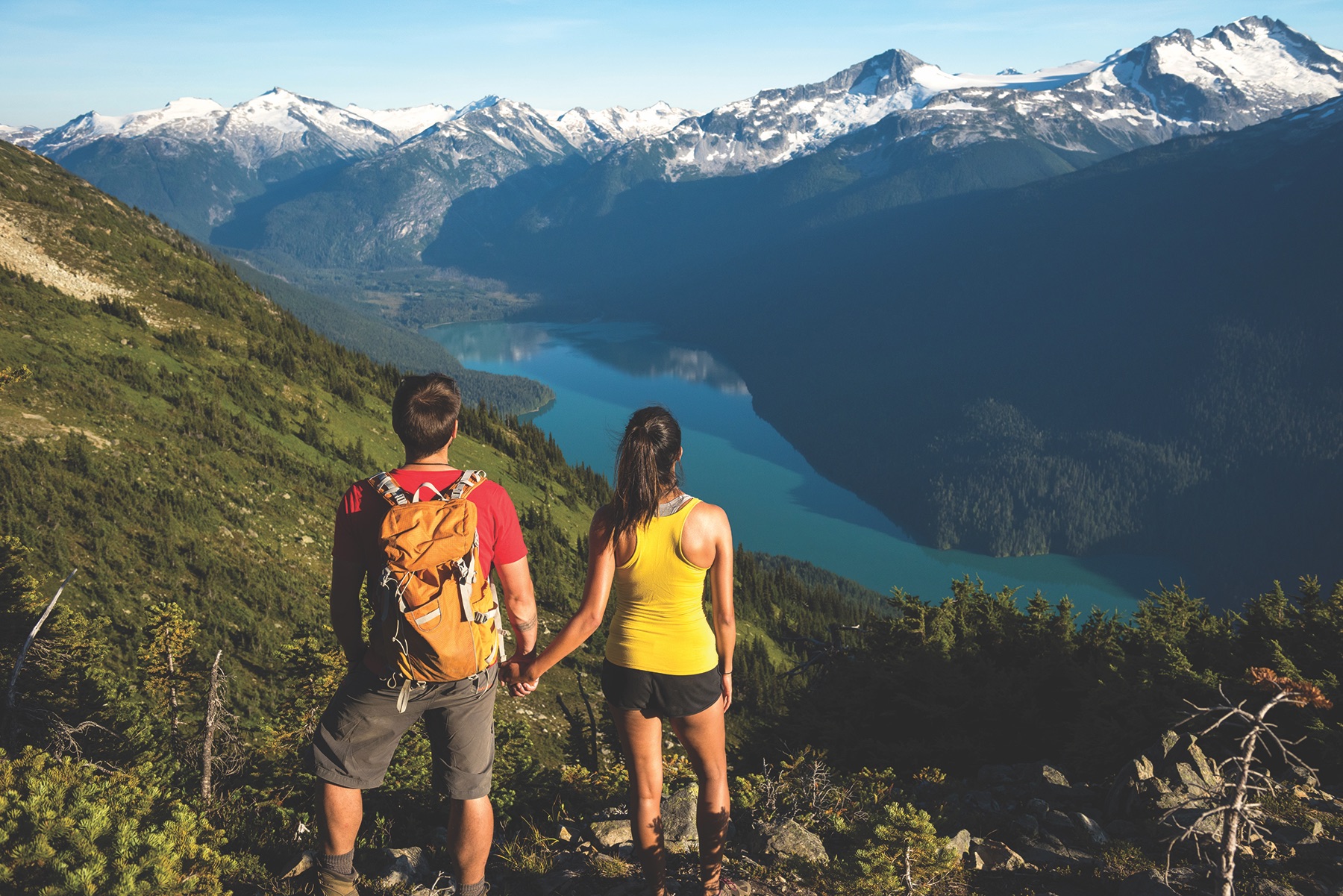 GO HIKING: Fall is arguable the very best season to go hiking in Whistler. The last of the snow at higher elevations usually melts away by late July to early August, so fall offers perhaps the very best access to the many backcountry routes. Enjoy stunning views of Whistler, and access the many trails that prove simply too busy or too dangerous during the peak winter and summer months. Check out this list of guided hikes.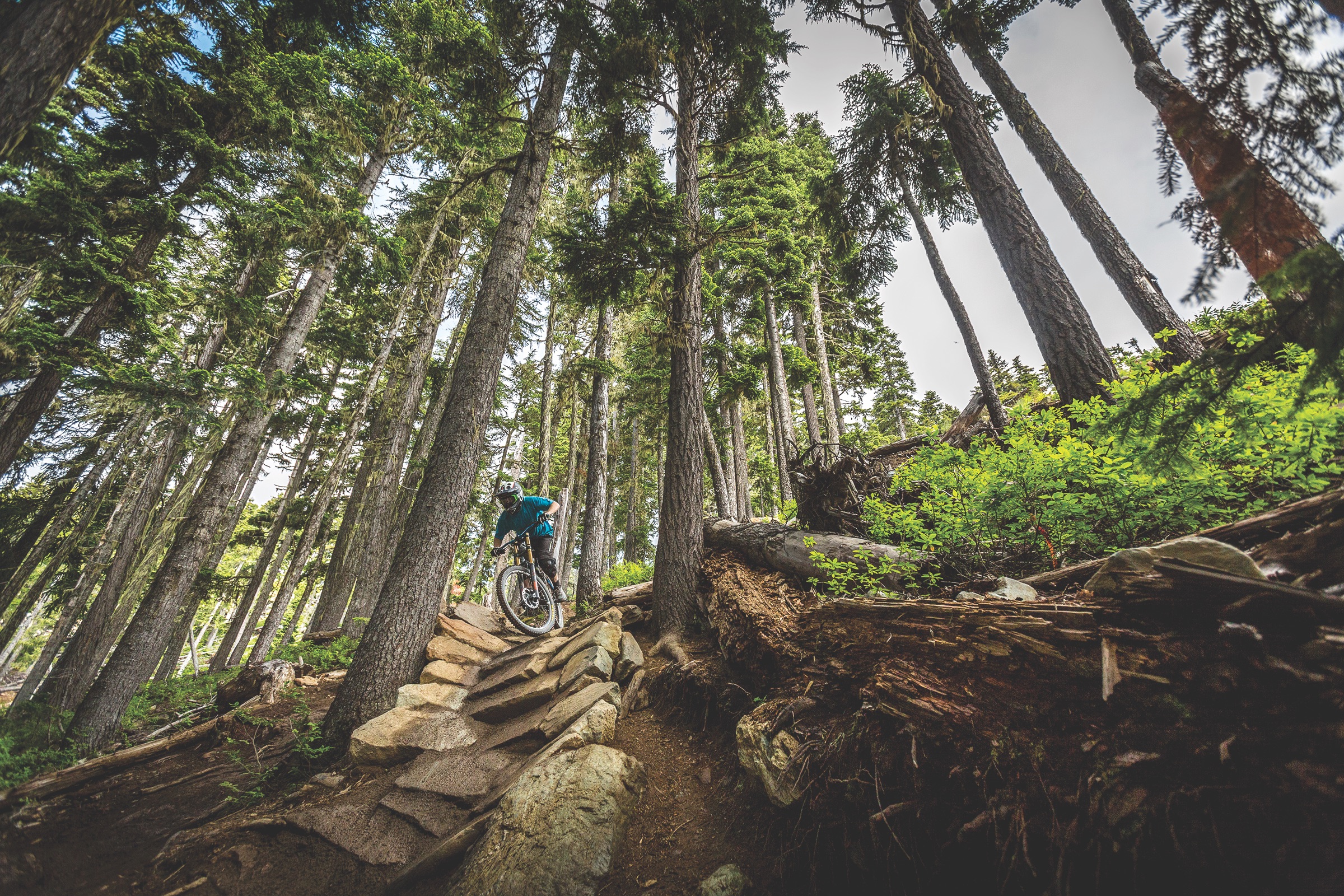 GO BIKING: OK, so no visit to Whistler would be complete without carving down a mountain, so the great news is that the mountain is still open at this time of year. The Whistler Bike Park is a world-famous bike park attracting novices and downhill bike pros alike. During early fall (until around mid-October) you'll be able to enjoy regular season availability albeit without the huge crowds! Perfect for the ultimate, gravity-fed, downhill biking fix.
GO FISHING: Fall and fishing go together perfectly. Total beginner or seasoned pro, you'll find everything you need to get started at Whistler Fishing Guides. They have all the insider knowledge when it comes to the local rivers, lakes, and hidden fishing holes, and can instil a whole host of useful tips and tricks. Whatever type of fishing you're after, Whistler has it all, as well as the opportunity to take in the breathtaking scenery as you enjoy a moment of serenity. Oh, and you won't have to deal with ice fishing in fall!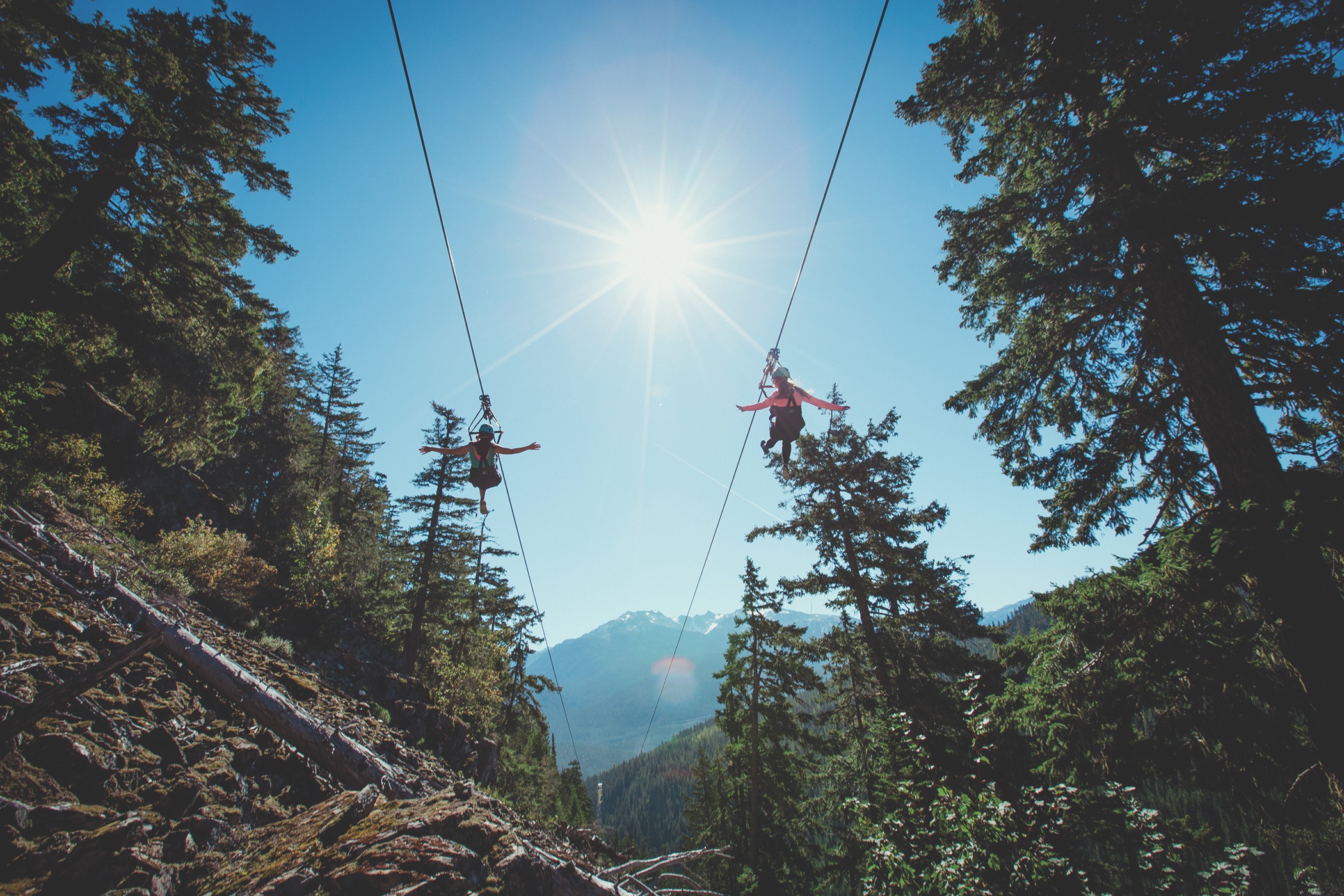 GO ZIP-LINING: Yes, zip-lining is a great activity at any time of year, but what better way to check out those autumn colors than from above the treetops at Superfly Ziplines? Travelling of speeds up to 100 km/hour 600 ft above the ground, there's no more thrilling way to enjoy Whistler in fall.
Fall Festivals
Taking place September 11th-16th, hundreds of people will flock to the 2018 Whistler Beer Festival for a six-day festival brimming with craft beer, tasting events, beer battles, cask nights, and plenty of great food. With over 120 beers from 60 distinct breweries, you can expect this festival to go down a treat with everyone!
What better way to celebrate the long Canadian Thanksgiving weekend than with the Whistler locals from October 5th-8th? Check out all the Thanksgiving events right here to plan your weekend in style.
For something a little more serene, the Whistler Writers' Festival brings together renowned authors, panels and budding writers, in a celebration of the written word. Alongside workshops and panel discussions, the festival has plenty of food, music and fun. This year's festival takes place October 11th-14th.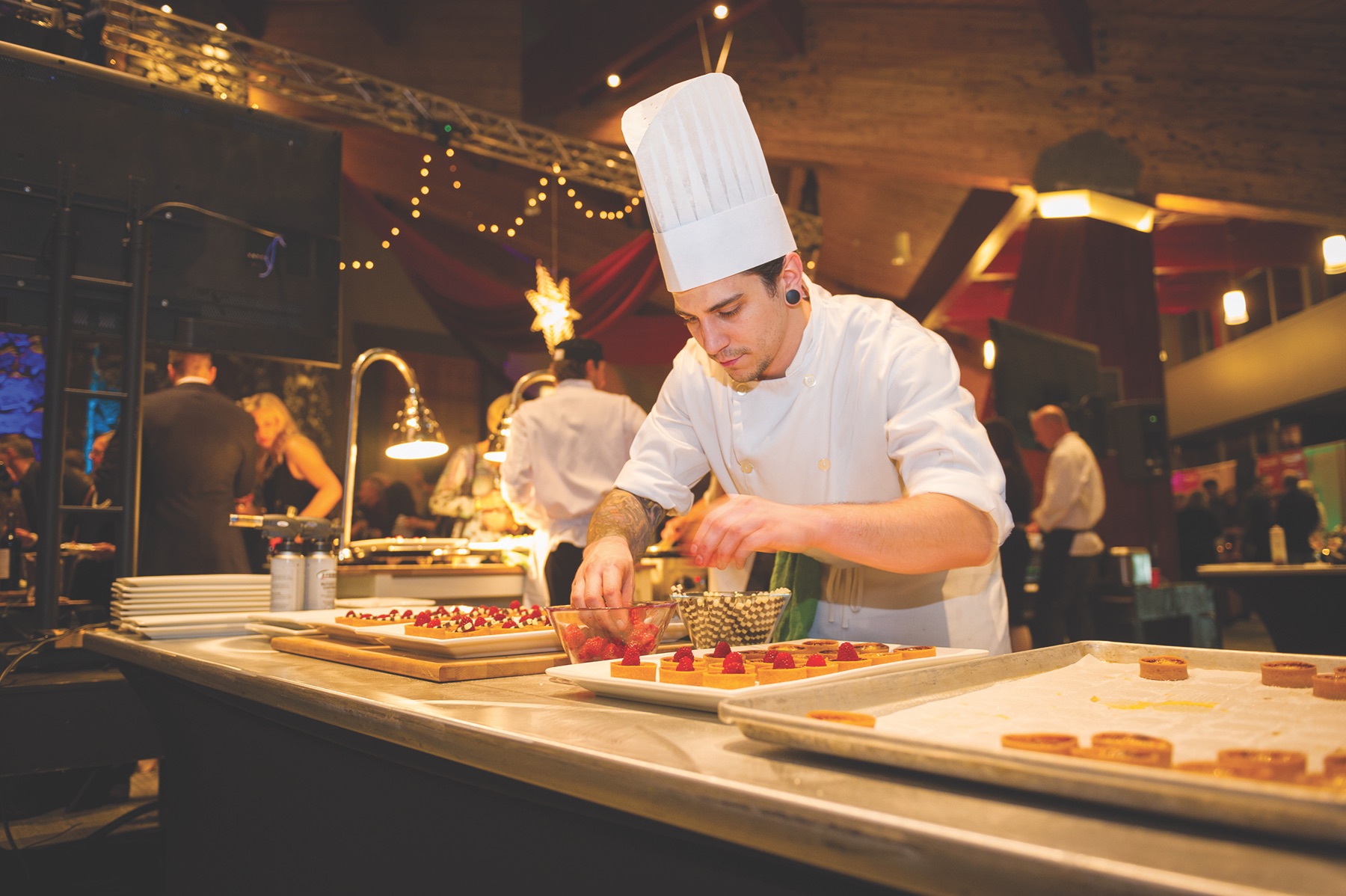 Much later in the fall season, the annual Cornucopia is traditionally one of the last premiere Autumn events that marks the end of a successful season. For 11 days, Cornucopia offers an unforgettable culinary experience with delicious tastings, winery dinners, and a true taste of British Columbia. Cornucopia falls from November 8th to 18th this year, and it's highly advisable to book accommodation early!
So you see, while both winter and summer have plenty to offer, autumn seems to strike the perfect balance. An eclectic mix of festivals, special events and outdoor activities, alongside the customary Whistler welcome, make autumn truly unique.
Start planning your fall trip today! See you there…