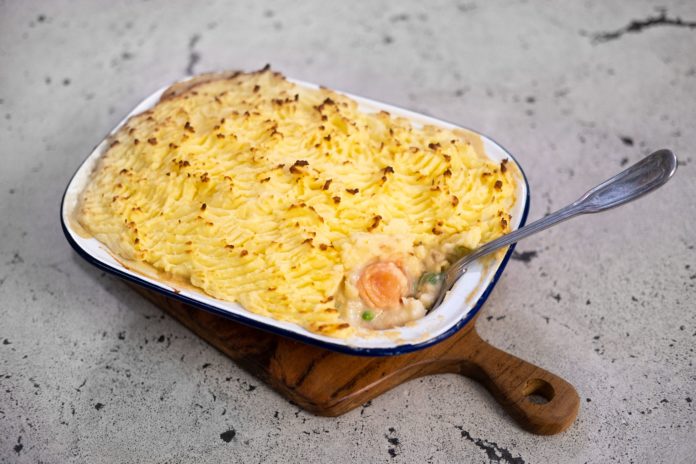 Irish Fisherman's Pie.. The perfect family meal using fresh fish!
Ingredients
200g hake, skinned and boned
200g cod, skinned and boned
200g smoked haddock, skinned and boned
200g salmon, skinned and boned
Sea salt
1 leek, sliced
200g frozen peas
1 onion, finely sliced
2 cloves garlic, crushed
300ml leftover white wine
1 fish stock cube
60g butter
60g plain flour
800ml milk
2 heaped teasp. Dijon style mustard
1 lemon zest and juice
For the mash topping:
6 medium rooster potatoes
Sea salt
200ml warm milk
2 free range egg yolks
Method
Place the potatoes on a tray, sprinkle with sea salt, and bake at 200°C for 50 minutes until soft throughout. Remove the potatoes, slice in half, and place the pulp through a ricer, otherwise, use a potato masher. Place the pulp on the heat and mix in the 200ml warm milk, season with salt and finish with the 2 egg yolks. Reserve for the top of the pie.
In preparation for the fish, lay the whole pieces (excluding the smoked fish) on a plate with some paper cloth under. Season with some sea salt and leave to sit in the fridge for 30 minutes to firm up. Remove any excess salt and portion the fish into thumb size chunks, lay into the pie dish. Slice the leek nice and thinly, and sprinkle over the fish. Pour the frozen peas into the pie dish.
To make the sauce, start by adding the onion and garlic and white wine to a sauce pan and reduce until a glaze, now crumble the fish stock cube in and mix.
In a separate saucepan, add the 60g butter and allow it to turn brown. Now add the flour and cook for 1 minute over high heat. Warm the milk gently in a microwave or on the heat, and add it in two stages to the flour and butter, stirring with a whisk, bring to a boil and take off the heat. This will create a basic sauce.
Season the sauce with your wine/fish stock mix, then finish with mustard, lemon zest and juice. Pour the sauce over the pie mix, top with the mashed potato, and bake at 200°C for 30 minutes until the top is golden brown.