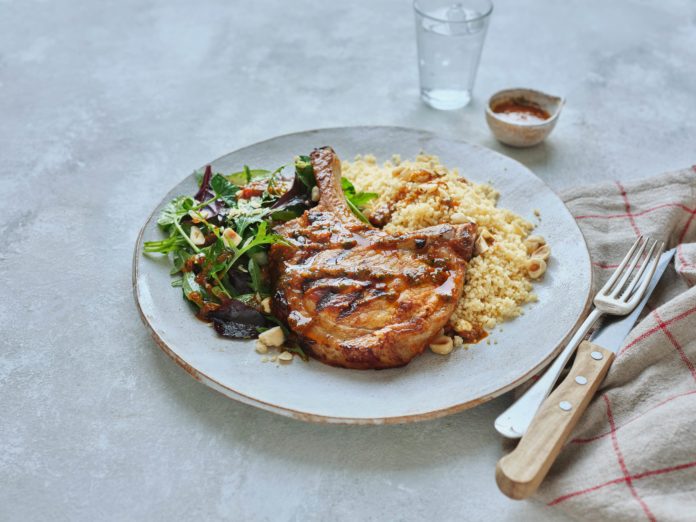 Delicious juicy Harissa Pork Chops …. Leftover dressing is great with chicken and fish!
Ingredients
4 pork chops, well trimmed, bone in if available
1 tablesp. rapeseed or olive oil
1 tablesp. Harissa paste
Juice of one lime
A little salt and freshly ground black pepper
Moroccan Spiced Dressing
½ teasp. ground cumin
½ teasp. paprika
¼ teasp. cinnamon
1 garlic clove, peeled and chopped
Juice of ½ a lemon
2 handfulls coriander leaves,
2 handfulls parsley leaves
1 teasp. honey
6 tablesp. olive oil
SALAD
50g watercress, rocket or mixed salad leaves
½ cucumber, peeled and sliced
150g sugar snap peas, sliced diagonally
50g hazelnuts, toasted and roughly chopped
To serve: Couscous or baby potatoes
Method
In a small bowl mix together 1 tablespoon oil, harissa paste and lime juice. Brush this over the pork chops. Leave to marinate for 10-15 minutes if you have time. Heat the grill or barbecue. Shake any excess marinade from the pork. Cook for 6-8 minutes until cooked through, turning once. When cooked remove them from the grill and leave to rest for a couple of minutes.
To make the dressing: Combine all the dressing ingredients in a processor and whiz until combined.
Mix the salad ingredients in a bowl. Spoon over a tablespoon of the dressing and mix well. Divide the salad leaves, cucumber and sugar snap peas between four plates. Slice the chops and place them on top of the leaves. Spoon over the Moroccan Spiced Dressing.
Serve with couscous or boiled potatoes.