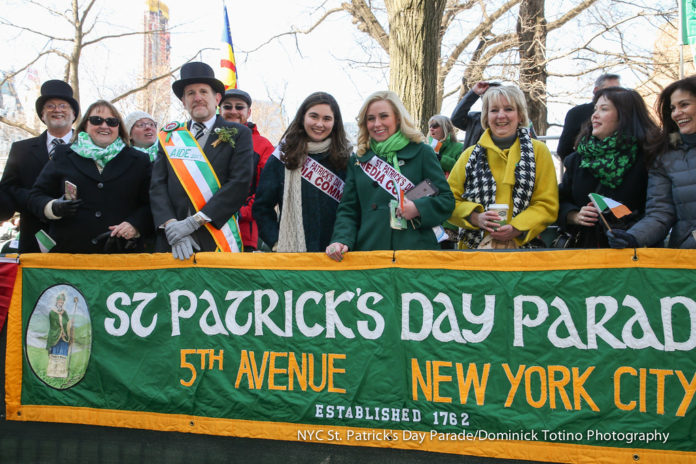 The 257th annual New York City St. Patrick's Day Parade, with more than 100,000 people marching in more than 300 units, steps off Saturday, March 17, 2018, at 11 a.m. at 44th Street and Fifth Avenue and proceeds up Fifth Avenue to 79th Street. The largest Parade in North America!
The Grand Marshal is Loretta Brennan Glucksman, co-founder of Glucksman Ireland House at New York University and Chair Emeritus of the American Ireland Fund.
Irish Taoiseach (Prime Minister) Leo Varadkar is expected to march, along with New York Gov. Andrew Cuomo, New York City Mayor Bill de Blasio and other elected officials.
The 2018 New York City St. Patrick's Day Parade will be dedicated to Catholic Education and the 20th Anniversary of the Good Friday Peace Accords, John Lahey, Chairman of the Parade Board of Directors announced.
Joining Ms. Glucksman will be 13 Aides to the Grand Marshal, selected by the Parade's participating organizations in recognition of their outstanding service to the Irish-American Community of New York, including Timothy McNiff, PhD, Superintendent of Schools for the Archdiocese of New York.
During her 18-year tenure as Chairperson of the American Ireland Fund, Loretta Brennan Glucksman helped support the peace process which resulted in the historic Good Friday Accords, establishing a framework for peace in Northern Ireland.
New York Police Department Chief of Detective Robert Boyce will blow the whistle which officially starts to parade. Following a more than 160-year tradition, the 69th Infantry Regiment of the New York Army National Guard – the "Fighting 69th" – will be the first unit up the street.
Following the Fighting 69th are the Grand Marshal, Aides to the Grand Marshal, the New York Police Department, the New York Fire Department, other city units, members of the Irish Defense Forces and the Garda and marching groups representing the Irish counties, pipe and drum units from across the U.S. and from Ireland, Canada and France and high school and college marching bands from around the nation.
The Aides to the Grand Marshal for the 2018 St. Patrick's Day Parade are:
Aide-at-Large – Dr. Timothy McNiff
New York County – Patrick McGettrick
Queen's County – Virginia Carson Minardi
Bronx County – John Timoney
Kings County – Rosemarie Coulson
Westchester County – Allison Burke
Rockland County – Jim Russell
Nassau County – Richard O'Neill
Orange County – Keith Reynolds
Richmond County – Marty Crimmins
Suffolk County – Eugene Wynne
United Irish Counties – Katie Barrett
Grand Council of United Emerald Societies – Kathleen Cashin
Knights of St. Patrick – Robert Pederson
The parade is broadcast live on WNBC-TV 4 and livestreamed on nbcnewyork.com and nycstpatricksparade.org.