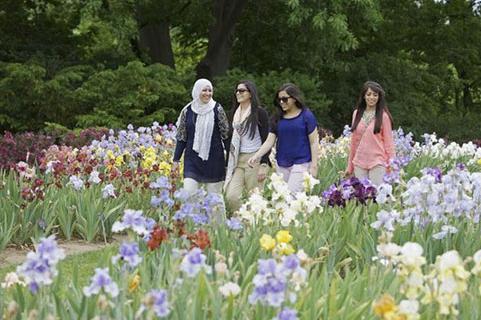 The Royal Botanical Gardens (RBG) is an ecological tribute to wondrous natural world in Ontario. Over 180,000 plants representing over 2,300 plant species live and thrive so visitors can appreciate Canada's vast and varied flora. At over 1,100 hectares, RBG is Canada's largest botanical gardens and has been designated a national historic site.
Explore thousands of indoor and outdoor exhibits, including five cultivated gardens. Hendrie Park is the largest and features the renowned rose garden. Blooming perennials paint Laking Garden with a rainbow of colour. For those who like to stay active, 27 km of walking trails mean you won't soon run out of ground to explore.
The RBG Centre and flagship Hendrie Park are located just outside the city of Hamilton. The Arboretum, Nature Interpretive Centre, Rock Garden, Laking Garden and several trail heads are located across Hamilton and neighbouring Burlington. The gardens offer a shuttle bus around the grounds on some weekends. Each of the curated gardens is at least partially accessible by wheelchair users, offering paved and fine-gravel pathways.
For up-to-date information and details on the Royal Botanical Gardens, we recommend you visit their website. For information about other places of interest to explore nearby, keep scrolling to see what Destination Ontario recommends.
Some things to do may not be available due to COVID-19.
For the most up-to-date information on where and when it is safe to travel please visit: covid-19.ontario.ca
Source: DestinationOntario.com