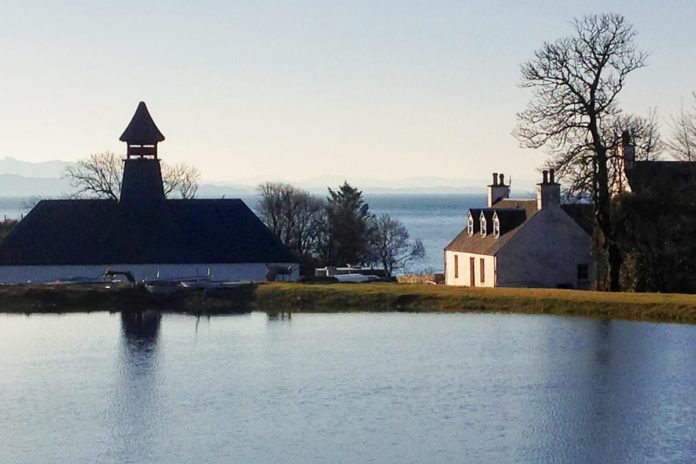 You may already know that Scotland is rightly famed for producing the world's finest whiskies, but did you know that each year there are more and more whisky distilleries popping up around the country?
In 2017, seven new distilleries – Torabhaig, Isle of Raasay, Dornoch, Lindores Abbey, Clydeside, Bladnoch and Ncn'ean – started production. This year another five are due to open and you can find details about these, and other exciting distillery updates, below.
This year The Macallan in Speyside will fully re-open in early June, following an impressive £130 million refurbishment of the distillery and visitor experience.
Diageo also has big plans to invest £150 million over the next three years across their Discovering Distilleries sites (which will grow from 12 to 14 with the re-opening of the 'lost distilleries' of Port Ellen on Islay and Brora in Sutherland) and a new state-of-the-art immersive Johnnie Walker visitor experience in Edinburgh.
NEW DISTILLERIES FOR 2018
1. GLENWYVIS DISTILLERY, DINGWALL
GlenWyvis Distillery was completed in 2017, and whisky production began on the 25 January 2018, just in time to commemorate Robert Burns' birth in 1759.
Expect excellent unpeated single malt whiskies that will be ready to drink in 2021. The whiskies will be created using only local barley and matured in bourbon, refill bourbon and sherry casks. The distillery also plans to produce gin from summer 2018.
This state-of-the-art distillery, set on a hillside overlooking Dingwall and the Cromarty Firth, is run on solar, hydro, wind and biomass renewables. Call 01349 862005 or email michael.fraser@glenwyvis.com for information about distillery tours. It's also still possible to invest and become a part-owner in the distillery.
2. TOULVADDIE DISTILLERY, BY TAIN
Founded by Heather Nelson, Toulvaddie Distillery is the first Scotch whisky distillery to be established solely by a woman in over 200 years. Originally planned to open in 2017, it is now on track to open in 2018. Construction of this brand new micro-distillery, not far from the long-established Glenmorangie Distillery, is well underway and whisky production will begin as soon as the distillery is completed.
3. LONEWOLF DISTILLERY, ELLON
Located in rural Aberdeenshire, LoneWolf is a distillation subsidiary of BrewDog. This distillery is already producing gin and vodka from grain all the way through to glass. Having launched in early 2017, LoneWolf whisky production began this year using the only triple bubble still in the world – just one way that LoneWolf runs against the pack and strives to challenge the traditions of the industry.
4. ARDNAHOE DISTILLERY, ISLAY
Summer 2018 is the perfect time for a trip to Islay, with the opening of Ardnahoe Distilleryscheduled to take place. The island's eagerly anticipated ninth whisky production site is located in the north-east of Scotland's whisky isle, and will distill classic peated Islay malts using water from Loch Ardnahoe itself. With spectacular views over the Sound of Islay to the Paps of Jura, a visit to this new distillery will undoubtedly become a must.
5. BORDERS DISTILLERY®, HAWICK
The Borders Distillery® is the first Scotch whisky distillery to open in the Scottish Borders since 1837. The new distillery can be found in the town of Hawick and occupies a B-listed historic industrial site in the town centre. The former Hawick Urban Electric Company building has been completely restored and given a new lease of life. The distillery will produce single malt Scotch whisky and a premium gin. Visitors are welcome and bookings for distillery tours and tastings are being accepted from the 1 May.
DISTILLERIES THAT OPENED IN 2017
1. DORNOCH DISTILLERY, SUTHERLAND
Housed in the quirky old 'Fire House' in the grounds of Dornoch Castle Hotel, Dornoch Distillery is located in the pretty Sutherland town of Dornoch. This micro distillery has been producing whisky since December 2016 and laid its first cask in January 2017. Based on the whisky styles of the 1960s and before, directors Phil and Simon Thompson are aiming to create an 'elixir of yummy old style fruitiness'.
2. ISLE OF RAASAY DISTILLERY
Skye's neighbouring island, Raasay, welcomed the Isle of Raasay Distillery which began production in September 2017. Lying beneath the island's highest point Dùn Caan, the distillery is producing 'handcrafted whiskies of uncommon provenance' using the peak's volcanic water supply at every stage of distillation. Tours are now available and you can also stay in one of the distillery's five luxury bedrooms, three of which have dramatic views to the Cuillin mountains – the ideal option for whisky lovers!
3. TORABHAIG DISTILLERY, ISLE OF SKYE
Torabhaig is Skye's second distillery, complementing long-established Talisker Distillery at Carbost. It overlooks the Sound of Sleat and the dramatic wilderness of the Knoydart peninsula and is housed in a converted 200-year-old farmstead. Production got underway in January 2017 and the distillery also now offers visitor tours and there's a shop and a café serving refreshments and light bites on site.
4. NCN'EAN DISTILLERY, MORVERN
Taking it's abbreviated name from Neachneohain, the Gaelic Queen of Spirits, this distillery embodies the spirit of this legendary character – strong, independent and never afraid to walk her own path – a quiet rebel and a fierce protector of nature. Perched above the Sound of Mull in secluded Morvern, Ncn'ean Organic Whisky Distillery started producing single malt whisky in March 2017 using the best ingredients and pioneering sustainable production methods. Pre-booked distillery tours are available.
5. LINDORES ABBEY DISTILLERY, NEWBURGH
Records indicate that whisky was first produced as far back as 1494 by Tironensian Monks at Lindores Abbey, on the northern edge of the Kingdom of Fife. Spirit started flowing from the stills again at Lindores Abbey Distillery in 2017 and they are currently producing an Aqua Vitae spirit drink with herbs and spices for sale. Housed in the old Abbey farm steading, whisky here is being produced using barley from local farms, providing a real taste of the area. Tours are also now available.
 6. CLYDESIDE DISTILLERY, GLASGOW
Sitting proudly between the SEC and the striking Riverside Museum in the centre of Glasgow, the Clydeside Distillery opened in November 2017, following a £10.5 million refurbishment of the iconic Pump House on the riverside. The distillery offers dramatic views over the River Clyde and visitors can enjoy a fine tour of the distillery, can relax in the café and browse the wide variety of whiskies and gifts in the specialist whisky shop. The distillery can also be booked as an exclusive-use events venue.
7. BLADNOCH® DISTILLERY, NEAR WIGTOWN
Although not strictly a 'new' distillery, Bladnoch® Distillery has been completely renovated under new ownership and began production again in 2017 under the watchful eye of Master Distiller Ian MacMillan. Located near Wigtown in Dumfries & Galloway, the distillery was originally founded in 1817, making it both Scotland's most southerly distillery and the oldest working distillery in the Lowlands whisky region. A world-class visitor centre is currently being built and should open at the end of 2018.
WHISKY DISTILLERIES – 2019 AND BEYOND!
That's just 2018! In 2019 plans are afoot for a Douglas Laing distillery in Glasgow, as well as the new Burnbrae Distillery in East Kilbride. Further west, the new Ardgowan Distillery on Ardgowan Estate near Inverkip is due to open by 2020, while Isle of Arran Distillers continue to develop their second distillery at Lagg on the island.
Over on the east coast, Edinburgh residents and visitors can expect a further three distilleries. Construction of the new Holyrood Distillery will begin shortly and it should open in summer 2019. A John Crabbie & Co gin and whisky micro-distillery at Granton Harbour is planned, as well as an innovatively designed Port of Leith vertical distillery which will sit alongside Ocean Terminal and the Royal Yacht Britannia.
Further south, the Borders will see continued growth in whisky production in the shape of R & B's second distillery (complementing their site on Raasay) coming to Peebles and Mossburn Distillers Ltd, continue to develop their Reivers Distillery in Jedburgh.
Find out more about Scotland's whisky distilleries using the  new Whisky Map and read our FREE whisky distilleries eBook.
Source: Visit Scotland