No place in Canada represents the life-changing crucible of immigration better than Grosse Île.
From 1832 to 1937, this small island in the St.-Lawrence River 48 kilometres east of Quebec City served as a quarantine station where immigrants to Canada were screened for disease.
More than four million mostly Europeans passed through the station, with more than half of those coming from Ireland.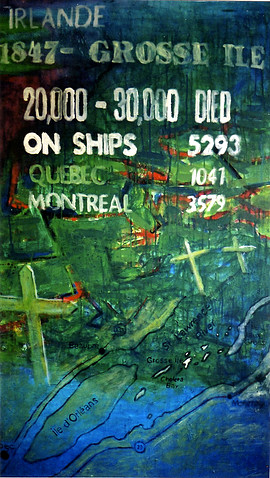 For most, the arrival and processing routine was relatively straightforward.
But in the summer of 1847, a version of hell came to Grosse Île.
On May 17 of that year, a vessel, the Syria, arrived from Ireland carrying 430 passengers with typhoid fever. This marked the beginning of a cruel epidemic that left an estimated 5,000 men, women and children dead. Most were Irish immigrants, severely weakened, fleeing a brutal famine at home. These immigrants are buried on the island, and an Irish Memorial was erected in their honour.
Until recently, the story of Grosse Île was largely untaught in Quebec schools.
In 2015, after years of advocacy by our foundation, the Quebec Ministry of Education officially added Grosse Île to the compulsory secondary level provincial exam. This inclusion ensures that Quebec students will know this vital chapter of Canadian history.
The Jeanie Johnston Educational Foundation is a registered Canadian charity that was founded in 2004 to promote the study of Canadian history and immigration. Through advocacy and the creation of classroom-ready lesson plans have become a recognized contributor to the enhancement of the Quebec school curriculum.
The foundation is named in honour of the ship Jeanie Johnston which carried Irish immigrants to Canada in the 1850s and which made 14 passages without loss of life. A recreated version of the ship visited Montreal in 2003.
Today, Grosse Île is a National Historic site. Visit Parks Canada to learn more about this important site.
source: www.jeaniejohnstoneducation.com