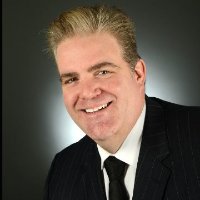 St. Patrick's Parade Society of Toronto are proud to announce Todd Hudson as the Grand Marshal for the 2018 St. Patrick's Parade.
Todd Hudson is Chief Operating Officer of ECN Capital's Commercial & Vendor Finance business, having previously been Executive Vice President of Originations at Element Financial.
Mr. Hudson has more than 20 years of sales management experience in the Canadian leasing industry. Prior to joining Element, Todd was the President of Hathway Financial, a financial services company that specialized in small to mid-sized commercial credits in the transportation, construction and industrial equipment markets.
Before founding Hathway Financial in 2003, Mr. Hudson held key roles at Newcourt and CIT Group and was responsible for national vendor programs in the transportation, construction and automotive groups.
Mr. Hudson has also been a loyal supporter of the Irish community in Toronto for many years. For this service, the St. Patrick's Parade Society are honoured to award Mr. Hudson with the title of Grand Marshal for 2018.
In his honour, the committee will be hosting the annual Grand Marshal Ball on March 9th at the Steam Whistle Brewery in downtown Toronto. Beginning at 8pm, this event is guaranteed to be a fun packed evening with live music, Irish traditional dancing, and a range of entertainment. Also in attendance will be dignitaries from Canada and Ireland. There are a number of tickets available to the public for this event. The cost is $100 per person. Please visit stpatrickstoronto.com or St Patrick's Toronto on Facebook for more details.
The St. Patrick's Parade 2018 will take place on Sunday, March 11th. The parade will march its traditional route from Bloor and St George, winding its way down Yonge Street and finishing before the review stand on Queen Street at Nathan Phillips Square. With over 4,000 participants in the parade, there is colour and flavour representing the city's distinct and diverse community. 30 marching bands and entertainment entries participate, with the sound reverberating around the streets of Toronto as the parade makes its way through the streets. The entertainment certainly brings the crowds on to the street, with over half a million people lining the parade route. A further one million people watch the parade live on television.