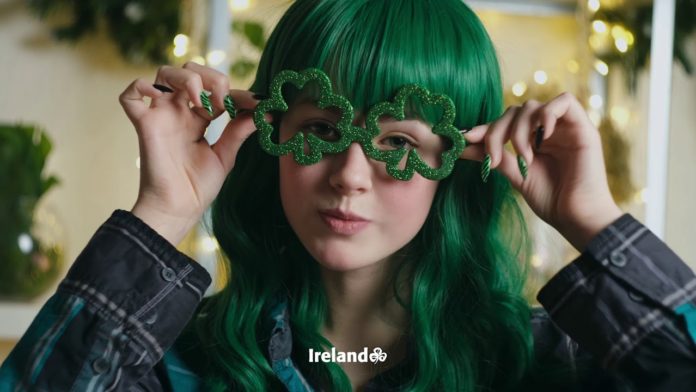 In rolling out its St Patrick's Day activations, Tourism Ireland aims to bring some positivity, hope and some fun to the almost 5 million Canadians who claim links to the island of Ireland and invites everybody across Canada to join in on the celebrations. At a time when people cannot travel, Tourism Ireland wants to shine a 'green light' in various ways to provide a sense of connection to Ireland and remind future travellers that the warm, Irish welcome will be at the ready, as soon as the time to travel is right.
Tourism Ireland's St Patrick's programme will include:
Liam Neeson joins Tourism Ireland to wish the world a Happy St Patrick's Day (not for broadcast use)
Check out our new online film featuring the voice of the famous actor Liam Neeson
Happy St Patrick's Day ☘️ – YouTube

Live Event – St Patrick's Day at Home
From the island of Ireland comes the St Patrick's Day party we have all been waiting for! This fun-filled 90-minute show will be broadcast LIVE on March 17 from three much-loved pubs in Dublin, Belfast and the pretty coastal town of Dingle in County Kerry and will bring a festival of music, Irish dancing, special guests, and a few surprises right into your living room.
March 17th at 5:30pm eastern time – St Patrick's Day at Home | Ireland.com


Global Greening
2021 marks the 12th year of Tourism Ireland's Global Greening initiative where famous attractions and sites around the world, which will go green to mark St Patrick's Day.
30+ locations across Canada are going 'Green' for St Patrick's Day, including Niagara Falls, CN Tower, The Giant Beaver, World's Largest Hockey Stick and Puck, Calgary Tower and The Big Fiddle, among many others;
We invite you to join in this global celebration by lighting your green candle on March 17 and share using #GlobalGreening


St Patrick's Day kit
From Zoom backgrounds, to GIFs and more, we have you covered to help get ready for a virtual St Patrick's Day
Including three St. Patrick's Day Instagram filters now available: Green Hair, Raining Shamrocks and Shamrock Make-Up -@TourismIreland


Zoom Backgrounds
St Patrick's Day GIF's
St Patrick's Day Fun Fact cards
5 St Patrick's Day Facts Video
Tourism Ireland Instagram Filters
Media
6 segments across Canadian television on Your Morning, Marilyn Denis, Breakfast Television and Global News Morning – featuring a selection of Irish celebrity chefs including Kevin Dundon, JP McMahon, Noel McMeel, Darina Allen, and Catherine Fulvio, Michael Kelly Jr., and local talent, Shucker Paddy (Patrick McMurray) will air from today, March 15th – March 17th showcasing traditional ways to celebrate St Patrick's Day in Ireland, and ways to bring a taste of Ireland into your home.

"St Patrick's Day provides a unique opportunity to share Ireland's rich history and culture with a global audience, and the current environment offers the opportunity to present so much more than we have ever been able to do before," said Sandra Moffatt, Manager, Canada. "This year, we invite our friends across Canada to join in the festivities from afar and celebrate the very best of Ireland, its music, song and dance on the day when people everywhere are thinking about Ireland!"