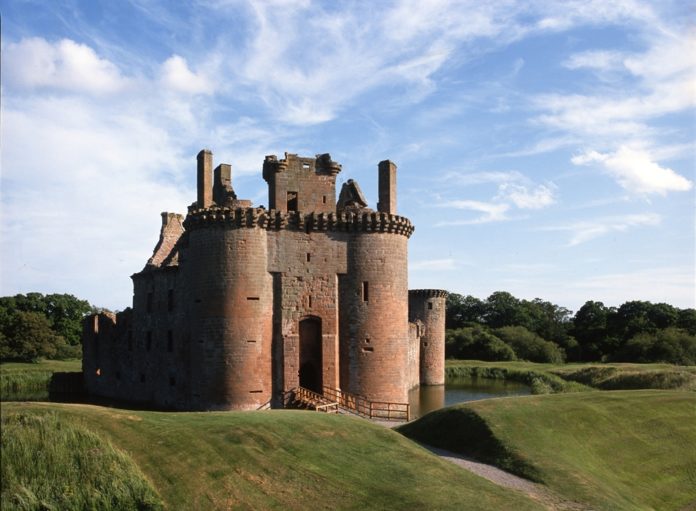 From mystical stones to fairytale-like castles and gingerbread houses, Scotland simply oozes magic. Fire your children's imagination when you take them on a day out to Scotland's magical, mystical places. Some of our attractions are so whimsical, they deserve to be seen through a child's eyes. These are places where fertile imaginations are fed, where wee ones can become giants and princesses, and the unseen and unheard can be experienced.
Plucked straight from the pages of storybooks, we've rounded up some of Scotland's most captivating real-life landmarks that you can visit – and you won't even require a fairy godmother to reach them. But be warned – you might be put under a spell that will have you desiring to see more of Scotland.
Okay, let's journey to a kingdom far, far away.
COVID-19 PHASE 3 RESTRICTIONS
Tourism is reopening on 15 July but please check with attractions and businesses directly to confirm individual opening dates. Stay safe and look out for the We're Good to Go scheme logo as you travel around Scotland. Find out more about the current Covid-19 restrictions of Phase 3 and future phases.
1. DAWYCK BOTANIC GARDENS
If ever a unicorn would dance, it would be to the gentle, trickling sound of water running in the burns found in the garden grounds; it would bathe in its vivid coloured blooms; and breathe the invisible scents of nature that fills the garden's air. This place is simply that magical.
Nestled in the depth of the Scottish Borders countryside, Dawyck Botanic Garden enchants with its variety of trees, shrubs and flowers. This delightful place for nature fanatics is a treat in any season. Garden terraces and woodland paths feature both native and exotic plants, with the Azalea Terrace, Dutch Bridge and Beech Walk being the garden's most popular photo spots.
Visit Dawyck for a great day out and admire one of Scotland's finest tree collections, including some of Britain's tallest and oldest trees.
2. MOUNT STUART
A building that takes your breath away.
Set on the Isle of Bute, against the striking Firth of Clyde backdrop, Mount Stuart is a flamboyant and wonderous house, a remarkable architectural feat – some even say the most extraordinary piece of Gothic architecture in Britain. Its spectacular Georgian architecture mixed with contrasting Victorian design will simply leave you in awe. And that's all before you've stepped through the door.
Inside this lavish palace you can find dazzling designs inspired by astrology, art and mythology. See a map of the stars made with glass crystals on the ceiling of the Marble Hall, take the spiral staircase to what's believed to bethe world's first domestic heated swimming pool, and appreciate the unspeakably rich reception rooms.
It's a place straight out of the Harry Potter world, where no one would be surprised if the walls here came to life after dark and the squirrels carved into the walls would start exploring, the fossils of fish in the marble stair swimming about, or people swapping places with the ones in the photographs on the walls .
3. JUPITER ARTLAND
Set within the picturesque 80-acre estate of Bonnington House, a short drive outside Edinburgh, Jupiter Artland is a sprawling outdoor contemporary sculpture garden and art gallery where nature and manmade designs collide in a mesmerising showcase of thought-provoking artworks .
It's like wandering through a scene from Alice in Wonderland. Picture snowstorms on a midsummer's day, 12 ft-high multicoloured orchids rising above the horizon, or enormous landscaped mounds rising serpentine-like out of the ground in gently sweeping curves separated by giant pools of water.
Just try to not imagine a majestic white stallion galloping down the woodland paths. We'll bet you can't. This place is utterly scenic and surreal! It feels so enchanting that we wouldn't be surprised if the trees or water lilies could talk. We'll leave the rest up to your imagination…
4. NATIONAL WALLACE MONUMENT
On the outside, the National Wallace Monument appears to be perfectly normal: a tower standing on the shoulder of the Abbey Craig, a hilltop overlooking the scene of Scotland's victory at the Battle of Stirling Bridge. Of course, things are never as they appear and there are invisible stairs at the top of the crown that no one knows exists, leading to a tethered island in the clouds …
Well, we all know that's not true, but that's the image that could easily conjure up in one's mind when looking at the soaring stone… or one of an old spaceship which became stuck in the crag after a crash-landing.
The fact is though, that this monument is a world-famous attraction dedicated to immortalising the memory of Sir William Wallace – a hero to the Scottish people. Climb the 243 steps via a spiral staircase and explore the exhibits and displays within to discover the story of his life. See Wallace's legendary battle sword – the centrepiece of the magnificent Hall of Heroes – and admire stunning panoramic views from the top over Stirling and beyond.
5. AN LOCHAN UAINE (THE GREEN LOCH)
The enchanting An Lochan Uaine (The Green Lochan) in Glenmore Forest Park got its unique emerald hue when Dòmhnall Mòr, the king of the pixies (the local fairies), washed his clothes in its waters. Or so the legend says… Another explanation for the loch's green tint could be from algae generated by decomposing wood lying along the loch floor, but we think the fairy story is much more fun! Either way, the colour of the water is uncanny and makes this a mysterious and magical spot.
Can you hear every tree you pass whispering your name, and the sound of giggles coming from the grass? No? Neither can we, but we wouldn't be surprised if you could because this place feels so whimsical…
Located in the Ryvoan Pass near Aviemore and surrounded by lush forest and steep slopes, the lochan makes an accessible and enjoyable walk from Glenmore, and vihas long been a popular stopping point for walkers in the Cairngorms National Park.
6. CAERLAVEROCK CASTLE
You can find medieval fortresses all over Europe, but only in Scotland can you find one this magical. Set within a nature reserve, Caerlaverock Castle is a striking yet lonely structure that looks quite ordinary from a distance. It's not until you are closer that you get a glimpse of its unusual character – the triangle-shaped grounds.
Although ruined, Caerlaverock maintains many of its atmospheric features, including a twin-towered gatehouse and imposing battlements. Along with its eerie green moat, there is something spooky about this imposing fortress.
Saying that when you cross the moss-covered moat you will become a knight in a shining armour or a soldier from the era gone-by for a day would be stretching the truth, but stepping inside the walls of this castle certainly feels like stepping back in time. If you listen closely, you might even swear you hear the sound of steel clashing…
7. KELBURN CASTLE
Next up is Kelburn Castle near Largs in Ayrshire. Loved y all those who explore it, Kelburn will captivate you in the storybook-like world with its interwoven cartoon characters that adorn the exterior walls and turrets of the castle's south side. This one of a kind gigantic mural means Kelburn is undoubtedly one of the most alluring and colourful of Scotland's heritage buildings. It's also been named as one of the best examples of urban art in the world for fabulously blending the mural with Scottish architecture.
In the castle's grounds you'll find a secret forest. Enter and you instantly immerse yourself in an adventure. See if you can find your way out through its winding pathways, deep gorges and cascading waterfalls. Discover enormous houses fit for giants, a gingerbread cottage, or come face to face with crocodiles that inhabit magical swamps. To leave, you must solve riddles and to do so you must seek help of a wise old women, who will help you conquer the evil boot-wearing cats.
It all sounds perfect for an amazing day out, doesn't' it? Well, okay, the part about the riddles isn't true, but why not add that element when you visit? We're sure little and big kids will enjoy solving the questions!
8. THE PINEAPPLE
Fantastically fruity and eccentric to the core, it's a building that you simply can't miss. Standing in Dunmore Park near Falkirk, The Pineapple is an elaborate 18th-century two-storey Palladian-style summerhouse that was once crowned as Scotland's most bizarre building.
It was built by the 4th Earl of Dunmore in 1761 as an epic birthday gift for his wife. Back in the day, in the Caribbean, sailors would put pineapples on the gatehouse to announce their return home. Lord Dunmore, who was fond of a joke, announced his homecoming… ahem, a little bit more prominently.
We hear there is a magic key somewhere within the grounds that unlocks hidden doors (which appear only once the key is found) that open into a land of pineapples… Well, not really, but we wouldn't be surprised if there was, given the imagination of the creator of this rather delish-looking building!
9. KILMARTIN GLEN
You could think that Kilmartin Glen is just one of Scotland's many mystical stone sites… but is it?
Surrounding the village of Kilmartin on the west coast of Scotland, this place is considered one of Europe's most concentrated areas for prehistoric remains. Home to over 800 structures – some more than 5,000 years old – Kilmartin features a multitude of stone formations varying from cairns (Scottish burial sites) and carved rocks, to standing stones and stone circles, to forts and castles. Look out for Dunadd Fort, where ancient kings were crowned and the early Scottish nation forged.
Kilmartin Glen is a land so eerie that stones are far from the only aspect shrouding this enigmatic place in mystery. Let your soul get swept away in the spellbinding feeling that fills the air. It's almost as if you're being lured to touch the stones to see if, like Claire from Outlander, you too can travel in time or make contact with bygone spirits.
We wouldn't dare you to try that on the midsummer morning in case you did possess this fairylike ability… but what if?
10. THE SILVER SANDS OF MORAR
You'll be forgiven for thinking you'd been transported to somewhere tropical when you step onto the stunning Silver Sands of Morar for the first time (that is until you dip your toes in the water ).
Set between Arisaig and Morar in the Highlands, this little slice of heaven on earth offers unbelievably pristine sandy beaches and crystal-clear waters… almost as if completely translucent, white and turquoise creatures, which turn into a paddle in the sunlight, lived there (come on, let your imagination run free!).
If you could swap places with one of these water people and roam the landscape freely from dusk till dawn, flying over the land or frolicking under water, would you?
Anyway, Morar is also a village, and a loch, the deepest freshwater lake in Britain, where Nessie's cousin, Morag, lives. Add to this striking view of isles like Rum, Eigg and Muck and you've got a recipe for an unforgettable trip.
Scotland has hundreds of charming family-friendly attractions that are perfect for a short break for yourself and your little adventurers. Get exploring Scotland and immerse yourself in a world of fantasy and magic, and together with your children create life-long memories. If those places won't make you believe in magic, we don't know what will!
Only a few questions remain… Will they sip tea with the tiny colourful fairies that live in Scotland's woods; will they spot and make friends with the green, long-neck creature with black humps that lurks in Scotland's mysterious loch; or perhaps they will find a secret sword that will transport them to a battlefield? Who knows… who knows.