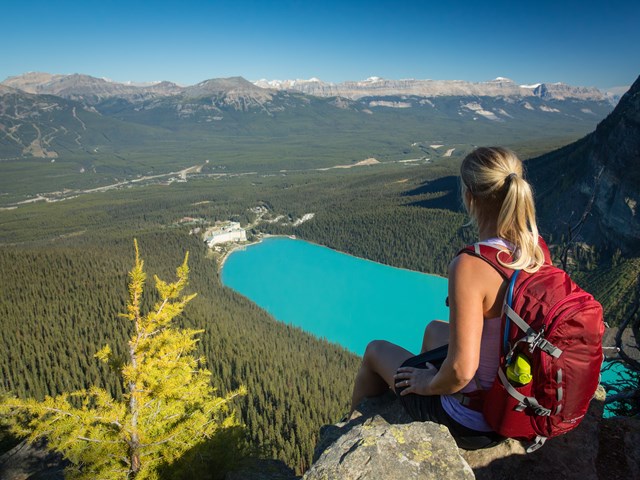 Crouching atop the crown of the Big Beehive, I gaze down 500 m (1,640 ft) to the turquoise waters of Lake Louise sparkling in the sunlight below. The Fairmont Chateau Lake Louise stands sentinel at the water's edge. The vertical contrast is absolute, the view magnificent. It's a well-deserved prize after our 4.5 km (3 mi) hike to the summit. A couple's massage in the Chateau's Willow Stream Spa will be our reward for making the trek back down.
Hike in Wilderness, Stay in Luxury
Lake Louise in Banff National Park is a study in contrasts: turquoise waters against gleaming glaciers; tea and scones on a mountain top at the Lake Agnes Teahouse; a muscle-burning hike up rugged Fairview Mountain with a white linen experience in the hotel's Fairview Dining Room awaiting our return. And the hotel itself embodies old world elegance, yet is relaxed and inviting.
As dusk settles, it's hard to tear my focus from the view through the opulent dining room windows. My partner, however, is totally focused on the menu, torn between the Alberta elk striploin with baby turnips or rack of lamb with potato goat cheese pavé. All will be fuel for tomorrow's hike. We plan to do the Plain of Six Glaciers to see the ice-age moraines and hopefully spot some more wildlife – although yesterday's grizzly bear sighting will be hard to top.
Lake Louise Gondola Hiking
While it gets most of its praise for taking skiers up to one of the world's most recognized ski hills, the Lake Louise Gondola is a treat in the summer. Whitehorn transforms from a snowy wonderland to alpine meadows laced with hiking routes. On the way up, keep your eyes peeled. Lake Louise has the highest concentration of breeding female grizzly bears within Banff National Park. Yesterday I spotted a mother and her cubs shambling along a wildlife corridor far below the lift. It prompted me to book the Trail of the Great Bear at the top of the mountain. The 45-minute guided walk, offered by the Wildlife Interpretive Centre, taught me everything I need to know about staying safe in bear country.
Hike in Backcountry Bliss
If you yearn for a backcountry hideaway, simply pull on some hiking boots and walk back in time to Skoki Lodge. The only way to get to this wilderness retreat is on foot. You'll start from the Lake Louise trailhead, and travel 11 km (6.8 mi) through the high alpine – a journey that has filled the journals of explorers and adventurers for almost 100 years. With heat maintained by woodstoves, kerosene lamps and candles for light and water brought in from the creek, Skoki offers a totally authentic pioneer-pilgrim experience. There are plenty creature comforts here though – including gourmet regionally inspired meals. After all, it was the perfect honeymoon spot for Prince William and Duchess Kate. The hiking opportunities from Skoki Lodge are endless, but there are a few must-do trails to explore:
Merlin Castle – in Merlin Valley southwest of Skoki Valley
Skoki Mountain – at the head of the Red Deer River, east of Skoki Valley
Oyster Peak – east of Skoki Mountain, north east of Fossil Mountain
ACTIVITY HIGHLIGHTS