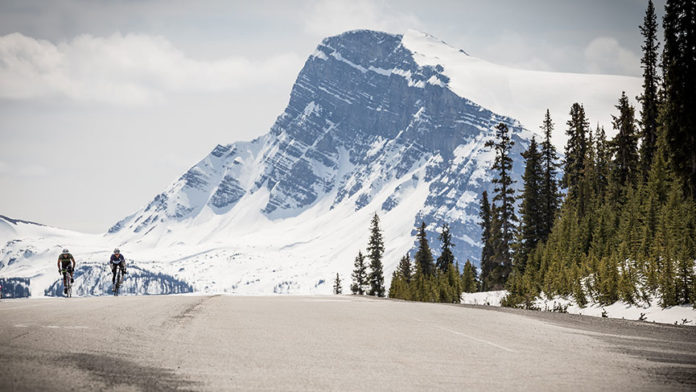 Jeff Bartlett
"The best road cycling in Alberta isn't found in a single destination. It's spread across the entire province, from the towering Canadian Rocky Mountains across the vast prairies to the Canadian Badlands. Alberta's seemingly endless road network traverses a wildly diverse landscape that is easily explored by bicycle.
From a road cycling perspective, the province is best divided into four unique regions: Edmonton and the north, Calgary and the foothills, the Alberta Rockies and the Canadian Badlands.
Edmonton, which helped host the Tour of Alberta from 2013 to 2017, has a rich road cycling history, and it's the natural starting point for cyclists looking to explore the northern part of the province. The province's largest community cycling event, the Tour de L'Alberta, takes place annually in Beaumont, while, further north, the Fort McMurray Gran Fondo highlights a growing cycling community in the Regional Municipality of Wood Buffalo.
All routes lead to spectacular views
Calgary might be the biggest city in the province, but road cyclists don't have to venture far from the city centre. Paved bike paths connect the city with quiet country roads that wind through the foothills between the wide-open prairies and the mountains.
Stretching from Jasper National Park to Waterton Lakes National Park, the Alberta Rockies are breathtaking. While the roads can be busy throughout the summer, road cyclists can skip the traffic on many of the most scenic rides. Seasonal road closures for motor vehicles extend until June 15, but the winter snowpack often melts by mid-May and cyclists have these roads to themselves.
The badlands, located east of Calgary, continue to grow both as a tourist destination and a cycling hotspot. Quiet country roads follow the Red Deer River Valley past hoodoos and red-earth canyons between Drumheller and Dinosaur Provincial Park, creating an otherworldly riding experience.
With abundant road cycling opportunities spread across the province, selecting the very best rides isn't easy. These five routes aren't just amazing rides, but they're popular with local cyclists, offer outstanding scenery and are easily accessible. The three off-the-beaten-track routes are incredible, too, but they're slightly further afield.
Views like this will make the ride on the 14-km Edith Cavell Road worth the 650-m climb.
Travel Alberta / Jeff Bartlett @photojbartlett
WHERE WILL YOU RIDE?
1. Edith Cavell Road, Jasper National Park
Ride Highlight: The narrow Edith Cavell Road is just under 14-km (8.7-mi) long and climbs 650 m (2,132 ft) as it approaches the iconic Edith Cavell Mountain that's visible from nearly anywhere in Jasper. It's closed to vehicle traffic until June 15, so road cyclists are encouraged to take advantage of the two-to-three-week snow-free period before the gate opens.
How to Get There: The Edith Cavell Road is located 13.6 km (8.5 mi) from Jasper, which makes it either an ideal cycling warmup for the upcoming climb or a short 15-minute drive. From town, follow Highway 93 south. Immediately after the Jasper National Park Gates, where park users must purchase a pass, turn right onto Highway 93A, and follow it south for 5 km (3.1 mi).
2. Highwood Pass, Kananaskis Country
Ride Highlight: At 2206 m (7,238 ft), Highwood Pass is the highest paved road in Canada. While the paved road stretches 147 km (91 mi) between the TransCanada Highway to Longview, most cyclists opt for the 35 km (22 km) out-and-back ride from the Kings Creek Trailhead. This section includes 625 m (2,050 ft) climbing, including several sections that would be considered Category 1 in a UCI road-cycling race like the Tour de France. It's an incredibly popular route throughout the spring, much like Edith Cavell Road, because the snow melts nearly a month before the road opens for motor vehicles on June 15.
How to Get There: From Exit 118 on the TransCanada Highway – 33 km (21 mi) east of Canmore or 75 km (47 mi) west of Calgary – follow Highway 40 south for 50 km (31 mi) to the Kings Creek Ridge Trailhead. Cyclists looking for a longer ride might consider parking at either Wedge Pond, a 75-km (25-mi) total ride, or the Barrier Dam, a 115-km (71-mi) total ride.
3. Road to Nepal, Calgary
Ride Highlight: In 2013, this Calgary-area road ride featured prominently in the inaugural Tour of Alberta and its King of the Mountains points classification won by Tom-Jelte Slagter. Although highlighted by scenic farmland and wide-open prairie views, the route is located on the edge of the foothills of the Canadian Rockies. Over 50 km (31 mi), there is barely a flat section of road and the total elevation gain climbs above 600 m (1,968 ft).
How to Get There: The Road to Nepal route begins just 23 km (14 mi) south of downtown Calgary, at the Highway 22X and 37 Street SW junction.
Bison may be included in the views when you're cycling the road through Elk Island. Just be sure to keep a safe distance from wildlife.
Travel Alberta / Brendan Van Son @brendanvanson
4. Elk Island Road Ride, Edmonton
Ride Highlight: Riding the 38-km (24-mi) out-and-back road through Elk Island National Park might offer the most wildlife viewing of any ride in Canada. The park is home to the densest population of ungulates in the country, including the American bison, moose, mule deer, and white-tail deer. Cyclists should remember to ride cautiously and keep a safe distance from these animals.

How to Get There: The Elk Island National Park Visitor Centre is located 49 km (30 mi) east of downtown Edmonton, along Highway 16.
5. North Dinosaur Trail, Drumheller
Ride Highlight: This incredible 47-km (29-mi) loop ride through Drumheller's rugged badlands is truly spectacular, yet its most unique feature is its only moment of rest. Near the halfway point, cyclists cross the Red Deer River aboard the Bleriot Ferry, which is one of just six ferries in Alberta.

How to Get There: This loop begins and ends right in downtown Drumheller, 135 km (84 mi) northwest of Calgary Alberta along Highway 9.
Cypress Hills Provincial Park is the halfway point in the out and back route, where you can refuel for the ride back.
Travel Alberta
3 OFF-THE-BEATEN TRACK LOCATIONS
1. Red Rock Parkway, Waterton National Park
Ride Highlight: Stretching along the dividing line between the Alberta Prairies and the Canadian Rockies, the 15-km (9.3-mi) Red Rock Parkway has incredibly unique scenery of two wildly contrasting landscapes. Although cycling season stretches from May through October, the best time to ride is June when the wildflowers bloom.
How to Get There: Waterton Lakes National Park is located in the southwest corner of Alberta, 270 km (168 mi) from Calgary. The Red Rock Parkway begins just 4 km (2.5 mi) east of the Waterton townsite along route.
2. Medhat to Elkwater, Medicine Hat
Ride Highlight: This 140-km (87 mi) out-and-back route avoids the main highway and follows the less-travelled Eagles Butte Road through rolling farmland between Medicine Hat and Elkwater. The turn-around point is the Elkwater resort community, located in Cypress Hills Interprovincial Park, where cyclists have numerous food options to fuel their return journey.

How to Get There: The ride begins and ends just off the TransCanada Highway at the Saamis Teepee in Medicine Hat. The turn-around point is Elkwater, in Cypress Hills Interprovincial Park., which is located just off provincial Highway 41.
3. Sylvan Lake Half Ironman Loop
Ride Highlight: Circumnavigating Sylvan Lake on a 75-km (47 mi) loop through rolling farmland, the Sylvan Lake Half Ironman route feels wildly rural, yet it's never far from either the resort town or one of five summer communities developed around the lake.

How to Get There: This loop ride begins in Sylvan Lake, which is located 24 km (15 mi) west of Red Deer and Highway 2 that connects Edmonton and Calgary.
Need to know info for road cycling in Alberta
For visiting road cyclists, there are a few things to keep in mind for an upcoming cycling trip to Alberta:
Rental vehicles are abundant; however, transporting a bicycle can be difficult. Some local bike shops and bike rental locations rent bike racks. It may be necessary to disassemble a bike and transport it inside rental vehicles.
Bike rentals are widely available in Alberta, especially in the major tourism destinations that include Jasper, Banff, Canmore, Calgary and Edmonton.
Helmets are recommended for all cyclists; however, they're legally required for anyone aged 17 or younger.