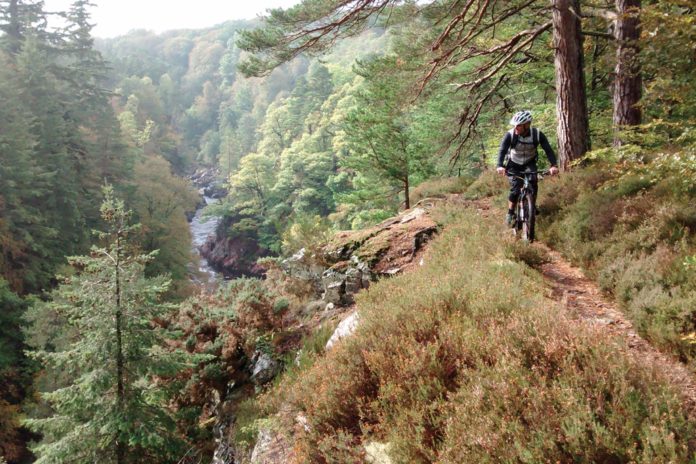 What do you get when you combine rugged Scottish terrain with endurance racing? Answer: adventure racing – a mental and physical challenge like no other.
If you are bored of competing in normal events and fancy scrambling over obstacles, running, swimming, cycling, and even crawling to the finish line, then what are you waiting for – sign up for an adventure race! As well as getting fit and enjoying time in the great outdoors, you could also raise some money for charity, not to mention see some of the less well trodden parts of Scotland.
Don't fancy going it alone? Not to worry, many adventure races are team events and team bonding is encouraged. All you'll need is some sturdy fitness gear (that you don't mind getting muddy) a bike (for some events), and a good pair of lungs – then you're ready to go!
Our top tip: never throw in the towel. Adventure racing can be tough but the sense of achievement you'll get from finishing is the best feeling ever. Here is a selection of Scottish adventure races for beginners and more seasoned competitors.
BEST ADVENTURE RACES FOR BEGINNERS
TOUGH MUDDER – JUNE 15 & 16 2019
Established in 2010, Tough Mudder has become one of the big players in adventure racing. But here's the thing – Tough Mudder isn't really a race! Participants are encouraged to see the day as a unique challenge rather than worry about who comes first. You can look forward to a team-orientated obstacle course where it's all about getting across the line together.
ROB ROY CHALLENGE – 22 JUNE 2019
Kenmore, Perthshire
Looking to raise some money for charity while you race? The Rob Roy Challenge is one of Scotland's most successful fundraising events, having seen over 5,500 participants raise more than £3 million over the past 12 years. The 2019 routes stay true to the heritage of the event and consist of traversing 22km of the Rob Roy Way plus cycle rides which all start and end at Kenmore, on the banks of Loch Tay.
SCOTTISH 6 DAYS ORIENTEERING – 28 JULY – 3 AUGUST 2019
The 22nd Scottish 6-Day Orienteering Event is a chance for those keen on orienteering to challenge themselves in the stunning landscapes of Highland Perthshire. Events will be staged in a number of new areas, including ancient oak woodlands and impressive mountain scenery to the west near the pretty, picturesque, conservation village of St Fillans. Don't worry if you are inexperienced or just a casual orienteer, as a full range of courses will be available.
HARDCORE ADVENTURE RACES
CELTMAN EXTREME SCOTTISH TRIATHLON – 15 JUNE 2019
This one's not for the fainthearted. The CELTMAN! Extreme Scottish Triathlon pits challengers against the full force of the Scottish landscape – and each other of course. To conquer this difficult race you will have to swim 3.4km through cold, deep, jellyfish-infested Atlantic waters, bike 202km on windy Highland roads and run 42km over the Beinn Eighe mountain range. During the day you will ascend over 4000 metres and you may have to endure driving rain and difficult conditions. And what do you receive at the end? A T-shirt!
STARMAN NIGHT TRIATHLON – 17 – 18 AUGUST 2019
You'll need to be fit for this race – and how's your night vision? Set in the Cairngorms National Park , the STARMAN is a tough and wild triathlon underneath the stars. To participate you must have experience of open-water swimming; navigation, off-road running and experience of climbing hills of at least 2500 ft. Do not underestimate the challenge and the training required.
THE HEB – 31 AUGUST – 1 SEPTEMBER 2019
This tough but rewarding challenge is your ticket to the beautiful Outer Hebrides. As well as racing over two long arduous days, The Heb will be a chance to connect with an unforgettable landscape. The Outer Hebrides is a place where the beaches are like something from the Caribbean, but the mountains and machair remind you that you're in Scotland. A fair amount of training will be needed for this one – but there will be sensible cut-offs and long course/short course options to make sure everyone stays in the race.
RAT RACE COAST TO COAST – 14 – 15 SEPTEMBER 2019
Completed over one day or two days, the Rat Race Coast to Coast challenge is a 168km route between Nairn and the Isles of Glencoe on which you'll run, trek, cycle and even kayak. Attempting the challenge in one day is only for experts who can expect to be out on the route for between eight and thirteen hours. Most participants take on the Coast to Coast challenge over two days, camping overnight at Fort Augustus.
RAT RACE ULTRA TOUR OF EDINBURGH – 20 OCTOBER 2019
So far you might be thinking that adventure racing is synonymous with the wild and remote (and that is pretty much the case) but this race is an urban challenge like no other. The Rat Race Ultra Tour of Edinburgh follows a 57km course through the streets of the Scottish capital, past monuments, museums, up onto hills and over crags. This is an amazing way to explore one of the world's great cities.
If you love racing and want to find out more about sporting events in Scotland then take a look at 8 Cycling events in Scotland You Won't Want to Miss.