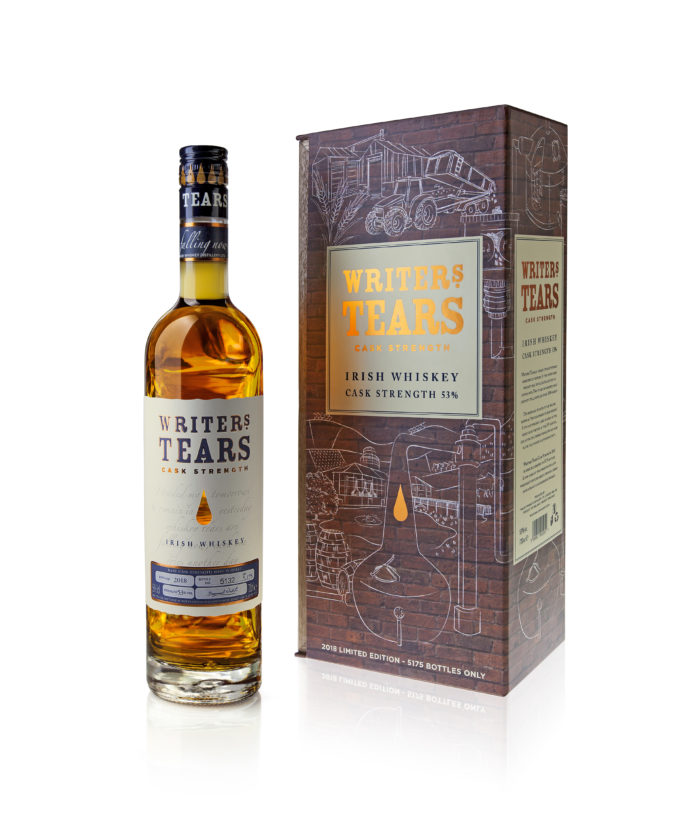 8th Release of the super-premium Writers' Tears Cask Strength whiskey
is limited to 5,175 bottles worldwide.
The 2018 vintage of Writers' Tears Cask Strength whiskey has been launched at an exclusive event hosted by the Aviators' Whiskey Society on the periphery of Dublin's International Airport in Ireland.
The 2018 vintage is the 8th annual release of this super-premium whiskey from Walsh Whiskey. It is a rare vatting of aged Single Pot Still and Single Malt Whiskey, treble distilled, natural non-chill filtered, carefully aged in Bourbon barrels and bottled at 53% ABV. The release is limited to just 5,175 individually numbered bottles, signed by Walsh Whiskey Founder and Chief Executive – Bernard Walsh, for sale across selected markets worldwide including Ireland, the UK, Australia, Bulgaria, Canada, France, Germany, Poland, Russia, Taiwan, Ukraine and selected travel retail outlets.
Describing this year's cask strength release of Writers' Tears, Bernard Walsh, said: "This whiskey displays a complex nose of toasted cereal, almond oils, creamy chocolate and sweet floral notes. On the palate it reveals wild honey, summer fruits and fresh ginger all underpinned by a spicy single pot still base. It has a delicate, warmth and lingering finish. I hope the lucky few who acquire this year's release enjoy every moment."
The packaging of the 2018 vintage has a variation on the design introduced last year, featuring an illustration by Irish artist Linda Byrne. Set against a redbrick backdrop, the illustration depicts the whiskey distilling process from field-to-bottle, amid the main features of Walsh Whiskey Distillery's Royal Oak estate including the distillery, the River Barrow and Holloden House which was built in 1755.
Tasting Notes to the 2018 Vintage of Writers' Tears Cask Strength Whiskey
Nose
Hints of toasted cereal, almond oils, creamy chocolate and sweet floral notes.
Taste
Wild honey, medley of summer fruits, fresh ginger and a spicy single pot still base.
Finish
A delicate warmth and finish, with a touch of lingering clove.
The RRP is €130/ STG£110.
About Writers' Tears
Writers' Tears is a unique style of Irish whiskey embedded in history. A time when Irish whiskey was distilled exclusively in copper pots. Two styles flourished; malt and pot still, distilled 100% from barley.
The marriage of both styles became known as "the Champagne of Irish whiskey". A style of whiskey liked by many of the great writers of the 19th Century less so for its literary inspiration and more for its full bodied flavoursome taste.
About Walsh Whiskey Distillery:
Established in 1999 by husband and wife, Bernard and Rosemary Walsh, and located in Ireland's Ancient East region on the 18th century Royal Oak estate; Walsh Whiskey Distillery is a leading producer of premium and super-premium, triple-distilled, craft, Irish whiskeys – Writers' Tears and The Irishman. Demand for these critically acclaimed whiskeys currently exceeds available supply in the 45 countries they are distributed to worldwide.
Set deep in the heart of barley-growing country, directly over the Barrow Valley Aquifer and framed by two hundred year old mighty oaks on the banks of the River Barrow, Royal Oak is the perfect place for creating exceptional quality whiskeys.
The distillery at Royal Oak produces all three forms of Irish whiskey – pot still, malt and grain – from its two production lines, featuring pot stills and column stills, in one still house. The manually operated distillery has the capacity to produce 650,000 cases (two and a half million litres of pure alcohol (LPA's) or 8 million bottles) of whiskey annually.
Led by founder Bernard Walsh, and with a strong board of industry veterans, the company has built a portfolio of international award winning drinks brands. These include a range of 10 Irish whiskeys under Writerṣ' Tears and The Irishman brands, the Hot Irishman Irish coffee and The Irishman – Irish Cream liqueur.