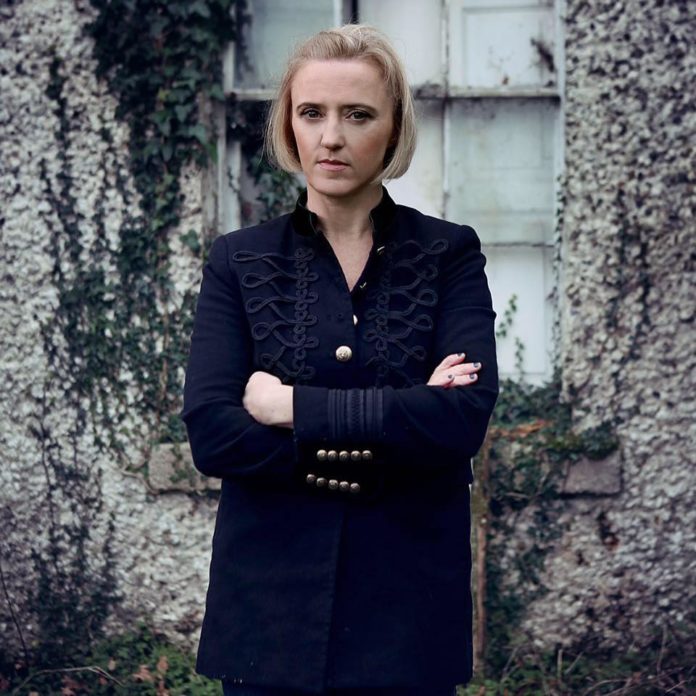 Award-Winning Irish novelist Liz Nugent will participate with authors in "Celtic NOIR!": Irish Authors Mystery & Crime Writers, March 14 & 15 as part of the St. Augustine Celtic Music & Heritage Festival. Liz had several careers before turning her hand to writing. She was, among other things, a buyer for a construction company, a welfare office civil servant, a theatrical stage manager and a story associate on a tv soap opera.
In early 2014 her first novel, Unravelling Oliver, was published. It went straight to the top of the bestsellers list and also won the Crime Novel of the Year at the Irish Book Awards. Television rights for Unravelling Oliver have been optioned by Appian Way, Leonardo Di Caprio's production company in Los Angeles.
Her second novel, Lying in Wait, was published in July 2016 and also went straight to number 1. It won the RTE Radio 1 Listener's Choice prize at the Irish Book Awards and was shortlisted for Crime Novel of the Year. On its UK release in January 2017, Lying in Wait went straight into the UK bestseller list and was chosen for the hugely popular Richard & Judy Bookclub Spring 2017 list and won the Reader's Choice award for that season.
In 2015, Liz was the inaugural winner of the Jack Harte Bursary courtesy of the Irish Writer's Centre and the Tyrone Guthrie Centre. In 2016, she was the Writer in Residence at the Princess Grace Library in Monaco, and in October 2017, Liz won the Irish Woman of the Year Award for Literature.
Liz's third novel, Skin Deep, was published in Ireland in April 2018, hit the number 1 spot and spent five months in the top ten bestsellers list. Her fourth novel, Little Cruelties, will be published by Simon & Schuster in the USA in August 2020.
She has written stories for children, radio plays, tv dramas and has good intentions to write a stage play very soon. Liz's books have been translated into 16 languages.
This award-winning St. Augustine Celtic Festival held on Francis Field is acclaimed as "the finest Celtic Music Festival in the United States", and in 2020 presents 7 top international Celtic bands. In addition, there are second stage performances of magic, comedy, lectures on history and culture, and music workshops.
A special new presentation at the Celtic Festival this year is "Celtic NOIR!": Irish Authors Mystery & Crime Writers, which will feature a panel discussion of Irish mystery and crime writers on the Main Stage on Saturday and a Question & Answer Session with the authors on the Second Stage on Sunday. The Irish authors will be signing their books during the weekend as well.
"Celtic NOIR!" is curated by Elizabeth Mannion, editor of The Contemporary Irish Detective Novel and co-editor of Guilt Rules All: Irish Mystery, Detective, and Crime Fiction. Beth is also the founder of the editorial consulting firm Dreaming in Irish and the author of the Kate Doyle cozy series "Dreaming in Irish" and "Traces of Irish", under her pseudonym Sarah-Jane McKenna.
Find the CELT in YOU in America's Oldest Celtic City
The event begins on Friday, March 13 with a pre-festival Whiskey Tasting, and continues Saturday and Sunday with live performances on two stages. It also features "Celtic NOIR!": Mystery & Crime Writers, The St. Augustine Highland games,Celtic artisans and food, and kids' games. The St. Patrick Parade begins at 10 a.m. on Saturday March 14 at the site of the world's original St. Patrick's Day parade, begun in 1601 in St. Augustine!
For tickets and further information: CelticStAugustine.com
Festival tickets may also be purchased at Ann O'Malley's Irish Pub located at 23 Orange Street, downtown St. Augustine.
The St. Augustine Celtic Music & Heritage Festival is produced by Romanza – St. Augustine, Inc. and is funded in part by the St. Johns County Tourist Development Council, by the State of Florida, Department of State, Division of Cultural, Florida Council on Arts and Culture, and by Visit Florida.