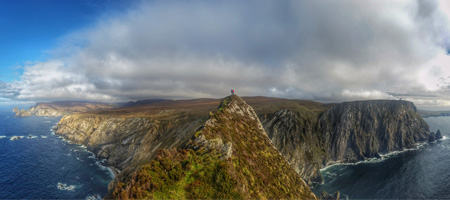 Canadian journalist Bruce Kirkby joined forces with experienced mountaineer Iain Walker on a recent trip to Donegal with Iain capturing some breath-taking photos of Sturral Headland. A writer for The Globe and Mail (Toronto), with a circulation of 375,000, and also a contributor to the National Geographic, Mr Kirkby was in Ireland this week participating in a number of activities along the Wild Atlantic Way on an itinerary designed, hosted and managed by Fáilte Ireland, in conjunction with Tourism Ireland.
Among the many activities which Mr Kirkby participated in whilst on his visit to the Wild Atlantic Way was sea stack climbing on Sturral Headland and surfing off the coast of  Donegal and whilst in Sligo he was accompanied by North West Adventure Tours and took part in SUP activity on Lough Gill (Yeats Lake Isle of Inishfree), a mountain bike adventure in the Ox Mountains and hiking  Knocknarea to Queen Medbh's cairn to capture stunning views over Sligo Bay and Coney Island.
Ciara Sugrue, Head of International Publicity with Fáilte Ireland today stressed the importance for tourism of hosting international media:
"This is all about encouraging potential visitors to move Ireland up their 'bucket list' – in other words not to come here someday but to actually come here today.  With more and more flights to and from Canada we hope to welcome additional Canadian visitors to enjoy our Island and with journalists such as Bruce reporting back on their first-hand experience of Ireland, we have a wonderful opportunity to showcase the stunning landscapes on offer."
Last year was a bumper year for international media coming to Ireland.  Over 1,000 representatives from print, broadcast and online channels across the world descended on our shores during the year providing Irish tourism with an overall reach to over one billion readers and viewers worldwide. The advertising value of this reach is estimated at over €87 million.  Fáilte Ireland, together with Tourism Ireland, co-ordinated over 400 different itineraries resulting in the media representatives meeting with over 4,000 Irish businesses across the country.