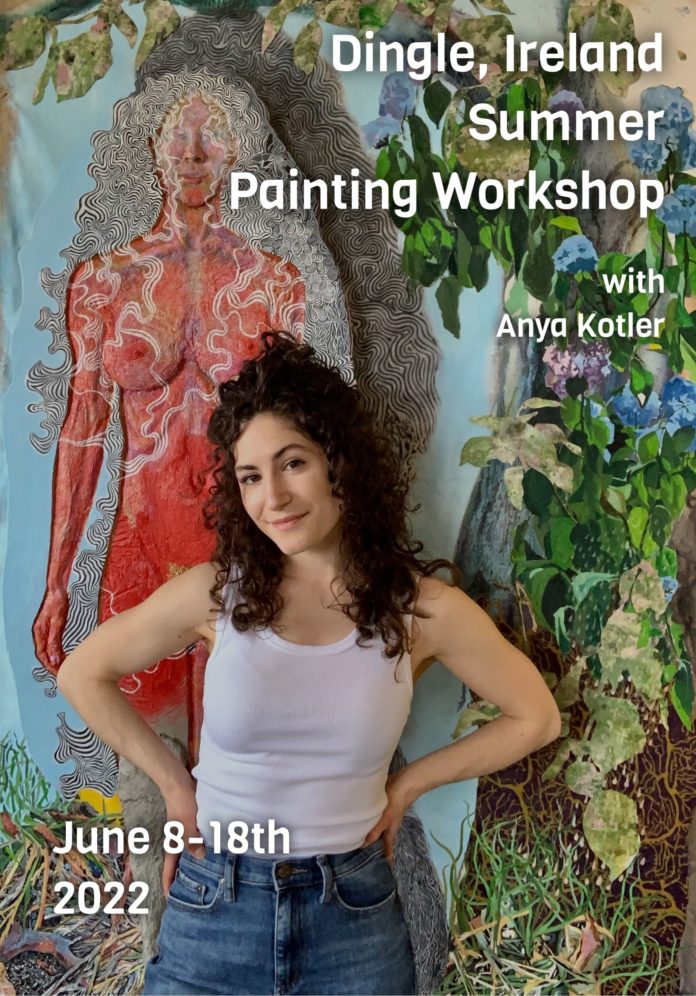 New York area based artist Anya Kotler is collaborating with Irish musician and artist Billy O'Brien to create this 10 day painting workshop on the beautiful Dingle Peninsula. Anya will guide you to strengthening your creative practice through a variety of exercises, challenges, critiques and discussions. She will be sharing with you some of the essential tools of painting, such as color mixing, proportions, playing with space, mark making, composition, etc. and most importantly, focus on applying this practical knowledge towards building your own strong and personal vision.

After a day of painting and absorbing the enigmatic Irish landscape, you can nourish your mind on enriching conversation, your ear on some great music, and your body on a satisfying pint of Guinness at the local pubs. On top of being an amazing trip to Ireland, this course will provide you with an environment that is both intensive, supportive and fun, and challenge you to explore new approaches and directions, ask new questions, and invigorate your work.
· Dates: June 8 – 18th, 2022
· Maximum of 10 participants
· Most suitable for practicing artists, OR those with some painting experience
· Ages 21+
Link for more info: https://anyakotler.com/ireland-workshop
Bio:
Anya Kotler was born in Ukraine, grew up in Israel and studied painting at the New York Academy of Art. She has shown in solo and group exhibitions in the US and China, and was featured in multiple publications, including the recent issue of New American Paintings. Anya is a two-time recipient of the Elizabeth Greenshields Foundation Grant (2015, 2018) , and the NJ State Council on the Arts Fellowship (2022). She is currently a professor at Hofstra University and has been teaching summer courses in Ireland for 5 years.
Website | https://anyakotler.com
Instagram | @anyakotler
Email | anyakotler@gmail.com
—-