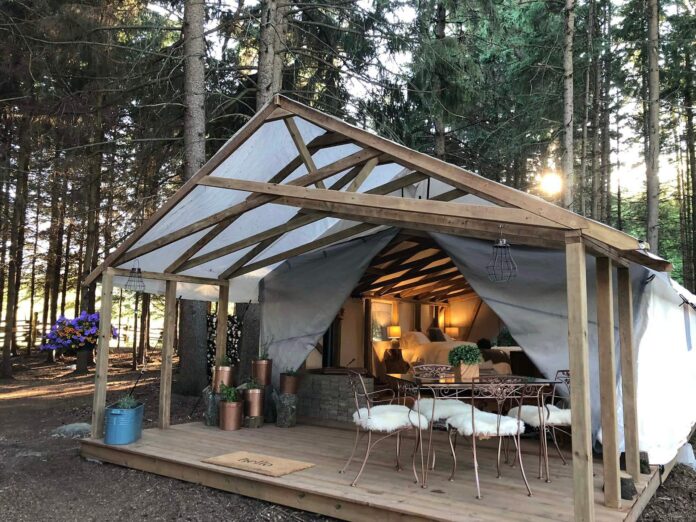 Prepare for a new way of experiencing the great outdoors. King-sized beds instead of sleeping bags, mood lighting instead of flashlights and gourmet cooking instead of hot dogs – this is camping like you have never experienced before.
Glamping enthusiasts and nature lovers can now experience the best of both worlds – the tranquility of nature and the luxury of modern amenities – at unique and accessible glamping destinations in York, Durham, and Headwaters, Ontario.
Glamping, short for "glamorous camping," has become a popular trend, and these destinations offer extraordinary experiences for those seeking a memorable outdoor getaway.
HARMONY RESORTS Harmony Resorts offers multiple locations across the province, including one in the Headwaters region. They provide seasonal sites for RVs, trailers, tents, and even tiny cabins equipped with condo-like luxuries. At their Grand Valley location, guests can enjoy access to amenities such as fire pits, picnic tables, a pool, and river views, creating the perfect glamping experience.
HEARTWOOD FARM AND CIDERY Nestled just outside the town of Erin, Heartwood Farm and Cidery spans 42 acres and offers a variety of glamping options across the farm. Guests can choose from unique sites situated in forests or pastures, each featuring tents on raised platforms with cozy beds, twinkling lights, and outdoor seating.
ALABASTER ACRES Located less than an hour from Toronto, Alabaster Acres is a luxury glamping destination set in the scenic hills of Caledon. Guests can stay in frontier-style tents equipped with leather chairs, outdoor dining areas, mini-fridges, and luxurious king beds with heated mattresses. Breakfast boxes filled with essentials like fruit and yogurt are provided, and guests can enjoy amenities such as a fire pit, hammock, and open-air claw foot tub.
JECARA FARMS Situated south of Schomberg, Jecara Farms offers a rustic off-the-grid glamping experience. Three charming cabins built from century-old barn boards feature wood stoves, tables, chairs, and comfortable beds. Guests can relax on the covered porch with barbeque facilities and enjoy the view of the pond. The cabins operate on minimal power from renewable energy sources.
LMI YURT VILLAGE Located between Whitby and Port Perry in the Durham region, LMI Yurt Village offers glamping in five yurts and five globe domes spread across their 100-acre farm. Each accommodation features a queen-sized bed, sitting area, bookshelf, games, and even a portable DVD player with movies. Guests have private fire pits, access to a hot tub, and can enjoy all-season camping domes during cooler months.
TWO BLOKES CIDER Ten minutes north of Port Perry in Seagrave, Two Blokes Cider offers glamping in a tiny home on their cidery farm. The cozy cabin accommodates two people and includes a tiny kitchen, seating area, bathroom, and loft bedroom with stunning hillside views. Guests can indulge in a hot tub, barbecue, and campfire while being able to enjoy drinks from the nearby cidery. The tiny cabin is also dog-friendly.
VILLA VIDA LOCA FARM Villa Vida Loca Farm, known for its boutique market and gastronomic events, now offers a glamping experience in their charming cabin, La Cabaña in the Woods. Set in the woodlands of their 10-acre property in Sunderland, the tiny cabin provides a unique glamping experience with a lounge area, loft queen bed, and essential coffee maker. Guests can cook outdoors with a barbeque, enjoy a fire pit, and have access to a hot tub, in-ground swimming pool, and other farm activities.
BIRCHWOOD LUXURY CAMPING Located one hour northeast of Toronto on Scugog Island, Birchwood Luxury Camping offers two stylish geodesic domes nestled in an enchanting forest. Each dome provides fresh linens, a king or queen-sized bed, a seating area, flat-screen TV, and a kitchenette. Guests can unwind in the hot tub, use the barbeque, enjoy the fire pit, and add private yoga classes or massages to their luxury camping experience.
ELLIOTT TREE FARM Located minutes north of Erin, Elliott Tree Farm offers two unique glamping options. Set within a secluded 5-acre maple forest at the back of the farm is their Settler's Cabin, dating back to 1850. Outfitted with a king-sized bed, solar power, wood stove, and more, the cabin provides an authentic and tranquil experience. On the other side of the farm is their Rustic Beach House, featuring a queen-sized bed, mini-fridge, and outdoor amenities on a beach setting. Guests can also add a bunk house for families.
EVERDALE FARM Everdale Farm, one of Canada's oldest not-for-profit community farms, offers glamping in their Straw Bale Cabin. Powered by solar, the cabin provides a blend of roughing it and comfort, with a queen bed, separate seating area, and wood stove. The outdoor kitchen and picnic table offer views of the valley. Guests can explore the farm's rolling green hills, join farm experiences, and enjoy a serene retreat just west of Erin.
SOPER CREEK WILDERNESS VILLAS – At Soper Creek Wilderness Villas, guests can relish the seclusion of the wilderness without compromising on comfort. These well-appointed villas boast spacious interiors, cozy beds, and expansive views of the natural surroundings, offering the perfect retreat from bustling city life. Proceeds from glamping is used to help fund the region's only wildlife rehabilitation hospital, Soper Creek Wildlife Rescue. The organization helps provide a second chance to animals and get them back on their feet and into the wild.
Embark on a remarkable glamping experience today and discover the hidden gems of York, Durham, and Headwaters, Ontario. These glamping destinations offer a chance to immerse oneself in nature while enjoying luxurious accommodations and a range of exciting activities. Whether you're seeking a romantic escape, family adventure, or a getaway with friends, these glamping spots have something for everyone.
Book your glamping adventure today and create unforgettable memories in the heart of Ontario's natural beauty.
Discover Unique and Accessible Glamping Experiences in
York, Durham, and Headwaters