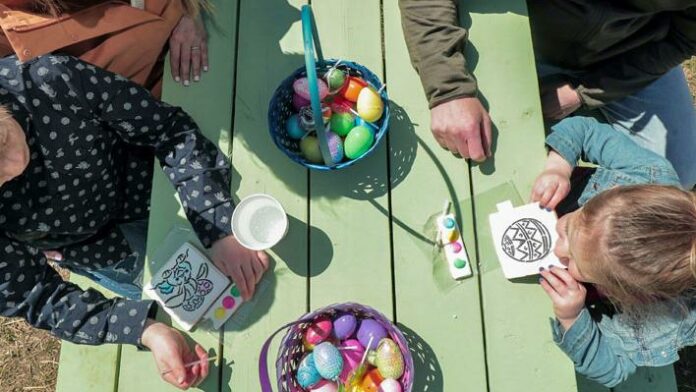 Spring heralds the return of warmer weather, lovely flowers, and of course, Easter-themed events and activities.
Kids of all ages love the spring sunshine, spending time with friends and all the chocolate treats they're rewarded with at the end of a successful egg hunt.
Your family is sure to have lots of fun at these parades and festivals that celebrate the Easter holidays.
Here are the top Easter events, egg hunts and spring activities in Ontario.
Greater Toronto Area (GTA)
Attracting over 50,000 people every year, the Toronto Easter Parade brings marching bands, parade floats and costumed characters to the east-end Beaches neighbourhood.
This popular parade first started in 1967 and has since become the largest and longest-running Easter parade in the world.
Queen Street East will be fully closed for the parade, as will sections of surrounding side streets including Nursewood Road, Woodbine Avenue and Lake Shore Boulevard East. The Toronto public transit (TTC) will be rerouting buses and streetcars through the area. If you're arriving by car, you'll need to arrive early in order to find parking.
Note: there will also be an Easter egg scavenger hunt in the Beaches on April 7 for kids.
Date: April 9, 2023, at 2:00 p.m.
Location and route: the parade starts at Queen Street and Munro Park, proceeds west along Queen Street and ends at Woodbine Avenue in Toronto.
York, Durham and Headwaters
Easter-ific Egg Hunt at Pingle's Farm Market
Enjoy the annual Easter-ific egg hunt on the beautiful farm grounds at Pingle's
You'll have the opportunity to decorate your Easter egg basket to take with you on your hunt for Easter eggs around the farm. Once you've found all the eggs—with the help of a special cheat sheet from the Easter bunny—you'll be rewarded with an Easter treat bag full of goodies.
While you're there, stop by the farm and say hello to the goats, sheep, bunnies and ducks.
In addition to this exciting egg hunt, you can grab some handmade baked goods at the Pingle's bakery, featuring delicious treats like carrot cake, mini-egg macarons and hot cross buns. You can also book an Easter brunch at the Pingle's greenhouse. Kids will love the Funny Bunny Easter waffle with its bacon bunny ears, apple whiskers, blueberry eyes and raspberry nose.
Dates: April 9, 10, 15–17, 2023
Location: 1805 Taunton Road, Hampton
Markham Fairgrounds Easter Fun Fest
Markham's Easter Fun Fest offers plenty of fun for the whole family all weekend long.
Family rides, exciting games and spring activities for kids can all be enjoyed at this four-day festival, which takes place both indoors and outdoors across the expansive Markham Fairgrounds. Kids will love the bouncy castles, pony rides, kiddie midway, arcade games and, of course, the egg hunts.
Admission is $15 for adults aged 16 and up and $25 for children aged 2 to 15. Tickets include unlimited access to all rides. The fairgrounds are accessible from Highway #48 and offer free on-site parking.
Date: April 7–10, 2023
Location: 10801 McCowan Road, Markham
The annual Pickering Easter Parade invites visitors to decorate their bikes, wagons and scooters, and participate in this fun procession down residential streets. This year's parade theme is "The Legion's Last Bunny Hop," so dress up in your best bunny ears and join the lively crowd.
Hosted by the Bay Ridges Royal Canadian Legion Branch 606, you'll enjoy watching the vibrant parade, which is followed by a free lunch and fun family activities.
Street parking is available but limited to three hours. Make sure your vehicle isn't impeding the parade route.
Date: April 8, 2023, from 10:00 a.m.–12:00 p.m.
Location and route: Parade starts at Liverpool Road and Annland Street, proceeds east along Annland Street, north along Krosno Boulevard, east along Bayly Street, and ends at the Royal Canadian Legion Branch 606, Bay Ridges Parade Route
Take part in a fun hunt for plastic Easter eggs across the expansive property at Brooks Farms.
Bring your camera as there will be plenty of cute moments you'll want to capture. Stay tuned for more details.
Dates: March 25–26 and April 1–2, 7–10, 2023
Location: 122 Ashworth Road, Mount Albert
Downey's Farm Market Easterfest
Downey's Farm Easterfest 2023 includes five days full of Easter activities like face paintings, crafts, puppet shows, wagon rides, baby farm animals and much more.
Check their website for up-to-date information on this year's event.
Dates: April 1–2 and 7–9, 2023
Location: 13682 Heart Lake Road, Caledon
Niagara Region
Easter Eggstravaganza at Warner Ranch & Farm
Prepare for a full day of fun at Warner Ranch's Easter Eggstravaganza. Running throughout the Easter weekend, you'll enjoy decorating your own custom Easter eggs, petting farm animals in the petting zoo, riding on horse-drawn hayrides and hunting for eggs with a goodies bag as the prize.
For an extra fee, you can also ride Warner Ranch's magical ponies and unicorns. This is a first-come-first-serve event, so arrive bright and early to guarantee your entry. Tickets are $5 for adults and $10 for children and parking is available.
Date: April 3–10, 2023, from 9:00 a.m. to 4:00 p.m.
Location: 7705 Schisler Road, Welland
Hamilton
Sponsored by community organizations and run by local volunteers, the Binbrook Egg Hunt held at Binbrook Agricultural Society Fairgrounds gives kids the chance to make friends and have fun searching for chocolate eggs together. The egg hunts are organized by age group, so check their website for the exact time that your child can join the hunt.
In addition to the egg hunt, there will be face painting, live bunny visits, colouring contests, raffle prizes and a visit from the Easter bunny.
Admission to the Binbrook Easter egg hunt is by donation.
Date: April 7, 2023
Location: 2600 Hwy 56, Binbrook
Bruce Grey Simcoe
Your kids will love this opportunity to eat cake with the Easter Bunny at the Innisfil Lions Club Hall.
Book a one-hour time slot to participate in this entertaining Easter party. In addition to the Easter bunny, they'll get to meet other favourite characters like Elsa and Captain America.
During this time, your kids will enjoy a slice of delicious cake, story readings, face painting, balloons twisted into fun shapes and an egg hunt to round out their day of Easter fun. They'll even receive a bag of goodies to bring home.
Admission is $15 for children. Space is limited, so book early and some on-site parking is available.
Date: March 12, 2023, from 10:00 a.m. to 4:00 p.m.
Location: 982 Innisfil Beach Road, Innisfil
Huron, Perth, Waterloo and Wellington
Annual Cambridge Spring Shop and Easter Egg Hunt
For the second year in a row, the Royal Canadian Legion Branch 272 is hosting Cambridge's spring shop and egg hunt to celebrate the Easter holiday.
Thirty-five vendors will be present featuring a wide variety of local wares. The kids will get to take photos with the Easter bunny and have some creative face painting done.
Prize tables will be set up, with all proceeds going to the Cambridge Food Bank. You can pre-register for this event on the website. Admission is $2 per person.
Get there on the 51 or 203 bus or park your vehicle on-site.
Date: April 2, 2023, from 11:00 a.m. to 4:00 p.m.|
Location: 26 Schofield Street, Cambridge
Southeastern Ontario
Easter Egg Hunt at Valleyview Little Animal Farm
Enjoy the annual Easter egg hunt held on the scenic Valleyview Little Animal Farm grounds.
After the egg hunt, continue exploring the property to learn about farming at the Creative Farm Play area, visit the baby animals in the Little Animal Barn, meet larger animals like llamas and sheep on the Country Walk and take a ride through the field crops aboard the Valleyview Express.
Online reservations for the egg hunt open March 1, 2023. Tickets are limited, so be sure to sign up early. Admission is $12 per person.
Take the 283 or 110 OC Transpo train or take advantage of the farm's abundant on-site parking.
Date: April 7–10, 2023
Location: 4750 Fallowfield Road, Nepean
Southwestern Ontario
Windsor Craft Show and Easter Egg Fun
Browse through local vendors and concession stands for food and gifts at the Easter craft show, hosted at the WFCU Centre, one of Windsor's most spacious entertainment venues.
Egg-hunt games, face painting, chocolate eggs and other Easter activities for kids will be available all day long. While you're waiting in line to meet the Easter bunny, you'll even get to snack on some delicious pancakes.
Admission is $5 to participate in the Easter activities. However, if you're just there to browse the stalls, admission is free. Free on-site parking is also available.
Date: April 1, 2023, from 10:00 a.m. to 2:00 p.m.
Location: 8787 McHugh Street, Windsor
Sarnia's annual Easter in the park, a city tradition for over 50 years, brings Easter cheer to the picturesque Canatara Park.
Come and look for eggs hidden around the fields by the Easter bunny. The little ones will also get to visit the Animal Farm, watch a lively performance, make some Easter crafts and learn the best egg painting techniques. The Easter bunny will also be there to meet kids and have some pictures taken.
Admission to the event is free but note that there is a small fee for the hot dog barbecue and refreshments. Parking by the beach and park is also free.
Date: April 8, 2023, from 9:00 a.m. to 12:00 p.m.
Location: King, George Street, Sarnia
Kawartha Northumberland
Whether you love winning fun prizes or you're just there for the coffee and breakfast, kids and adults alike will enjoy the annual Easter egg hunt held in the First Street Theatre in Keene.
Remember to bring your own basket to hold onto all the eggs you find. Admission is $1 per person.
Street parking in Keene is available but be careful to avoid parking in no-parking zones.
Date: April 8, 2023, at 10:00 a.m.
Location: 12 1st Street, Keene
Muskoka, Parry Sound and Algonquin
Copeman Tree Farm Easter Egg Hunt
An Almaguin Highlands tradition, the Copeman Easter egg hunt sees thousands of chocolate eggs hidden throughout the farm grounds.
Feast on a hot dog lunch, then participate in this thrilling egg hunt. Kids will also have the opportunity to decorate Easter-themed cookies and eggs and to explore the farm's maze and playground. There will be snacks, prizes, crafts, train rides and more, so don't miss out on this entertaining Easter event.
Tickets cost $10 for adults and $15 for children. Copeman Tree Farms has an independent parking lot available for public use.
Dates: April 1 and April 8, 2023, from 12:00 p.m. to 2:00 p.m.
Location: 66 Bloomfield Road, Sundridge
Northern Ontario
Sault Ste. Marie Easter Egg Hunt
Get ready for a spirited Easter egg hunt in Sault Ste. Marie this year. Stay tuned for more information about this event.
Date: Saturday, April 1, 2023
Location: Sault Ste. Marie (exact location TBD)

Looking for more activities to do in spring? Check out these articles for more ways to take advantage of the warm weather:
Flower farms and festivals in Ontario
Follow the flavour on these foodie trails and tours
Picnic experiences in Ontario
Alpaca farms in Ontario
Source: Destination Ontario