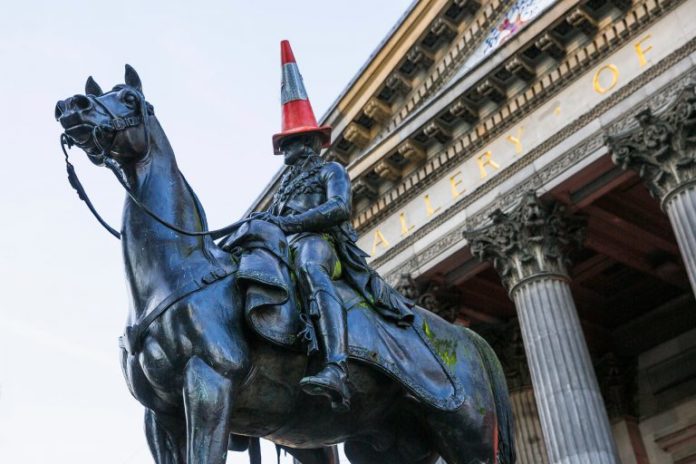 Do you know what kind of entertainment you like, but not where to go and see it in Scotland? Then you're in the right place! Scotland is the perfect stage for all kinds of events, so here's a round-up of just some of what you can experience this year, including music, theatre, dance, art and comedy festivals.
If laughter is the best medicine…
…then you might like the Glasgow International Comedy Festival from 14 – 31 March.
Duke of Wellington statue, Royal Exchange Square
Glasgow crowds are known to be amongst the best, when comedians can get them on side, that is! So join some of the loudest laughers and funniest hecklers to watch the likes of Alexei Sayle, Bridget Christie and Richard Herring at the Glasgow International Comedy Festival. It's the largest of its kind in Europe.
If you can't make it, fear not, the funnies keep coming at the following festivals:
If music is your food of love…
…then you might like the St Magnus International Festival in Kirkwall from 21 – 26 June.
St Magnus Cathedral, Kirkwall
Orkney in midsummer is a magical place full of everlasting light – so throw in a high-calibre arts festival and you're definitely on to a winner. Previously there have been performances at the St Magnus International Festival from the Edinburgh Quartet, Gildas Quartet, Trondheim Soloists and the Norwegian Radio Orchestra. Though it's a musical festival at its heart, St Magnus also includes drama, dance, literature and the visual arts.
If that isn't quite what you're looking for then perhaps one of these music events, which range from rock to folk, might strike a chord:
If you're a poetic soul…
…then you might like the StAnza Poetry Festival in St Andrews from 6 – 10 March.
StAnza is returning for its 21st year and will be exploring the themes of 'Borderlines' and 'The Self'. Cross borders through verse and explore identity and character in poetry at some of the performances, workshops, discussions, gigs and screenings that are taking place during this vibrant festival. UK poets appearing at this year's festival will be joined by international poets from countries including Germany, Ireland, Estonia, the Netherlands and Belgium.
It's not just poetry – here are literary events taking place across the country where you can enjoy prose in various forms:
If you're a film fanatic…
…then you might like the Alchemy Film and Moving Image Festival in Hawick from 2 – 6 May.
Tower Mill, Heart of Hawick
Based at the Heart of Hawick, which is the festival's central venue, Alchemy is an international festival of experimental film. Be immersed in a diverse range of short and feature-length screenings – expect world premieres, film art installations and… the unexpected!
For more film fun you should check out:
If you're looking for more drama in your life…
…then you might like the Dumfries & Galloway Arts Festival from 24 May – 2 June.
Crichton Memorial Church in Dumfries is one of the festival venues.
Covering a range of performance arts, including dance, music, literature, film and art, Scotland's largest rural multi-arts festival isn't only for theatre lovers – in fact fans of all things thespian will find plenty to tickle their fancy here. The full programme for Dumfries & Galloway Arts Festival will be released soon.
For dramatic entertainment featuring up and coming talent pick one of these:
If dance stirs your soul…
…then you might like the Edinburgh International Festival from 2 – 26 August.
A dance theatre production, Edinburgh International Festival
Needing little by way of introduction, the Edinburgh International Festival has been bringing world-class arts to the capital since 1947. The programme will be released on 14 March and feature leading international dance, theatre, music and opera companies.
And if that's got your feet tapping, then these will too:
If the visual arts are alluring…
…then you might like Spring Fling in Dumfries & Galloway from 25 – 27 May.
Julie Dumbarton's Studio, Langholm. Image © Spring Fling / Colin Hattersley, all rights reserved.
Scotland's premier arts and crafts open studios event sees over 90 artists and makers open their doors across the south west of Scotland in 2018. Pop in to have a nosy and discover how the artists work and what inspires them. Also look out for the Spring Fling Fringe, which accompanies the event with a programme of music and arts performances.
For more artistic endeavours head to:
If you want to get creative…
…then you might like the Colonsay Festival of Spring from 29 April – 19 May.
Corncrake, Oronsay RSPB reserve, Argyll. Image © RSPB, all rights reserved.
Combining art and nature, this festival celebrates the wonderful island of Colonsay with an array of events. At the Colonsay Festival of Spring you can join wildlife walks with the RSPB, attend a foraging workshop, listen to evening talks and try crafts such as tapestry and Colonsay wool dyeing.
You can try out all kinds of activities at festival workshops at the following events too:
Not found what you're looking for? Then search for more cultural events or head over to the iKnow Community to find out what events and festivals people are recommending.
Source: VisitScotland.com