I am delighted to send greetings to all readers of Celtic Canada and to the Irish community across Canada.
It is an honour and a privilege to represent Ireland and to serve the Irish people and their interests at home or abroad. This is even more the case when it comes to representing Ireland in Canada, a great country with whom we have always had such deep and strong bonds of friendship, and which has provided a home away from home for Irish people for centuries.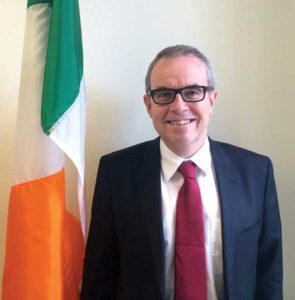 As the newly arrived Irish Ambassador to Canada, I am looking forward to meeting with the Irish community across Canada over the next few years. In the short time that I have been here, I have already been impressed by the vibrancy of that community; the commitment and determination of those who devote their time to promoting Irish culture, sports and music in Canada; and the solidarity shown by those who offer support to vulnerable Irish immigrants in this country.
Of course Christmas is a time of year when thoughts turn to home and family. I know many of you will be joining the thousands of Irish people around the world travelling back home to Ireland for the holiday season, and I wish you a safe journey.
Although the Embassy is located many miles away in Ottawa, we are only a telephone call or email away should you need to contact us.
It is with great pleasure that I take this opportunity to wish all of the readers 
and staff of Celtic Canada a very 
Happy Christmas and every good wish 
for 2017.