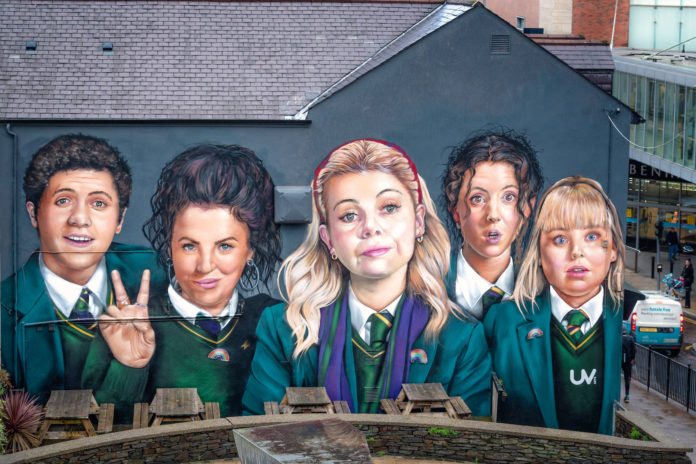 The historic Walled City of Derry~Londonderry now has another famous wall – a mural painted to celebrate the success of the sitcom Derry Girls.
Northern Ireland's second city is full of history, culture and music, with people who are friendly, fun and wickedly irreverent, as portrayed so successfully in Derry Girls.

Since being added to Netflix – Season 1 is now available – the hilarious comedy has become a worldwide phenomenon, attracting millions of viewers and sparking a renewed interest in the city where it is set, which itself has more than a few stories to tell.

Derry~Londonderry's rich and complex history (including why it has two names) can be explored in its excellent museums – the Siege Museum, the Museum of Free Derry and the Tower Museum. A guided tour of its 400-year-old walls will give a further insight into its fascinating past as well as presenting great views over the city.

There are also tours to the famous murals on the Bogside area of the city, a legacy of Northern Ireland's Troubles.

However, it's the city's newest mural that is currently attracting most attention. Featuring the programme's five main characters, the colourful Derry Girls mural can be found in the heart of the Walled City, on the side of Badger's Bar on Orchard Street.

Fans of the show can also now enjoy a guided Derry Girls tour, which takes in some of the familiar settings from the hit TV show, including Dennis's Wee Shop and Pump Street.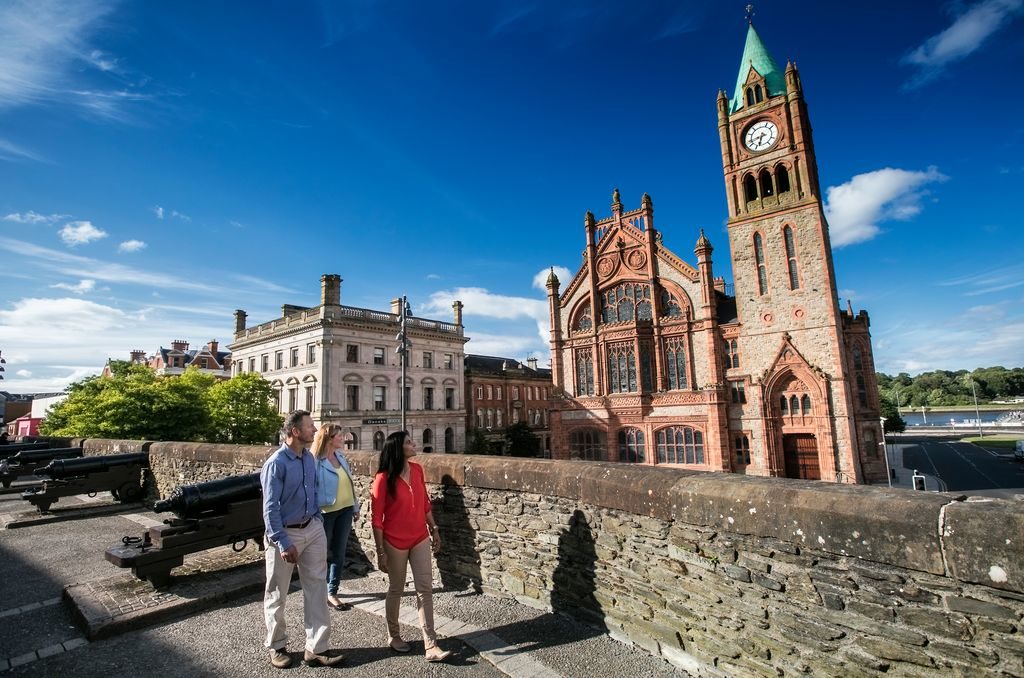 After that, why not head to the popular Walled City Brewery, a restaurant and brew house across the iconic Peace Bridge in Ebrington Square, which has named a selection of IPAs and beers in honour of the show including one called 'Wee English Fella'.

For those new to the sitcom, it's set in the mid-1990s and follows the exploits of 16-year-old Erin, her friends and her family.

As well as being comedy gold, Derry Girls is a piece of living history as the show cleverly interweaves the ordinary and comic escapades of the teenagers against a background of the unrest and division of the Troubles.

Much has changed since then and Derry~Londonderry is now a buzzing, city-break favourite, famous for its music.

What hasn't changed is the city's indomitable character, the warmth and exuberance of its people and their love of a bit of 'craic'.

www.ireland.com