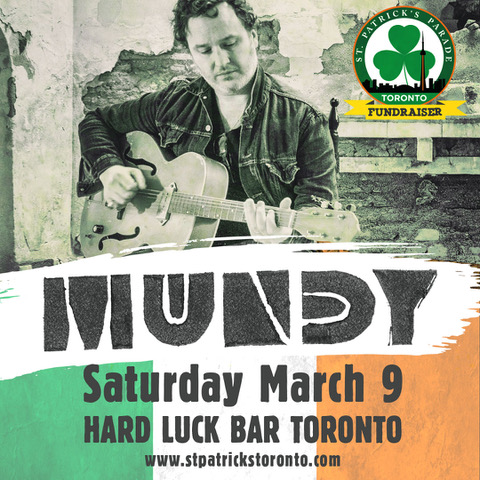 After years of touring around the globe, an Irish music icon is finally coming to Toronto. Singer/songwriter, Mundy, will be playing a solo acoustic show on Saturday, March 9 at the Hard Luck Bar. The show is a fundraiser for the Toronto St. Patrick's Parade which takes place the day after Mundy's performance.
This will be Mundy's first time in the Great White North and he's thrilled for the opportunity. "I have wanted to play Canada since I began playing the guitar. Neil Young, Joni Mitchell, Leonard Cohen and The Band are all in my influences. I love the Celtic connection and the diversity of Canadian culture. Its deep roots fascinate me."
Mundy's first taste of success came when the track To You I Bestow was featured on the best-selling soundtrack to the film adaptation of Romeo + Juliet. He followed that up with two notable successes off his 24 Star Hotel album. July sings the praises of summer and is for many fans, Mundy's signature track. The album's second single, Mexico, also received extensive radio play and established him as a star on the rise.
Mundy's career received a massive boost in 2006 when he recorded a cover of Steve Earle's Galway Girl during an encore for his first live album, Live and Confusion. The live version became a fan favourite and eventually a studio track was released. The song became the best selling single and most downloaded song in Ireland in 2007 & 2008. In 2016, Mundy headlined a massive street performance of Galway Girl alongside 15,000 fans, Sharon Shannon and other notable Irish musicians.
The greatest accolade for the cover may have come from Steve Earle himself. "Galway Girl is the one thing I'm sure to be remembered for. I owe a lot of that to Mundy… the biggest hit was his version. People probably won't even remember who the hell I was, but they're going to be singing that song in Ireland for a long time. I really do believe that. And that's the only kind of immortality anybody can hope for."
Mundy has one other accomplishment that not many performers can claim. He has played two private audiences for Barack Obama. The first came when the then American president visited Ireland in 2011 and with the second being at The White House.
Doors for the Toronto show will open at 8:00pm with local openers, The Cheery O's and Michael Darcy kicking off the night. Mundy will take the stage at 10:00pm. Tickets are on sale now through Eventbrite for $25 in advance and $30 at the door.