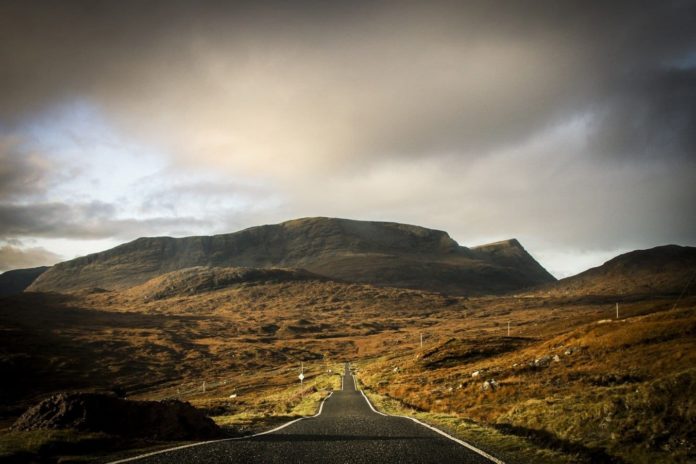 Many thanks to Graham Grieve – My Voyage Scotland who has been kind enough to share the following blog with us –
The Isle of Harris – home to the famous distillery and Harris Tweed Shop is a must-see stop on your Scottish adventure. This Outer Hebridean island to this day has rich traditions, iconic scenery and those that live there are very proud of their island way of life. In this guide we look at the top things to do and accommodation in Harris.
Your Complete Guide to Harris
When people think Harris, they usually think stunning, empty beaches that look almost tropical. Mix this in with breathtaking island mountains and you've got us convinces! However, as you are about to see, the Isle of Harris is so much more than just beaches!
It's easier ever to get to this secluded part of the world as daily ferries run from the town of Ullapool to Stornoway. You can catch a flight over to the Outer Hebrides from Glasgow, Edinburgh, Aberdeen, and Inverness.
Learn more about this popular Scottish holiday destination with My Voyage Scotland's complete guide to Harris.
Things to do in Harris
Nature, Gaelic culture, and Scottish history should all be on the agenda for your trip to Harris.
Nestled between the mountains in this stunning part of Scottish you will find breath-taking white sandy beaches that go on for miles and deserted meadows that are home to rare wildlife.
Even on a dull day, you will be blown away by the beauty of Harris. Learn more about how you can discover its best bits with our list of "things to do in Harris".
Golden Road
Take on the twists and turns of the Golden Road.
If you are visiting the island with a card this route will allow you to discover the landscape of southeast Harris via single track road.
The Golden Road connects the tiny hamlets of Harris that have either Viking or Gaelic names.
During this once in a lifetime experience, you will be spoilt with stunning scenery, 'lunar' landscapes, tranquil lochs and maybe even a seal sunbathing on the rocks.
Harris Tweed Shop
The perfect pitstop for souvenirs.
The world-famous Harris Tweed Shop is a must-see spot on the island. Harris Tweed began back in back in 1910 by Marion Campbell and to this day the business is owned and run by the Campbell family.
You will find the Harris Tweed shop and tweed warehouse in the heart of Tarbert, which is the principal town on the Isle of Harris.
Isle of Harris Distillery
The Isle of Harris Distillers promises all that join them "the warmest of Outer Hebridean welcomes." Business is thriving as the five local distillers on the Island are creating, world-class spirits and shipping them to lands far, far away.
This is something that the community here are proud of and want to share with the tourists that travel for miles to visit their island. The Isle of Harris Distillery is known as 'The Social Distillery', it opens its doors six days a week, to connect with these visitors and to give them an insight into the distillers' history and story so far.
Beaches
We have already boasted ever so slightly about the town's scenery and coastlines, but it is worth highlighting some of the magical beaches that Harris has to offer.
Pictures of the beaches here will never do them justice – it's like Instagram in real life!
If you are visiting Harris, we would recommend making a stop at Luskentyre, Scarista and Borve beaches. Take a picnic, make a sandcastle and watch the beautiful sunset over Harris.
Hiking
Harris is a popular choice for those that enjoy hiking holidays. Exploring the island by foot can be wonderful as it has the most extensive and highest range of mountains in the Outer Hebrides.
The perfect escape, the hills here are peaceful and once you reach the top you will be delighted with the views.
Accommodation Harris


Hotels, chalets, log cabins, and B&Bs are all available to tourists visiting the Isle of Harris. There is something for everyone here and whether you are travelling on a budget or are looking for a luxury escape – we have found some great accommodation Harris options for you!
Accommodation Harris Star Pick: Ceol na Mara
This hotel name translates from Gaelic to 'Sound of the Sea', which makes sense as it looks over Loch Kindebig.
At this beautiful guesthouse in Tarbert you will be served up a hearty breakfast made with local produce and welcomed in by its wonderful hosts.
The location also gets a massive tick as Stornoway is a 45-minute drive away from Ceol na Mara and Luskentyre Beach is only 20 minutes by car.
Amhuinnsuidhe Castle Estate
Live like royalty during your next trip to Harris at Amhuinnsuidhe Castle Estate
This stunning five-star hotel was built in 1865. As you check-in, you can enjoy the views of West Loch Tarbert and check-out from day to day stress and disruption.
Rooms here are simply first class, as guests are treated to huge beds, roll-top baths, and lavish décor.
Atlantic Shore Cottages & B&B
If you like to be beside the seaside, Atlantic Shore Cottages & B&B is the best option for you.
Luskentyre Beach is an eight-minute walk away from this location. You can choose between four or five-star cottages that are both ideal for couples and small families or a B&B experience in a private suite of the host's home.
Beul na Mara Guest House
Beul na Mara B&B is simply exquisite as it is located on one of the most scenic areas on the west coast of Harris.
What makes Beul na Mara unique as there is a conservatory attached to the guest house which overlooks Seilebost and Luskentyre beaches – which means you can enjoy the panoramic views no matter what the weather is like.
Excellent value for money as rates star from £55.00 per person per night.
Self-catering in Harris
Harris is great for hotels and B&Bs, but the real beauty lies in the homes dotted around the empty beaches. Below is a couple of hand-selected self-catering options in Harris.
Bobban House Harris
The holiday home in Harris is ideal for a family that needs 2 bedrooms accommodation with all the self-catering trimmings.
Located in Tarbert, this is an excellent base for those that want to enjoy the Scottish outdoors, try hiking, windsurfing or fishing during your stay here!
Leverburgh Tiny-House Puffin
Go wild at the Leverburgh Tiny-House Puffin. This cosy holiday home located in Northton on the Isle of Harris is perfect for couples searching for self-catering options.
It has everything you need, including one bedroom, a flat-screen TV, a fully equipped kitchen, a bathroom with a shower and access to an outdoor barbeque.
This 'tiny house' is a great place to end the day on the Island as you can watch the sundown from its panoramic window.
More Things to do in the Scottish Isles visit My Voyage Scotland ?