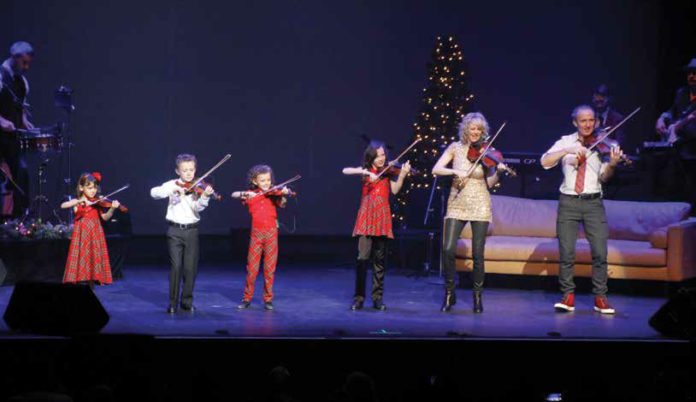 When Canadians think of beauty, talent, and a warm wonderful personality accompanied by Celtic fiddle music, it's likely the image of Natalie MacMaster that first comes to mind.
The pride of Troy, Nova Scotia, Natalie was born in 1972 and has since gone on to receive Canada's most prestigious musical achievements, a Juno Award, twice in fact, as well as The Order of Canada. 'East Coast Artist of the Year' and Canadian Country Music's 'Fiddler of the Year' are also amongst her accomplishments.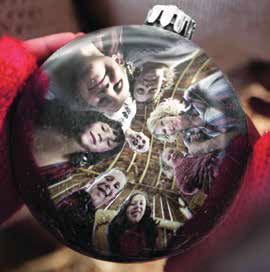 Her global audience is now as diverse as the artists she has played and recorded with, most notably her husband Donnell Leahy, a highly accomplished and famous musician in his own right. In addition to appearing with Donnell and several of their seven children on stage, Natalie has also performed with such names as; Carlos Santana, Faith Hill, Yo-Yo Ma, The Chieftains, Bruce Guthro, Cookie Rankin and Alison Krauss. Her performances at world class festivals like Cape Breton's Celtic Colours, Scotland's Celtic Connections and America's Merle Fest are legend. Six singles, five videos and some 14 albums make for a most impressive catalogue of works but within her special world, one can sense simple pleasures like baking cookies with her family give Natalie a very important unique sense of pride and special satisfaction.
She married Donnell Leahy of the Leahy family band and  relocated to his home town of Lakefield, Ontario in 2002. Raising their sizeable family, maintaining disciplined practice schedules and overseeing the school work of 'the house band' makes for a very busy life. Natalie and Donnell were kind enough to share some time with Celtic Canada and here's what we talked about.
Do you remember the first time you picked up a fiddle and what was the first real song you played?
NM: Yes I do, I was 9 and my fist song was "Twinkle Twinkle Little Star". The first real song I played was called "Space Available" by Marcel Doucet inspired by a trip he had made to Labrador.  
DL: Mom and dad took me to Toronto when I was three and bought me my first fiddle which I do remember. I don't recall the first song I played, but the song Big John McNeill was one that I tried very hard to learn. It was tough to play in A so I mastered it in G and then A. That was exciting for me, then running and telling my mother I got it!
Playing for your family was no doubt a big source of support and confidence. What was it like the first time you played to a crowd of strangers and where was it?
NM: Well I had been playing for about 6 months and I performed at a place called Glencoe Hall. I remember it felt really good to finish but I didn't make any mistakes.
DL: It was at a gathering and I was perhaps a little shy. We didn't have small gatherings given the size of our family plus relatives and guests. I hid alongside my mother who was at the piano. I think I am over that shyness now.
Was it your uncle Buddy MacMaster that influenced your initial love for your instrument or another family member/ musician?
NM: Uncle Buddy was a big inspiration but wasn't really a teacher. I probably watched him play more than any other fiddler and learned by observing him though. 
What age were you when you first played with your cousin Ashley MacIsaac?
NM: I played together with Ashley at age ten but didn't really even know he was my cousin till I was twenty. 
Was Ashley always a wee bit eclectic?
NM: In our childhood he was an average kid like most of us, a very regular young boy.
What was it like when you recorded your first album and what did you think about the process at that age?
NM: I just went at it and felt like a rock star. I didn't know then that I could have played any song and then put it in any order that I wanted to later on. So, I played and recorded everything in the order I thought it should be on the album.
DL: Well, Dad was in charge of all that and I just played my parts like the others. It was good to learn arrangements and to be ready and well-rehearsed.
You've even produced your own songs. Was that self-taught or are there some recording engineers within the clan?
NM: I just dove in and didn't know any different. Ignorance was bliss but that seems to have worked out pretty well.
DL: My first record on my own was done when I was 16 with my sister on piano. The engineer said 'play' and that's what we did. My second album was called Leahy and it was quite an accomplishment for me.
If there were ever musicians who have shown the world that the family that plays together stays together, it's you. How many of you have ever played together all at once on stage when you count all the Leahy's and all?
NM: Oh well let's see now, all together probably 25, 26 at Casino Rama
DL: That's about right with both bands, kids, Mom and Dad maybe even a few more now.
A good kitchen ceilidh is a regular part of your culture. How big is your kitchen and can you all fit in there?
NM: Well in our house we actually had a dedicated music room with a piano. The kitchen though was where I practiced most often. It wasn't that big a house, so when 150 or so people would come over it would always spill into the kitchen just like most parties
Celtic dancing is a big part of your life, culture and stage presence. How much time have you spent practising dance as compared to fiddling?
NM: Mom taught me a few steps at about age 5 and those are my basic squares. My time practicing the fiddle really didn't allow the time to practice anything else at a higher level.
How did you meet your husband Donnell, the talented father of your seven children?
NM: Well, he had a copy of my cassette that I had recorded at 16, and… Apparently he liked my music enough to drive out to Cape Breton and come find me… not even knowing what I looked like. He came to town where I was and asked around where I might be. Someone told him I was at teacher's college so he tracked me down and he phoned me there. Then he asked me out to dinner. I didn't know what he looked like either, so it truly was a blind date. We dated for two years and then we broke up for ten. That's a story of its own but everything has worked out very nicely for us.
Was there any indication then that you two would be together with the amazing story book family you now have today?
NM: No, not really.
DL: No, I did not predict this at all.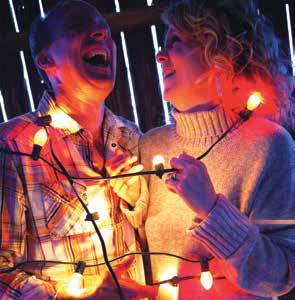 How long after the two of you two met was it until you were married?
NM: We married when I was 30. There was that 10 year break prior that. We had our first child when I was 33.
Did he/she have to audition for you or did you already like his/her style enough to 'collaborate'?
NM: Well I already had his cassette from my cousin and I knew his playing was amazing. I thought his talent was awesome and astonishing.
DL: Well after the first one, I thought I'd be nice and let her have a second one because there probably wouldn't be a third and I was trying to be nice again, so after the third one came the fourth and I think I may have been drinking… (Natalie has been laughing throughout this lighthearted kidding and it seems that any potential rejection of her, or her playing has been well worked out.)
Having seven children and touring…how do you manage that act alone, never mind your stage show?
NM: You know, it is cumbersome. But love just leads you there by nature.
What's the longest time you've been away from your family?
NM: My longest time away was 3 months on tour with Johnny Reed. I was the mother to 6 of my children at that time and Donnell was holding down the fort at home. He did visit and we met up regularly, kids and all. In that time 2 1/2 weeks was the longest I went without seeing my family.
What are some of the most exotic places you've performed in?
NM: I was on a cruise ship during the New Year's celebration of the new millennium and we were in the Antarctic region. On New Year's Day we were taken ashore to Antarctica. I'm probably one of very few people you'll meet that's ever been there. Most people think that's pretty exotic. There were some other great destinations like New Zealand, The South Pacific and more.
Your Celtic Christmas album is a family favourite of ours and we look forward to hearing it again soon. How did the Celtic Family Christmas Special come together?
NM: It was truly providential. It was not planned at all and it arose out of an opportunity when I was asked to speak at the prayer breakfast of Ontario. In the preparations leading up to that, we were asked if we might like to do a couple of musical performance interludes. The wonderful people at Marble Media saw some potential to elaborate on that and incorporated some of the clips of us as family decorating, baking, playing road hockey etc.
DL: Yes, that was a great opportunity to show sides of our life that we don't normally get a chance to and express some creative aspects that we normally don't have the time to. The good Lord even gave us a special dusting of just enough scenic snow for our hockey game. Merry Christmas!
NATALIE MACMASTER AND DONNELL LEAHY "A CELTIC FAMILY CHRISTMAS" TOUR DATES