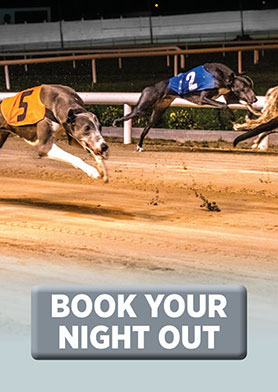 FÁILTE GO STAID RÁSAÍ NA GCON, SHELBOURNE PARK
On your next visit to Dublin be sure to plan a Night at the Dogs? You're in for a treat – there's nothing quite like the buzz of greyhound racing.
Grab your friends, family or co-workers and enjoy a night to remember at the dogs at Dublin's Shelbourne Park Greyhound Stadium.
If it's your first time going greyhound racing, here are just a few things you can expect from one of the best nights out in Ireland:
– An atmosphere and a buzz unlike any of your typical nights out. The excitement & the speed of Greyhound Racing builds the anticipation and adds to the fun.
– Great food – with restaurants offering quality dining options we promise you'll be surprised at just how great the food is.
– A fun night out for all ages, whether you're new to the sport or a seasoned racegoer.
– Excellent value – adult admission is just €10 and we've a host of restaurant and group packages available at prices that won't leave you fearing the bank balance.
– The chance to be a winner!
Stay connected with us, follow us on our social media channels for all the latest updates on Facebook, Twitter and Instagram
RACE NIGHTS / OÍCHEANTA RÁSAÍOCHTA
Racing every Thursday, Friday & Saturday night. Rásaí ar siúl gach Déardaoin, Aoine agus Satharn.
Thursday & Friday: Gates open : 6:30 pm | First Race: 7.42pm approx.
Saturday: Gates open : 6:00 pm | First Race: 7.42pm approx.
ADDRESS
South Lotts Road, Dublin 4, D04 W5C3