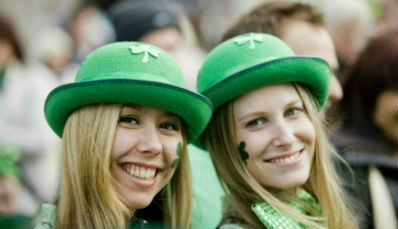 There's just nothing like it. On March 17, the island of Ireland thrums with energy and excitement for St Patrick's Day. But it's not just us – the whole world goes green to celebrate, so pin on that shamrock and join in the fun!

Is St Patrick's Day the biggest celebration in the world? As landmarks across the globe light up in shining emerald splendour and people worldwide take to the streets in party mode, you'd certainly believe so.
This little island at the westernmost edge of Europe is where it all began, and it's at the heart of global celebrations that honour our patron saint. There's the artistic flair on display at Galway's St Patrick's Day parade and the Home of St Patrick Festival in Armagh and Downpatrick where the legacy of the saint runs deep.
And of course there's the huge week-long party that is St Patrick's Festival in Dublin, where you could see anyone from Jedi master Mark Hamill (Luke Skywalker) to Game of Thrones® knight Liam Cunningham (Ser Davos Seaworth)celebrating the great man.  See? We told you that spending time here around March 17 is something rather special!
Source: Ireland.com