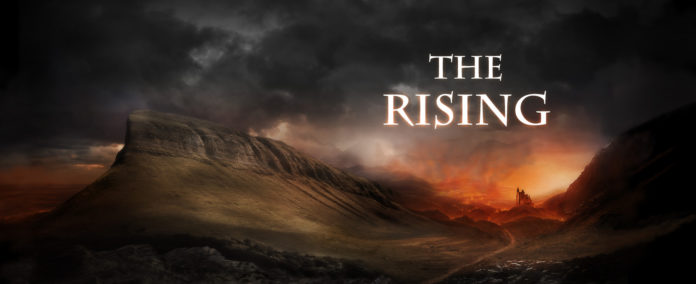 Portraying the true story of the 1916 Easter Rebellion in Ireland, 'The Rising' will be the prequel to the historic movies 'Michael Collins' starring Liam Neeson and 'The Wind that Shakes the Barley' which won the Palme d'Or at Cannes Film Festival in 2006. It is co-written by James Ragan, who worked in production for Oscar-winning films such as 'The Godfather' and 'The Deer Hunter'

'The Rising' will be the first motion picture to dramatise the heroic story of the leaders of the secret rebellion that led to Irish Independence.

THE FINAL MOVIE OF THE GREAT IRISH TRILOGY.

'The Rising' is gathering together one of the most impressive cast lists for an Irish movie including David O'Hara, Fiona Shaw, Colin Morgan and Brendan Coyle. It will also proudly showcase the debut movie performance of Micheál Neeson, in the role of Michael Collins which his father Liam Neeson made famous 20 years ago. Led by the filmmaker Kevin McCann, a professional crew behind the camera will craft a compelling dramatic movie. Supported by the Irish Film Board, Northern Ireland Screen and private equity partners, this film will respectfully remember a great story of Ireland and be an international hit in cinema theatres and across all movie platforms.

Every nation and culture remembers their histories through storytelling. Film is an especially powerful way of reaching a wide audience. How many films have there been on the birth of the United States and the various epochs of French History? The Russians showcased the birth of their nation in a hugely successful production of War and Peace, and the British have numerous productions charting their history of conquest. Now equally the Irish culture deserves a film to educate a global audience about the history of our land and people in a powerful movie.
Director- Kevin McCann
"Over my career, I have been drawn into a creative inquisition about identity, place, history and belief. As we near the 100-year anniversary of Irish Independence, I feel it my duty as an Irish filmmaker to complete the trilogy of movies about its decade of change (1912 – 1922).

In 2012, I accepted the challenge to make the first movie about the Easter Rebellion which led to a rebirth of the Irish spirit out of a dark wasteland.

Supported by both Northern Ireland Screen and the Irish Film Board, I met many people who want this movie to be made, especially cast members who kindly committed at an early stage due to their connection to the vision and material. For our magnificent screenplay, we did our research, stayed close to the accounts and yet 'The Rising' refused to present itself as a dry political war drama. It chooses to be a fact-based movie with a mythological and biblical power. It did after all happen at Easter at a time when Ireland was steeped in Christianity. This is the true story of heroic men and women who chose right action and sought freedom for their people. Significantly, it also explores many themes and issues relevant to today's audience.

'The Rising' is a true story that is as powerful and as vital as our greatest legends and mythologies.

It is a true myth for all of us to believe in."
The Cast
Colin Morgan
as Seán MacDiarmada
Colin Morgan shot to fame when he was cast in the title role in the much-loved BBC and SyFy series 'Merlin'. His brilliant performance over 5 seasons brought him a National TV Award in the UK. In 2017, he played opposite Colin Firth and Rupert Everett in the Oscar Wilde film 'The Happy Prince' and played the lead role in BBC's series 'The Living and the Dead'. Colin currently stars as 'Leo' in AMC's 'HUMANS' and as 'Tom Anderson' in the BAFTA-nominated BBC series 'The Fall' also starring Jamie Dornan and Gillian Anderson. Born in County Armagh, Colin has a background in theatre debuting in 2007 on London's West End in the title role in DBC Pierre's 'Vernon God Little'. His other theatre performances include Shakespeare at the Globe, Pedro Almodóvar's 'Todo sobre mi madre' and 'Mojo' where he shared the stage with Downton Abbey favourite Brendan Coyle. With memorable movie performances opposite Oscar-winning actresses in 'Testament of Youth' and 'The Huntsman', Colin has been noted for his concentrated and careful portrayal of his characters which has seen become an acclaimed screen star, much loved across the globe.
Micheál Neeson
as Michael Collins
Having landed the lead role in the TV series 'Big Dogs', 'The Rising' will be Micheál Neeson's debut movie role. He is reprising the role that his father Liam Neeson made famous twenty years ago in the Neil Jordan classic movie Michael Collins which co-starred Aidan Quinn, Stephen Rea, Julia Roberts and Alan Rickman.
Fiona Shaw
as Countess Markievicz
Born and raised in County Cork in Ireland, Fiona Shaw has become one of the world's most regarded performers on stage and screen. Among her many stage accolades are 2 Laurence Olivier Awards, 2 Critic's Circle Theatre Awards, an Obie and a Drama Desk Award for Outstanding Solo Performance on the Broadway show The Waste Land.Fiona's TV roles include Gormenghast with Jonathan Rhys Meyers, HBO's True Blood, Empire and Lynda LaPlante's Trial & Retribution.As well as portraying Aunt Petunia in the blockbuster Harry Potter movies, Fiona has worked with some of the greatest movie directors including Terrence Mallick in Tree of Life and Brian DePalma in The Black Dahlia. Some of her most memorable work has been in two Irish masterpieces: Neil Jordan's The Butcher Boy and Jim Sheridan's My Left Foot.
David O'Hara
as James Connolly
David O'Hara was born and raised in Glasgow in Scotland. Over the past 35 years, he has joined the 'most wanted' list for movie directors around the world having worked with the greats including Martin Scorsese, Alan J Pakula, Mel Gibson and Terry George. David has had major roles in two films that have won the Best Picture Oscar – Braveheart and The Departed.Other notable movie appearances such as Harry Potter, Some Mother's Son, Hotel Rwanda and The Devil's Own have seen him share scenes with (and very often steal scenes from) some of the finest actors working today including Jack Nicholson, Mel Gibson, Harrison Ford, Janeane Garofalo, Brad Pitt, Helen Mirren and Leonardo diCaprio.Though he has appeared many times in TV series such as Gotham, The Tudors and Luther, it is for his movie performances he is most regarded. Most memorable of all is the Irishman Stephen in Mel Gibson's masterpiece Braveheart where he assured William Wallace of the support of Ireland against the English because of one clear fact. "It's my island".
Brendan Coyle
as Chief Secretary Birrell
Brendan Coyle has recently become a 'global household name' for his portrayal of the humble heartthrob Mr. Bates in the smash-hit Downton Abbey.For the past 25 years, he has had numerous acclaimed roles on stage, TV and film and among his accolades is an Olivier Award for Best Supporting Performance in the stage play The Weir. The movies that he has starred in include The Raven with John Cusack, I Could Read The Sky with Dermot Healy and Tomorrow Never Dies, which starred Pierce Prosnan as James Bond. His TV projects include Prime Suspect, Spotless and North and South.No stranger to subjects on Irish history, Brendan played the role of Irish hero Michael Collins in the TV series Rebel Heart and also starred in Omagh which won the BAFTA award for Best Drama.