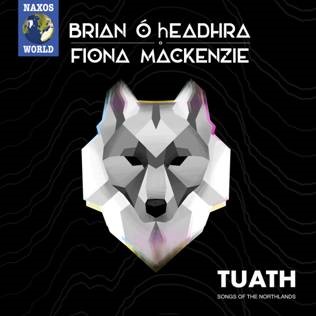 'Two of the finest voices in Gaelic singing today.' – Celtic Music Radio
Scottish Highland based Brian Ó hEadhra | Fiona Mackenzie are acclaimed singer songwriters who draw upon their traditional Gaelic roots as well as from other musical genres including Nordic, Eastern European, Americana, indie and electronica. Their live sound has been described as "ethereal and evocative" whilst their award nominated debut album TÌR – Highland Life & Lore as "sophisticated, ambient and sonically mesmerising".
With layered harmonies, innovative interpretation of ancient Gaelic texts and songs as well newly written material, Ó hEadhra | Mackenzie have performed to audiences around the world for over 20 years together.
​
Album Title: Tuath: Songs of the Northlands
Artist (s): Brian Ó hEadhra and Fiona Mackenzie
Label: Naxos World
Release date: 14 Feb 2020
Album digital download (WAVs)
http://lftp.naxosusa.com/Download.aspx?sid=3possmorv5xvi01cx55gbjb2
The duo have performed as solo performers and with various bands including Anam, Seelyhoo, Mackenzie, Cruinn, McKerron | Brechin | Ó hEadhra. They have recorded on over 30 albums between them on labels such as Linn Records, JVC Victor, Greentrax, Brechin All Records, Macmeanmna, and their own label, Anam Communications.
TUATH is a musical and cultural exploration of the connections between the Gaels and their nearest neighbours. This includes new Gaelic songs written especially for the album, as well as traditional tunes recorded in Danish, Norwegian, Irish Gaelic and Galician. Featuring ancient and modern texts, the songs speak to our past, present and future with music ranging from the simple voice to expansive arrangements and exquisite sound design. Brian & Fiona's debut album, 'TÌR – Highland Life & Lore', was nominated for album of the year at the 2019 Scots Trad Music Awards.