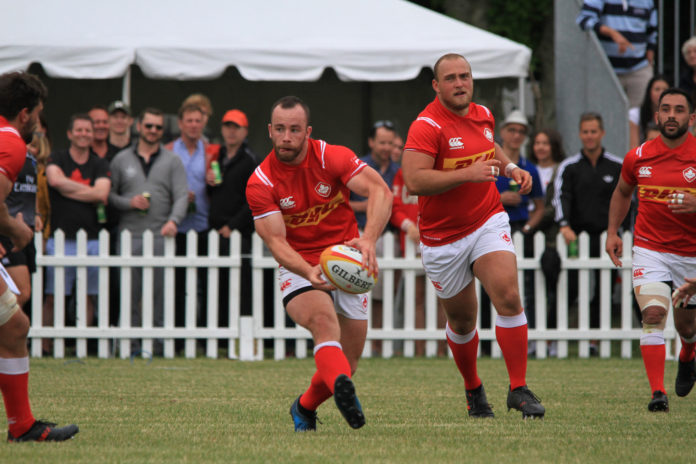 Celtic Canada chatted with Shane O'Leary as Canada heads off to Rugby Word Cup 2019 in Japan:
Facing Leo Cullen's Leinster in a friendly fixture on 24 August in Ontario as part of the World Cup preparations what do you expect at this friendly fixture?
S: I suppose we will have played PNCs at that stage and would have known what we need to focus on as a squad as we lead up to the Leinster game, but I suppose it will help us see what we need to do to take our game to the next level for Japan and the World Cup.
Have you gone up against USA standouts Paddy Ryan, Paul Mullen or AJ McGinty in your career to date?
S: Yes would have been one of AJ's understudies in Connaught so I used to be defending against him the whole time. I think I defended him 3 times now for Canada against the USA will be very familiar with that and it is always nice to see familiar faces. Want to out-do him on the field but nice to catch up after sure it's all a bit of craic!
Leinster is one of the top European clubs, what do you admire most?
S: I suppose massively impressive they have been consistently at the top Euro's or there about's for last 10 years, they never get tired of being successful. Back in the day when Brian O'Driscoll and that crew had retired and moved on they always seemed to continue to get the best players to join the squad. Top quality players and it will be interesting to play against them, I'm sure they will have a good travelling squad so will be good for us.

Been here 2 years, what are the differences in the rugby culture between our two countries? Canada & Ireland.
S: Am, in Ireland you have a lot more players from a younger age getting into the sport, it's easier for games to happen, it is one of Irelands top sports now. In Canada there's so much competition in the field of sports and all are more common to Canadians but I see a lift in interest from young lads and girls joining Rugby and we see the interest in rugby in Canada grow. The media team have done a massive job promoting us. A lot of social media too so a lot of people taking about rugby which is great.
From there let's chat about the Growth of MLR –
S: Yes a lot of our teammates play on it so seems to be a lot more impressive than last year, I suppose the support from public and coverage of games has improved and the only direction is up for the MLR. The values of rugby can be different it is all about inclusion no matter how big or small you are or slow or fast each type is needed on the field which is nice so we can see the pool of talent grow each season.
Head Coach Kingsley Jones since 2017 what has it been like?
S: Kingsley took over as head coach after I debuted so I worked with him on his second tour which is also my second tour. He likes to keep the pressure on and play a pressure game, we have gotten to qualify for Japan and hopefully we can implement that game to the best of our capability as we have been playing now for a couple of months as a squad prior to the World cup.
He's played high level when he played and also coached high level, he knows the drill it's not his first World Cup, we should have a great mix between Kingsley's experience and some of the players and the youth of the squad.
When the game goes wrong how do you stay focused and positive to get the results you want?
S: Yea over last few years a transitional period some lads have moved on, staff has changed a little bit but as players it is us in the room we focus on getting better each day and put out our best performance on the field, we always aim to play the perfect game but there is never the perfect game.. we stick together like we have that brotherhood in the squad we trust the process, every game is an opportunity to win.
Stage is set for spectacular Rugby… the iconic Webb Ellis Cup Canada in Pool B – tough crowd, New Zealand World Ranking 1st, South Africa World Ranking 5th, Italy 14th, Naimbia 23rd, Canada World Ranking 21st – first game against Italy in Japan… what is the general sense within the club leading into this ?
S: I think the fact we qualified means no real pressure for us, but as a group we are massively ambitious and want many wins most will write us off, it is nice to have underdog but last world cup Japan beat South Africa many didn't expect that so yeah, we have nothing to lose, pressure is on other teams we are looking for a couple of wins and we have a good mix to do that.
---